Bitcoin to start futures trading, stoking Wild West worries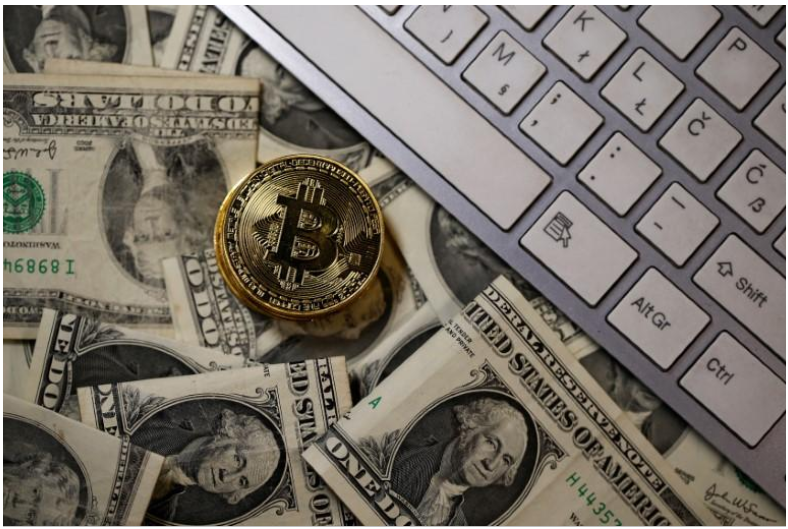 A bitcoin (virtual currency) coin placed on Dollar banknotes, next to computer keyboard, is seen in this illustration picture, November 6, 2017. Photo: REUTERS/Dado Ruvic.
Bitcoin fans are salivating over the potential of long-awaited legitimacy for the cyptocurrency when futures trading launches this weekend, but experts worry the risks associated with bitcoin's Wild West-like nature could overshadow the debut.
The first bitcoin future trades kick off Sunday at 6 p.m. EST (2300 GMT) on Cboe Global Markets Inc's Cboe Futures Exchange, followed a week later by CME Group Inc's CME.
Nasdaq Inc plans to get into the mix next year, Reuters reported.
While Cboe, CME and Nasdaq offer strictly policed trading environments, the underlying bitcoin market is riddled with crypto-exchanges lacking even basic oversight.
That has stoked fears of market manipulation, inaccurate pricing and systemic risk to clearing houses.
"I'm kind of taken aback by what's happened in the last three months," said Richard Johnson, an analyst at Greenwich Associates who owns digital currencies and considers himself a bitcoin bull. "I'm concerned things are moving a bit too quickly."
Some of the world's largest brokers on Thursday voiced concerns about the process through which bitcoin futures had come to market, noting that market participants should have been better consulted on issues such as margin levels and trading limits.
Through an open letter to the US derivatives watchdog from the Futures Industry Association, the brokers said more safeguards are needed to protect against bitcoin's high volatility and the risk of manipulation in the underlying spot market.
"We remain apprehensive with the lack of transparency and regulation of the underlying reference products on which these futures contracts are based," the FIA letter said.
Bitcoin's more than 10-fold upsurge this year has led to warnings of a bubble by the likes of JPMorgan Chase & Co Chief Executive Officer Jamie Dimon, who called it "a fraud" that will eventually blow up. Others, like Wall Street adviser Tom Lee, expect bitcoin to top $100,000.
On Thursday, its hypervolatility was on full display as it broke through $15,000 for the first time on the Luxembourg-based Bitstamp exchange, jumping more than 12 percent from the previous day.. Since August 2011, bitcoin has averaged a daily price change of nearly 3 percent, up or down, compared with a daily average change in the US dollar-euro cross rate of less than 0.5 percent since the euro's debut in 1999.
"Maybe it's just the most unique market that is going to continue to go up forever and ever and so everybody on the long side is going to make money and it's a great thing, but I've been around long enough to know that's not going to work out so well," said John Lothian, CEO of advisory firm John J Lothian and Company.
As a virtual currency, bitcoin can be used to move money around the world without the need for a central authority, such as a bank or government, which is a double-edged sword, said Steve Grob, director of group strategy at Fidessa.
"There is no backstop. If suddenly tomorrow everyone decided bitcoin was worthless, it would be worthless, and I'm not sure whether people have really thought that one through," he said.
Traditional banks remain skeptical of dealing with bitcoin exchanges. Earlier this year, Wells Fargo & Co stopped processing wire transfers for an exchange called Bitfinex, leaving customers unable to transfer US dollars out of their accounts, except through special arrangement with the exchange's lawyer.
Still, new entrants, from retail investors to high-frequency traders, have piled into bitcoin. US-based crypto-exchange Coinbase said it added 100,000 accounts in the three days around the US Thanksgiving holiday, for 13.1 million overall.
If the futures market were to exceed the size of the spot market, with current daily trading volume of around $6 billion per day, the underlying price could be more susceptible to manipulation, said Kevin Zhou, co-founder of crypto currency fund Galois Capital.
"You've seen these problems before in bitcoin futures, where right before the settlement, the price pegs it high or low and then bounces back right after," he said.
RISK OF AN 'AVALANCHE'
As volumes increase, there are also questions about the robustness of the technology at bitcoin exchanges, Lothian said.
"Particularly when you're talking about a high-frequency approach to this where people are trying to arb multiple exchanges."
Last month, the Gemini bitcoin exchange, which will set the price for Cboe's futures contract, and GDAX and Kraken, two of the four exchanges in CME's bitcoin index, had systems issues.
"Every single bitcoin exchange receives and is receiving complaints by users due to the unbelievably surging bitcoin price and the result that has on capacity," Christina Yee, a Kraken representative, recently told Reuters in an email.
Kraken is planning to launch a new trade engine "soon" which should increase the exchange's capacity, Yee said.
The volatile nature of bitcoin could also present a risk to clearing houses, said Thomas Peterffy, CEO of Interactive Brokers Group Inc.
Clearing houses act as a middlemen between the parties to futures transactions. If there were a wild price swing in bitcoin and a smaller brokerage failed to meet its margin call, the clearing house would have to take over the position, further moving the price of bitcoin, which could cause other brokers to fail, Peterffy said.
"If that happens at a time when bitcoin spikes up for whatever crazy reason, there could be an avalanche," he said.