Beijing, Shanghai see 1t yuan in 2019 consumer goods sales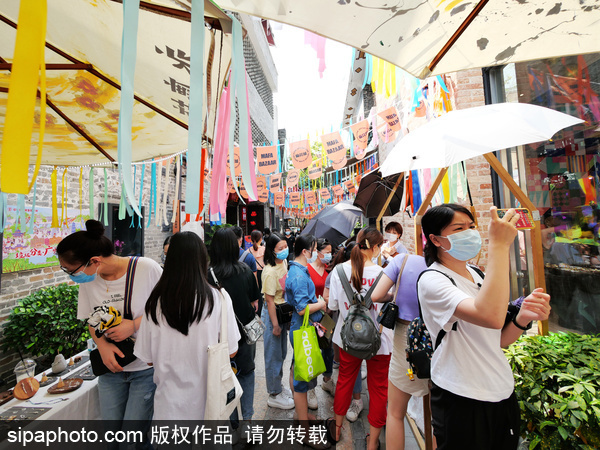 People go shopping at a creative market in Guangzhou, Guangdong province on May 4, 2020, during the five-day Labor Day Holiday. (Photo: Sipa)
The total retail sales of consumer goods in Shanghai and Beijing both exceeded 1 trillion yuan in 2019, registering 1.35 trillion and 1.23 trillion, respectively, followed by Guangzhou, Chongqing and Chengdu, according to news portal Yicai.com.
Shanghai witnessed the strongest consumption capacity across the country in 2019, up 6.5 percent from the previous year. The online retail sales volume reached 189.65 billion yuan, increasing 15.8 percent year-on-year, which accounted for 14.1 percent of the total.
Beijing took the second spot with total retail sales of consumer goods at 1.23 trillion yuan, rising 4.4 percent from a year earlier. The retail sales of enterprises above the designated size went up 23.6 percent year-on-year to 336.63 billion yuan, accounting for 27.4 percent of total consumption volume.
Guangzhou, the capital city of Guangdong province in southeastern China, consumed 997.56 billion yuan in retail sales last year, very close to surpassing 1 trillion.
With a population of 300 billion and a total area of 82,400 square kilometers, the southwestern city of Chongqing saw total retail sales of consumer goods at 867 billion yuan. Chengdu and Wuhan ranked fifth and sixth, respectively, with retail sales both surpassing 740 billion yuan in 2019.
Although Shenzhen's GDP ranked third around the country, its retail sales of consumer goods amounted to 658.29 billion yuan, landing in seventh place.
Analysis from Yicai.com concluded that Shenzhen's consumer attraction is partly divided by Hong Kong, the world-renowned shopping center. Peng Peng, the executive chairman of the Guangdong Society of Economic Reform, said people in Guangdong province prefer to go shopping in either Hong Kong or Guangzhou, while Shenzhen has less shopping attraction than other cities.
On the other hand, he noted Shenzhen residents poured the majority of their money into real estate investment and housing rents, which to a great extent squeezed social consumption.
Hangzhou, however, experienced rapid growth in social consumption in recent years, with 621.5 billion yuan, up 8.8 percent from the previous year. The economic prosperity in Hangzhou resulted from its boom in the e-commerce sector, which saw the added value of the digital economy industry rising by 15.1 percent in 2019.
During the novel coronavirus outbreak, domestic consumption has played a more critical role than before to boost the economy. Government officials in different provinces have taken multiple measures to stimulate social consumption.
On May 5, Shanghai launched a massive campaign to boost consumer spending and resuscitate an economy bruised by the epidemic. It started from May and will last through June, taking in key festivals such as May Day, Children's Day and the Dragon Boat Festival.
Jinan in Shandong province announced on April 30 that the government would launch hundreds of shopping festivals, and rolled out consumer vouchers worth 1 billion yuan for residents.
Wuhan in Hubei province has started the consumer voucher program since April 19, with a total of 2.3 billion yuan targeting four areas: restaurants, shopping malls, supermarkets and tourism.