Beijing to expand services space for foreign investors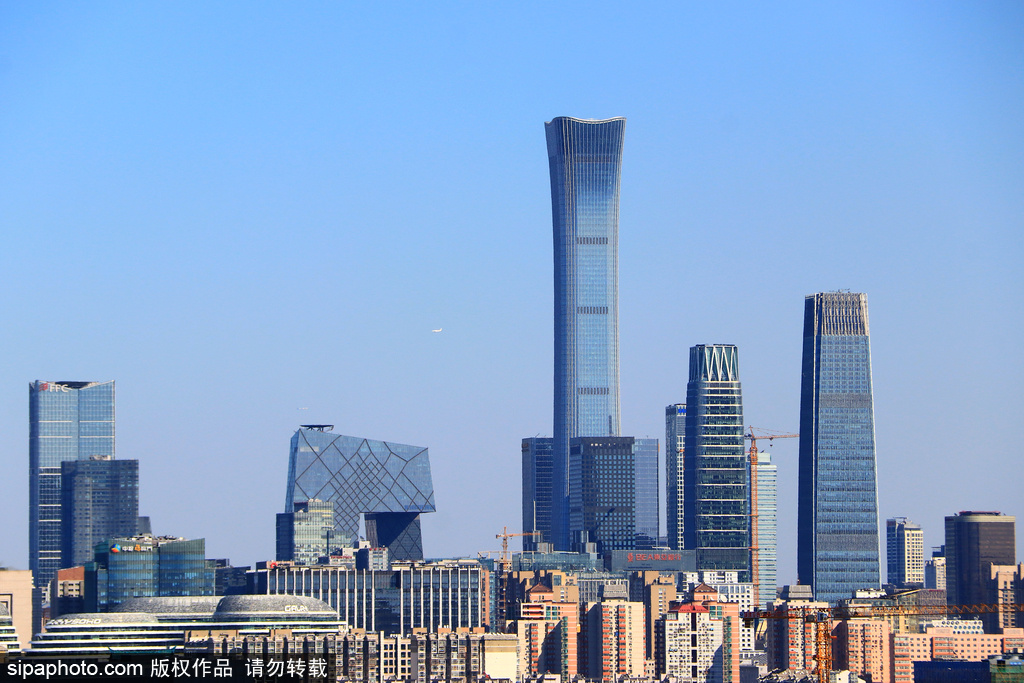 A photo shows the view of CBD area in downtown Beijing, capital of China. (Photo: Sipa)
Beijing will create more business opportunities for global investors by further opening up the services industry and being a role model in the sector for the rest of the country, senior officials said on Friday.
They spoke as the capital city has gotten a green light to expand market access in the services industry and build a national-level comprehensive demonstration zone in this sector.
A pilot zone built according to government-led planning will feature advanced international trade and investment rules, focusing on nine key industries: scientific and technological services, digital economy and digital trade, financial services, commerce, culture, tourism, education and healthcare, said Wang Shouwen, vice-minister of commerce, at a news conference.
Wang added that 26 opening-up and innovation measures in four areas have been put forward.
In addition to expanding the scope of foreign financial institutions and building more duty-free shops in Beijing, qualified companies engaged in the four types of businesses, such as integrated circuits, will be categorized as high-tech companies and benefit from preferential policies, he added.
In telecommunications, overseas operators will be entitled to provide services to foreign-funded companies in Beijing by setting up joint ventures with local partners, said Zong Changqing, director-general of the department of foreign investment administration under the Ministry of Commerce.
The government will also support foreign companies in investing in the city's healthcare, general aviation and first-aid transportation services, according to Zong.
By 2030, Beijing is expected to reach targets in free trade, investment, easy cross-border capital flows, employment, easy and convenient transportation, as well as the safe and orderly flow of data, officials said at the news conference.
The services sector and trade in services have become new growth engines for China. The value of China's services industry accounted for 53.9 percent of the country's GDP last year, contributing 59.4 percent of overall economic growth, according to a report released by the China Association of Trade in Services earlier this month.
Eager to diversify its development, Beijing has rolled out a series of measures to further open up its services market in recent years, attracting an increasing number of foreign-invested companies such as SAP, Visa, MasterCard and SWIFT in recent years.
According to the Beijing Municipal Commerce Bureau, a total of 590 foreign-invested enterprises were established in the city during the first half, with the actual use of foreign investment reaching 7.21 billion yuan ($1.05 billion).
Yang Jinbai, Beijing's vice-mayor, said more efforts will be made in the city, such as adopting policies being applied in China's pilot free trade zones, cultivating high-tech industries, encouraging innovation and entrepreneurship and improving the attraction of high-end talent.
Wilson Ho, vice-president and managing director of SAS China, part of the United States-based analytics firm, said the company has always been fairly optimistic about the Chinese market and has full confidence in the growth of China's services sector.
"SAS mainly serves analytics applications in various industries, especially as we are passing through a special phase this year. However, business data shows that the pandemic had limited impact on our business in China in the first half of the year. In fact our business in China managed to see some improvements," he said.
The company plans to invest $1 billion in artificial intelligence between 2020 and 2022, with China a main target market in which the company sees huge demand on the back of the nation's emphasis on artificial intelligence growth, especially in big cities like Beijing, Shenzhen, Guangdong province, and Hangzhou, Zhejiang province.