Business jets risk U.S. pilot shortage on competition from airlines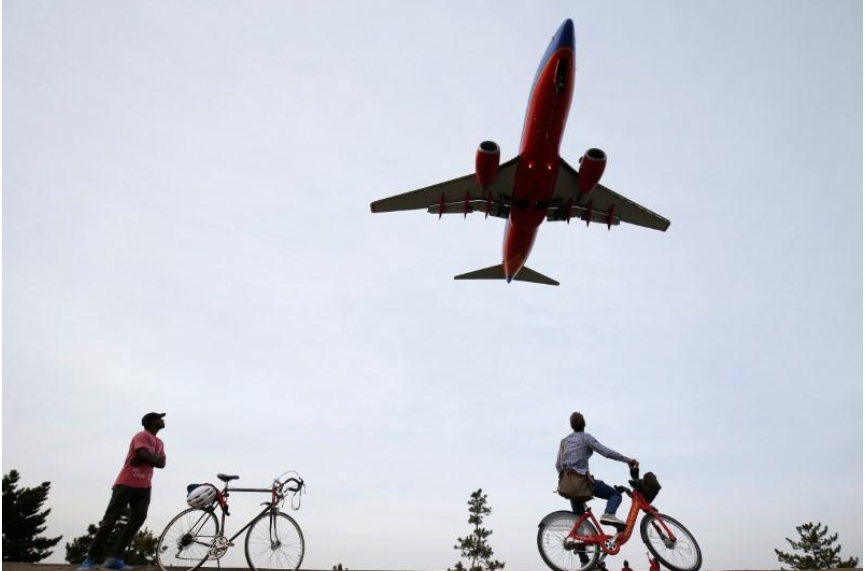 People watch airplanes land during unseasonably warm weather at Reagan National Airport in Washington, U.S., February 22, 2017. REUTERS/Joshua Roberts
Business jet operators, already offering double digit raises to attract pilots, could face a labor shortfall in North America as they compete with U.S. airlines for talent, executives and analysts said.
Competition is intensifying from airlines, which generally offer higher salaries and better benefits and are taking delivery of new aircraft at a fast pace, U.S.-based aviation consultant Rolland Vincent said. Boeing Co (BA.N) and Airbus SE (AIR.PA) left the Dubai Air Show this week with around 700 provisional orders for narrowbody commercial jets, potentially adding to already hefty backlogs.

It is expected that the world's rapidly growing commercial aviation industry will need an additional 255,000 pilots by 2027, according to training specialist CAE Inc (CAE.TO).
U.S. legacy carriers are recruiting employees to fly new aircraft and replace retiring staff, with American Airlines (AAL.O) expected to hire 900 mainline pilots in 2018, up from just over 500 in 2017, said Dennis Tajer, a spokesman for the Allied Pilots' Association (APA), which represents American Airlines pilots.
"It's really a buyers' market and the buyer is the pilot now," Tajer said in a telephone interview on Friday. "If you don't pay pilots the market rate you're going to lose them."
By contrast, in Europe corporate jet operators did not lose many pilots this year to commercial aviation because carriers had an adequate supply of pilots after Air Berlin (AB1.DE) and Britain's Monarch Airlines ceased operations, said Adam Twidell, chief executive of PrivateFly, a global private jet charter broker.
According to the 2017 pilot salary survey from the National Business Aviation Association (NBAA), a captain flying a midsized corporate plane like the Bombardier (BBDb.TO) Challenger 350 made about $130,000 on average. In 2017, an American Airlines captain flying the B737 or A320 narrowbody earned just over $268,000, according to an APA compensation document.
Don Haloburdo, vice president and general manager of flight services for business aircraft management and charter company Jet Aviation, a division of General Dynamics Corp (GD.N), said corporate pilots' salaries rose 20 percent this year on an annual basis.
Haloburdo expects the higher salaries to slightly increase operating costs for business jet companies, but that could be absorbed. He does not think they would hurt sales since owners' largest expense, fuel, is relatively low.
Although business jet sales are flat, Haloburdo expects demand for corporate pilots and maintenance technicians to pick up after 2018 as airlines boost recruiting efforts and popular new planes hit the market from Bombardier and Gulfstream, also a division of General Dynamics.
"When Bombardier starts delivering the Global 7000 in significant numbers, Gulfstream starts delivering their G500 and G600 in significant numbers, that's where our industry is going to have a very significant challenge finding qualified crew members," he said.
Most buyers of the Global 7000, which lists for about $73 million, already own corporate jets and have their own pilot crews, Bombardier Business Aircraft President David Coleal said in an interview.
But the new jets could attract less well-paid corporate pilots who work on contract and fly smaller aircraft.
It can already be difficult for companies without full time crews to schedule last-minute flights, said Warren Peck, president of Phoenix Rising Aviation, an Oklahoma-based maintenance and repair operation specializing in Dassault Aviation SA (AVMD.PA) Falcoln jets.
A former U.S. military pilot, Peck offers to fly at a discounted rate for his maintenance customers who cannot find a pilot.
"A lot of my customers, operators don't have full-time, in-house pilots," he said. "For them, it's very helpful."