Air Silk Road helps elevate Sino-European trade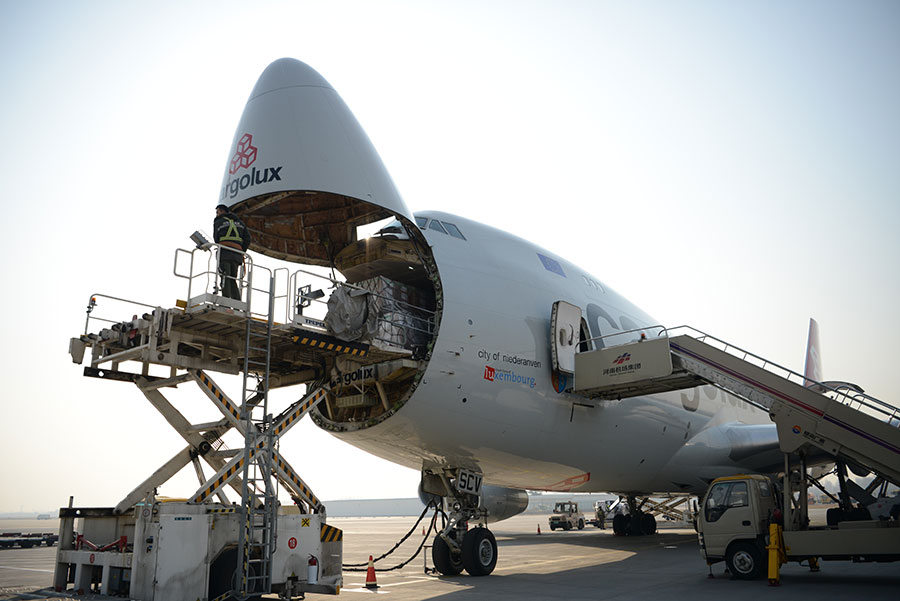 The rapid growth of the "Air Silk Road" between Zhengzhou, Henan province, and Luxembourg will further bolster trade in goods between China and Europe and upgrade the cooperative content of the Belt and Road Initiative, said senior government officials on Wednesday.
China began to support building a bidirectional Silk Road via air between Zhengzhou and Luxembourg in 2017. The service range of the Air Silk Road now covers more than 200 cities in 24 European countries and 90 cities across China, according to information released by China's National Development and Reform Commission.
With its service function having since expanded from air freight logistics to cross-border e-commerce service in recent years, China and Luxembourg should build a wider coverage of the logistics network for the Air Silk Road, and develop multimodal transport services to better meet the needs of various countries for both industrial and consumer goods in the future, said He Lifeng, head of the NDRC.
He delivered a speech via video at the main forum of Zhengzhou-Luxembourg Air Silk Road Forum for International Cooperation, held in Zhengzhou on Wednesday.
Luxembourg's Prime Minister Xavier Bettel said that the Air Silk Road between the two countries is not an empty slogan, but instead one of the most visible and tangible pillars of bilateral cooperation.
"We stand ready in the framework of the Air Silk Road to contribute to the development of Chinese trade and services, boosting high-quality growth and innovations," Bettel said via video.
In contrast to the land and maritime silk roads, the Air Silk Road is able to overcome infrastructural problems associated with overland transport, as well as the geographical limitations of maritime transport.
The air road's operators — Henan Aviation Development and Investment Group and Luxembourg-based Cargolux Airlines International — have set up a dual hub strategy to develop a European logistics hub at Luxembourg Airport and a Chinese logistics hub in Zhengzhou, and cargo transported via the Air Silk Road has expanded from traditional light industry items to more than 200 kinds of goods such as German precision instruments, French ponies, Dutch fresh-cut flowers and Danish seafood.
Richard Forson, president and CEO of Cargolux, said that with this partnership, the group to date has operated more than 11,000 flights into and out of Zhengzhou Xinzheng International Airport, and transported close to 1 million metric tons of cargo.
The growth of the Air Silk Road will effectively enhance regional connectivity and boost economic and trade cooperation with other countries and regions, as well as advance the high-quality development of the BRI, said Zhang Dawei, vice-chairman of the China Center for International Economic Exchanges.