Demand for ready-to-eat food rises on supply gap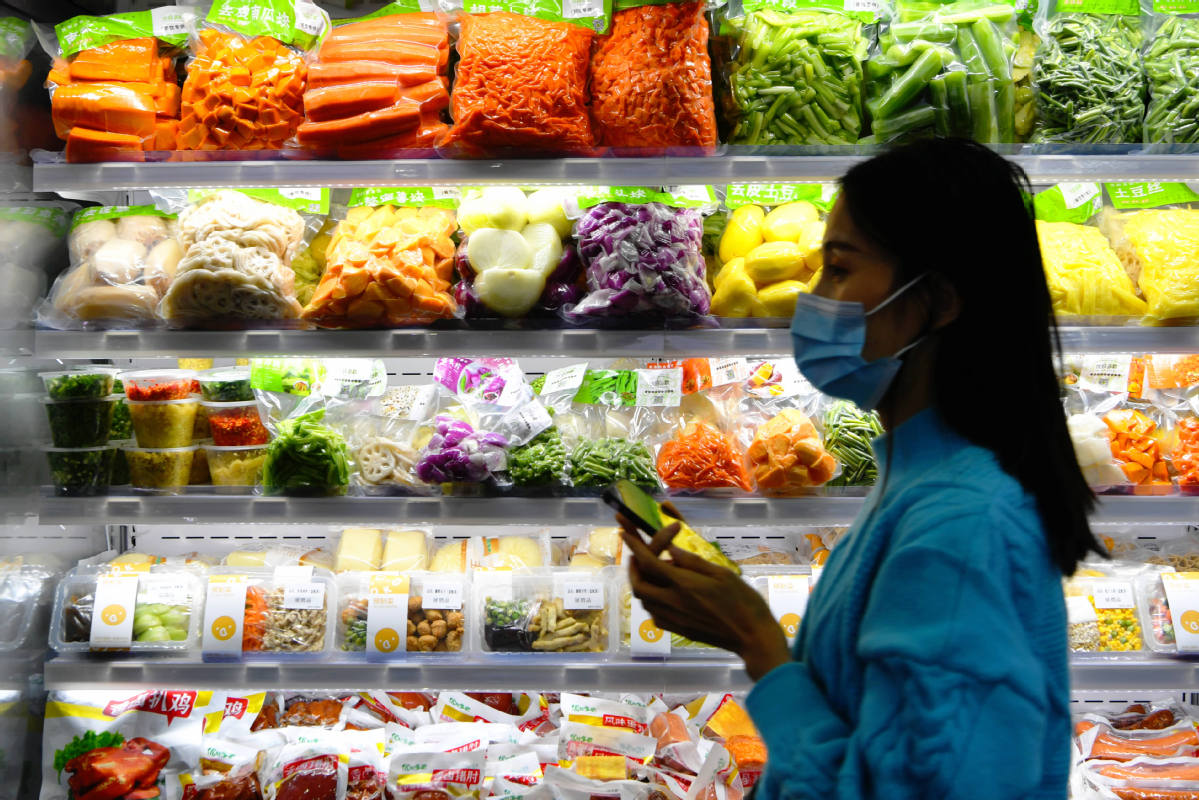 Demand for ready-to-eat meals has surged recently in China as fresh COVID-19 cases have compelled many consumers to stay at home, necessitating the purchase of such products, leading to current demand outstripping available supplies.
Also, consumers appear to believe it is advisable to stock up given that many raw material prices have risen in recent months, raising concerns that such price hikes may be passed on to consumers eventually, market insiders said.
Major ready-to-eat food makers have reported a surge in sales-and more retailers, including e-commerce grocery platforms such as Freshippo, Missfresh, Meituan Maicai and Dingdong Maicai, have increased their investments in the sector.
Without disclosing specific numbers, Meituan Maicai said its sales of semi-cooked meals and pastries in 2021 increased by four times over 2020. The company cooperates with third-party catering enterprises.
In March, Missfresh launched eight new ready-to-eat dishes, including Japanese-style curry beef, Fotiaoqiang, a traditional thick soup made of a variety of seafood and meats, and braised sea cucumber, with an option for individual servings. Last year, sales of ready-to-eat meals at Missfresh surged 300 percent year-on-year, it said.
This has raised expectations that investors will back promising companies in the catering sector that require funding for expansion. "Ready-to-eat foods meet the immediate demand of consumers, and retailers are expected to see booming growth prospects," said Tan Haicheng, executive president of the Guangdong Restaurant Association.
"Operators of fast food joints, hotpot restaurants, milk tea outlets and some others in highly standardized categories are likely to obtain financing from investors and exploit opportunities to go public," Tan said.
Shandong Delisi Food Co Ltd, a Shenzhen-listed company that concentrates on frozen pork processing, said brand, quality and innovation are the key factors that can help a company to succeed in the ready-to-eat meal market. Delisi has established a research center and more than 30 professionals are specializing in developing ready-to-eat dishes, Xinhua News Agency reported.
"Consumers care about taste, appearance and nutrition of ready-to-eat meals, and such dishes require solid innovation and research," said Zheng Simin, chairwoman of Shandong Delisi Food.
Currently, China's ready-to-eat meal market size is about 300 billion yuan ($46.7 billion) in annual sales, which are expected to reach 1 trillion yuan in the next six to seven years and more than 3 trillion yuan over the long term, according to a report from Shenzhen-based research firm AskCI Consulting.
Last year, some Chinese catering companies that make ready-to-eat foods went public. For instance, Suzhou Weizhixiang Food Co Ltd, which operates more than 1,600 stores nationwide, became the first listed Chinese company to make ready-to-eat foods.
Zhengzhou Qianwei Central Kitchen Food Co Ltd, a company that focuses on providing food for hotels and canteens, listed on the Shenzhen Stock Exchange last year, becoming the first listed domestic company to make frozen baked goods.
Earlier this month, the local government of Weifang, Shandong province, released a guide to promote the high-quality development of the local ready-to-eat meal sector. It aims to top the list of Chinese cities known for ready-to-eat food.
A research report by Zhongtai Securities said China's ready-to-eat meal market is still nascent, with a penetration rate of around 10 percent. In Japan, the corresponding figure is 60 percent. Based on the experience in Japan, some breakthroughs in cold chain storage and logistics can help develop the sector in China.