Shipbuilders to walk the 'smart' path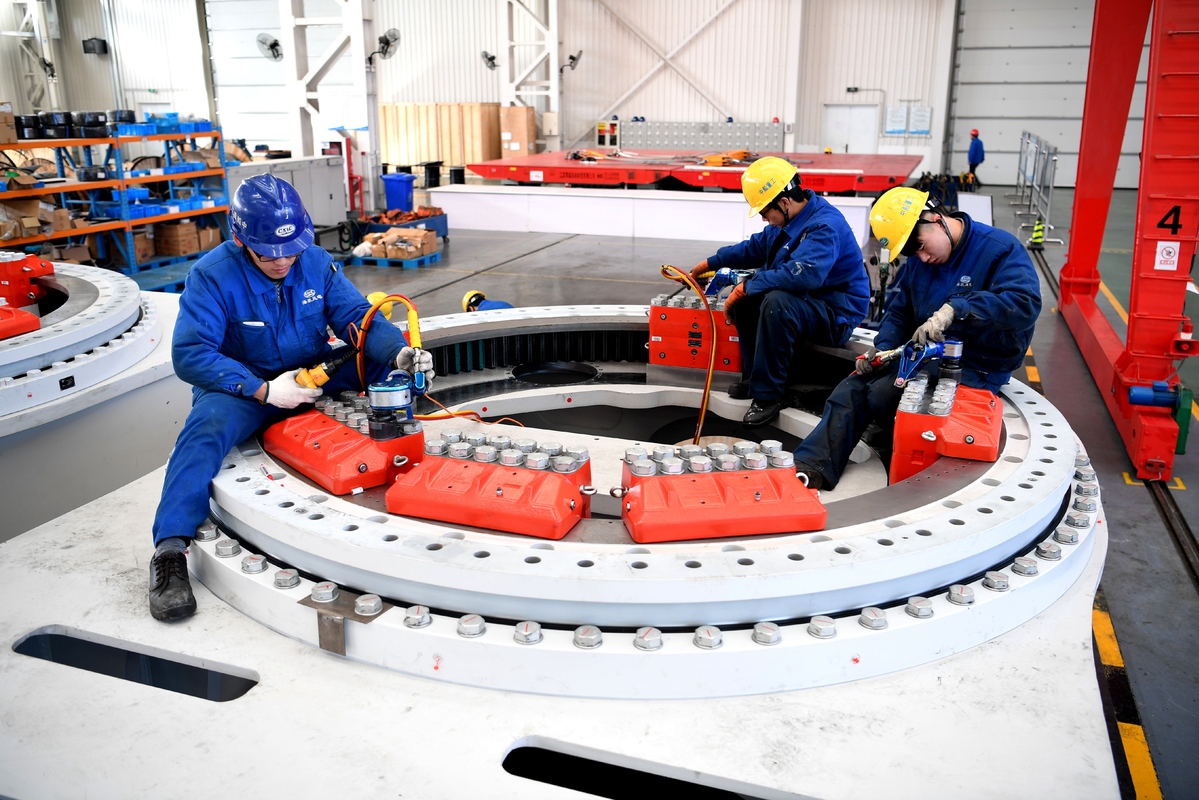 Employees from a subsidiary of China Shipbuilding Industry Corp install clean-energy equipment in Nantong, Jiangsu province. (Photo: Xinhua)
China will acquire more smart shipbuilding technologies, particularly in areas such as the development of new generation liquefied natural gas carriers, internet-connected and high-efficiency manufacturing in its shipyards between 2019 and 2021, senior officials said on Friday.
Xin Guobin, vice-minister of industry and information technology, said though China has price advantages and accumulated mature technologies in building bulk ships, container vessels and oil tankers, the industry can no longer depend on building ships with lower added value.
His words came after the country received no orders for LNG carriers in 2018, even as other major shipbuilding nations like South Korea, Germany, Italy and the United States accelerated their intelligent manufacturing, self-driving and smart vessel efforts.
South Korean shipbuilders, including Hyundai Heavy Industries Co and Samsung Heavy Industries Co, gained 52 orders, or 86 percent of the world's total orders for LNG carriers so far in 2018, according to data from British shipbuilding and marine analysis agency Clarkson Research Services.
Eager to boost the country's shipbuilding industry, the government launched two action plans last year to develop intelligent ships and upgrade manufacturing facilities in shipyards across the country between 2019 and 2021.
He said domestic shipyards must make breakthroughs to resolve problems in equipment, materials and gain expertise to upgrade their shipbuilding strength and establish interconnected networks for new industrial ecology. In addition, they should pay attention to the accumulation of data information resources and improve the information security protection capabilities at shipyards.
"Major manufacturers in the West, South Korea and Japan are accelerating steps to revitalize the manufacturing industry while developing countries such as China are attracting high-end manufacturing with lower production costs," said Zhang Baochen, director of the academic committee of China Waterborne Transport Research Institute of the Ministry of Transport.
"The government should continue to offer policies to encourage shipyards to expand smart manufacturing in more specific and detailed manufacturing processes, particularly during the outfitting phase," he said.
Even though major shipyards in the country have adopted advanced machines to cut, weld and paint components, or "part automation" in the assembly line, Zhang said there are still several challenges for shipyards to shift from traditional processes to robotic and intelligent methods.
First of all, the shipyard should be capable of building new labs to conduct internet-connected research such as electromagnetic compatibility test, anti-collision test and operational test for unified network information platforms as simply buying new manufacturing equipment from other global suppliers alone cannot meet the new standards, said Wang Qi, chairman of Shanghai Waigaoqiao Shipbuilding Co Ltd.