US pressure drives China's IC sector
Global Times
1558305842000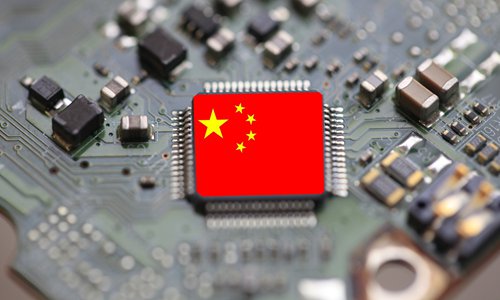 (Photo: IC)
China's semiconductor industry has been developing steadily over the past decade, which is in line with China's demand to establish its own industrial chain, and the pace will further accelerate amid the trade war with the US, industry participants said.
"China is playing an increasingly important role and has been one of the main driving forces for the development of the world's integrated circuit (IC) industry," Wang Xinzhe, chief economist at China's Ministry of Industry and Information Technology, said at the 2019 World Semiconductor Conference in Nanjing, capital of East China's Jiangsu Province, on Friday.
China's semiconductor industry output reached 1.6 trillion yuan ($231 billion) in 2018, accounting for nearly a 50 percent share of the global market, according to Wang.
According to the white paper on development trends in the global semiconductor market released by CCID Consulting on Saturday, China's semiconductor market led the world in terms of growth rate, rising 20.5 percent year-on-year, 6.8 percentage points higher than the global average.
Christopher Millward, president of the United States Information Technology Office, said that as a critical part in the value chain of the IC industry, China is not only a prime consumer, but also an innovator and developer.
The rapid growth of China's semiconductor market is coming amid an escalating trade war between China and US. The US Department of Commerce announced on Thursday that Chinese technology giant Huawei and 70 of its affiliated companies would be included in an "entity list" of export controls, prohibiting Huawei from buying technology or parts from US companies.
Experts noted that the extreme strangulation, which is intended to hold back China's high-tech development, will push the nation's semiconductor industry to develop in a faster manner.
Despite the impact of trade unilateralism on the moderate growth of the world economy, China's IC industry achieved fruitful results in 2018, Yu Xiekang, deputy chairman of the China Semiconductor Industry Association (CSIA), said at the conference.
According to data from the CSIA, the revenue of China's IC industry reached 653.2 billion yuan in 2018, up 20.7 percent year-on-year.
Overseas mergers and acquisitions by China's chip industry have encountered some setback. But this situation has enhanced China's determination to pursue independent research and development, and it has also highlighted the importance of building a complete industry chain, Yu said.
The global IC industry can't develop without the great contributions of China. At the same time, the development of China's IC industry can't be promoted without international support, experts noted.
"China's imports of IC products keep expanding, and this sector still recorded the largest import amount in China," Yu added.
According to media reports, almost all large global semiconductor enterprises have a presence in China, and they are increasing their investments. For instance, Qualcomm Technology, together with China Datang Corp, invested in JLQ Technology, a Chinese chip company.
South Korea's SK Hynix said in February that it would spend $107 billion building four factories in China, as it seeks to maintain its competitiveness in chipmaking, Reuters reported.
Challenges persist
Experts noted that despite the sector's rapid development over the past decade, challenges remain, and China needs confidence and patience before its efforts bear fruit.
"China has to scale up its investment in research and development (R&D) in the sector, as well as strengthen talent training and cultivation. It also needs a top-level plan from the central government to boost the industry," Wei Shaojun, director of the Institute of Microelectronics at Tsinghua University, told the Global Times on Sunday.
According to Wei, it is estimated that the country's overall R&D input in the IC industry doesn't exceed $5 billion per year, or 50 percent of Intel's annual R&D investment.
Industry data also showed that reserves of talent in China are far behind the development of the industry. According to an industry white paper, by 2020, the demand for talent in China's IC industry will be about 720,000 people, while China's existing talent stock is 400,000, so the talent gap will reach 320,000 by then.
"We should take note of the reality that China has developed at a very fast pace in the IC industry. To march further, we need both confidence and patience, and we must be prepared for a long battle," Wei said.
"Our biggest advantage is a huge market, which will inspire the industry to go further," he noted.