Chinese, U.S. business leaders discuss development of global unicorn enterprises
Chinese and U.S. business executives, investors and hi-tech representatives met in Silicon Valley Friday to discuss the ecosystem of global unicorn enterprises and their strategic development in the future.
At the first 2018 Global Unicorn Enterprise Forum, which opened in Silicon Valley late Friday, the participants, including speakers from sophisticated unicorns like Alibaba Cloud and U.S. ride-hail giant Uber, talked about the ecosystem for unicorns in Silicon Valley.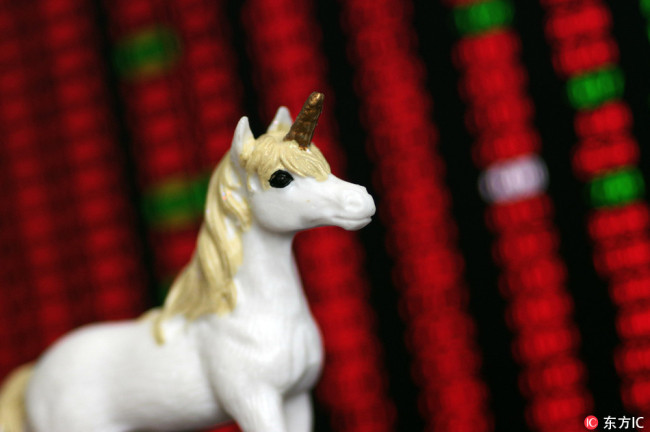 [File photo: IC]
David Haubert, mayor of Dublin city in East Bay Area in western California, said the number one relationship in the world is the one between China and America.
He said he has been to China for many times and each time he went back to China, he would see something "new and amazing," and he sees "a bright future" for China.
"China can do anything, and with technological advancements and by working together with the United States, we can together accomplish anything," he said.
Chinese Consul General Luo Linquan said in his speech at the forum that China and the United States are the two largest economies in the world, with their total economic output accounting for 40 percent of the world's total.
"The economic and trade cooperation based on mutual benefit and win-win results has always been the ballast of Sino-U.S. relations," he said.
"Unicorn enterprises that are constantly emerging in both countries best testifies that the deeper reach of global multinational companies and technological innovation on a global scale offer new opportunities and impetus for more extensive cooperation between China and the United States," he added.
Silicon Valley, as the birthplace of innovation and unicorns in the world, boasts successful development experience and a sound investment environment for many startups, he said.
He hoped the long-distance video-conference dialogue between the participants in Silicon Valley and their counterparts in Chengdu, capital city of Sichuan province in southwest China, will serve as a platform for them to contribute their ideas on the future development of global unicorns, and the cooperation between the two places.
The participants agreed that China and the United States are the two countries with the largest number of unicorn enterprises and mega-sized unicorns.
A report by Deloitte and China Venture says that China accounts for 38.9 percent of the total number of unicorns globally, and the U.S. takes up 42.1 percent.
In the parallel conversation with their peers in Chengdu via the video conference, panelists from J.P. Morgan, BGI Genomics, and Quanergy, as well as entrepreneurs from China, shared their insights on innovation and the phenomenal growth of unicorns in the two countries.
The forum, jointly hosted by People's Daily Online and the Chengdu Municipal Government, attracted over 100 participants from China and America.