Airbus, Boeing close in on Dubai deals worth $30 bln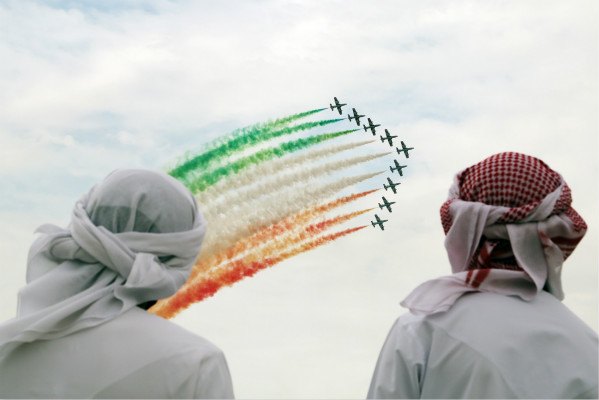 The Frecce Tricolori aerobatic display team of the Italian Aeronautica Militare performs at the 2015 Dubai Airshow. Photo: VCG
A battle for orders erupted on day one of the Dubai Airshow on Sunday as Europe's Airbus and its U.S. arch-rival Boeing prepared to fire opening salvos worth almost $30 billion.

Airbus was widely expected to announce a fresh order worth $16 billion at list prices for the world's largest passenger jet, the A380, from Dubai's Emirates, injecting new life into its soft-selling superjumbo programme.

Boeing logo on the fuselage of a Boeing 787-10 Dreamliner test plane presented on the Tarmac of Le Bourget. Photo: VCG
But sources familiar with the matter said Boeing could try to upstage its European competitor by grabbing a surprise early order worth $12-13 billion for its 787-10 Dreamliner.

Boeing was close on Sunday to the deal to sell around 40 of the longest version of its Dreamliner family, also to Emirates, the sources said.

Airbus, Boeing and Emirates all declined comment.

Boeing held a lead over Airbus going into the largest Middle East industry gathering, with about 65 percent of the combined orders posted by the two plane giants so far this year.

Airbus is looking for a boost to the A380 superjumbo, which after a decade in service has seen sales decline in favour of smaller but equally efficient long-haul jetliners.

The deal for an expected 36-38 A380s aircraft is likely to be secured with the help of an agreement by Airbus to buy back some of the earlier A380s as they leave the Emirates fleet.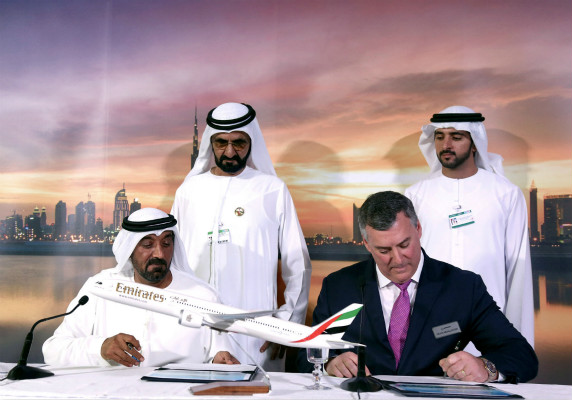 Sheikh Ahmed bin Saeed Al Maktoum (L), CEO & Chairman of Emirates Airline, Kevin Mcallister (R), Executive VP & CEO of Commercial Airplanes Boeing, sign contract during the press conference at Dubai Air Show in Dubai. Photo: VCG
"A few trade-ins will be involved," a person familiar with the matter said.

Emirates meanwhile joined forces with Mercedes-Benz to launch new first-class suites, inspired by the styling of luxury car interiors.

Emirates, which was the first airline to put showers on commercial jets, rolled out the futuristic design at the start of the Nov 12-16 show.

The six fully enclosed cabins for its Boeing 777 jets feature seats that recline into flat beds and a 32-inch television.