Air purifier sales continue to drop in China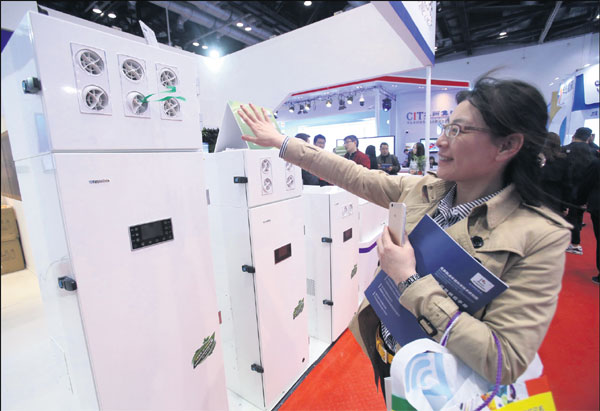 Air purifiers are on show at a school facilities fair in Beijing. (Photo: China Daily)
Air purifier sales in China declined sharply last year and are to continue to drop this year due to improving air quality in big cities, according to a report released Friday.
Total sales last year stood at 11.7 billion yuan ($1.7 billion), a decrease of 28 percent compared with the previous year, said the report, released by the Association of Environmental Protection of Shanghai.
Sales are predicted to this year decline by 10.9 percent, the report said.
The sales decrease over the past year was largely a result of improved air quality across China, with particulate matters smaller than 2.5 microns in the air decreasing in density, the report said.
Most air purifier brands in China have focused on PM 2.5 removal to attract buyers, and sales grew and grew until last year, the report said.
With smog-removal air purifiers decreasing in popularity, products tackling methanol, a major indoor pollutant, have become more popular since late last year and may become more mainstream in future, the report said.
The report also said fan filter unit (FFU) products, which were originally intended for industrial use but are now sold as domestic air purifiers, have serious safety risks.
Of the eight FFU products inspected by the association in April, none met safety standards.
Chen Qi, deputy chief of the association's air purification committee, said with improving outdoor air quality, consumers may show increasing demand for air purifiers able to remove methanol effectively, and producers need to intensify their research to help meet this demand.