Govt revising foreign investment catalogue to boost processing trade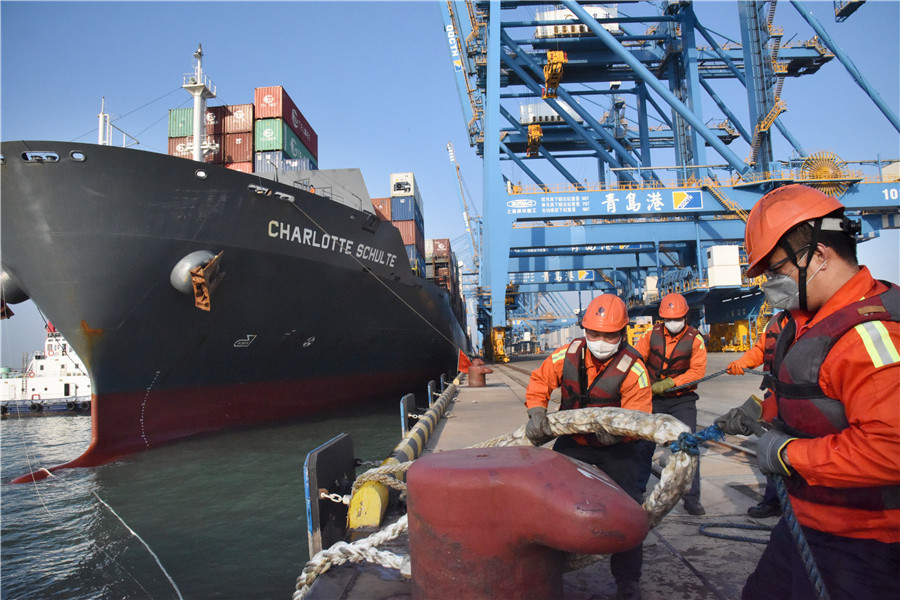 Port employees help a cargo vessel dock at the container terminal of Qingdao Port, Shandong province. (Photo: Xinhua)
China is working on revising the Catalogue of Encouraged Foreign Investment Industries, in bid to promote processing trade amid the novel coronavirus outbreak, a senior commerce official said on Friday.
Li Xingqian, director of the Ministry of Commerce's foreign trade department, said the National Development and Reform Commission and the ministry have already begun the revision of the catalogue.
In the nationwide version of the catalogue, a major change will be addition of related items about boosting high-quality development of manufacturing industry, so as to optimize the industrial structure of processing trade, Li said at a press conference.
For the version applicable to the central and western regions, the revision focuses more on enhancing regional ability of industrial transfer and improving the regional structure of processing trade, Li said.
Processing trade refers to the business activity of importing all, or part of, the raw and auxiliary materials, etc. from abroad, and re-exporting the finished products after processing or assembly by enterprises within the Chinese mainland.