Audi, FAW to establish JV to produce electric vehicles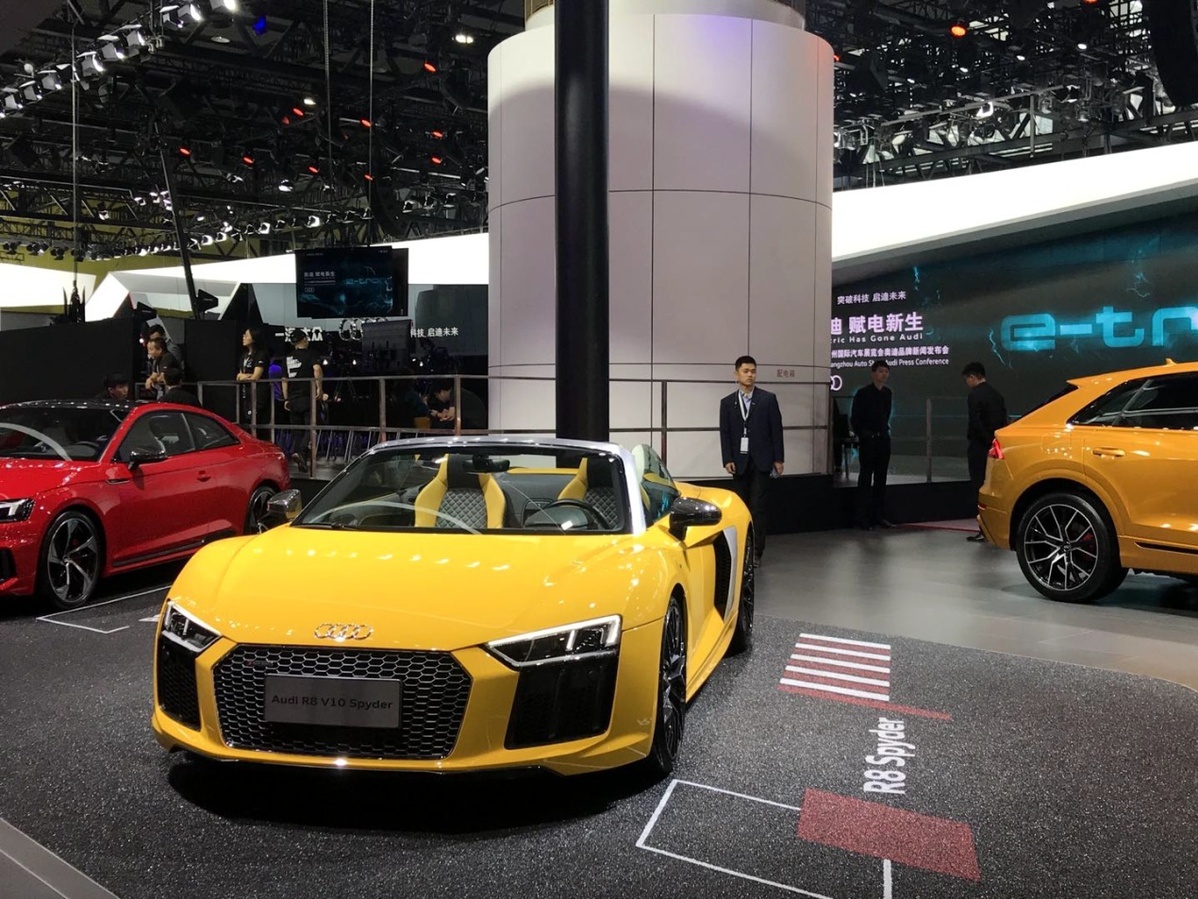 Audi showcases its models at the Guangzhou auto show in 2019. (Photo: China Daily)
Audi and FAW are to establish a new joint venture in China to produce electric vehicles based on the PPE platform, according to a memorandum the two signed Tuesday during the Germany-China Automobile Conference held in Changchun, Jilin province.
The PPE platform, which stands for Premium Platform Electric, is co-developed by Audi and Porsche for large-sized electric vehicles.
The plans for the new company are still being developed, with production scheduled to start in 2024, Audi said in a statement.
This will be the second car-making partnership between the two, in addition to FAW-Volkswagen, which is producing Audi, Volkswagen and Jetta-branded models in the country.
"This decision (to set up a new joint venture) emphasizes the strategic importance of the Chinese market. We are thus actively pushing forward with innovations locally," said Markus Duesmann, chairman of the board of management of Audi AG.
Starting from June, Duesmann has also assumed direct responsibility for Audi's business in China, its largest market worldwide.
Last year, the carmaker sold 688,800 vehicles in China, accounted for more than 37 percent of its global total. Its four manufacturing facilities in the country have a combined production capacity of 700,000 vehicles a year.
Werner Eichhorn, president of Audi China, said, "This is a further milestone in our electrification strategy for the Chinese market.
"We are also confirming our commitment both to our longstanding Chinese partner FAW and to our activities in China, which we are now taking to a new level."
Qiu Xiandong, president of FAW, said the move is proof of the two companies' mutual trust built over the past decades, and is also a signal of China's efforts to further open up its auto industry and deepen international cooperation in the segment of new energy vehicles.
China has been the world's largest market for new energy vehicles since it overtook the United States in 2015.
Statistics from the China Association of Automobile Manufacturers show that 138,000 electric cars and plug-in hybrids were sold in September, up 67.7 percent year-on-year. Sales in the first nine months totaled 734,000 in the country.
Audi's electric initiative in China has already begun. In partnership with FAW, it is producing the all-electric Q2L e-tron and the plug-in hybrid A6L TFSIe.
In addition, the previously imported Audi e-tron has been produced in Changchun, Jilin province, since the end of September.
Audi is planning to scale up offerings of electric models of the e-tron family in China. By 2025, the carmaker aims to achieve around a third of sales in China with electrified vehicles.
Audi was one of the first international carmakers to start local production in China.
Despite the coronavirus, the carmaker delivered 512,081 vehicles in China in the first three quarters of 2020, up 4.5 percent year-on-year.