Brazil wants to promote investment flows with Macedonia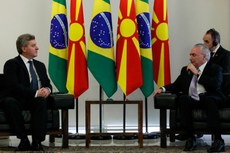 President Michel Temer and Macedonian president Gjorge Ivanov during a bilateral meeting. (Photo: Marcos Corrêa/ Brzil GovNews)
RIO DE JANEIRO, December 12 -- Brazil is willing to boost investment and broaden communication channels with Macedonia, Brazilian President Michel Temer said on Tuesday.
"We want to promote investment flows, we want to create new political and communications channels," Temer said in his speech during a lunch offered to visiting President of Macedonia Gjorge Ivanov in Brasilia.
According to Temer, Macedonia should soon allow import of Brazilian pork meat, in addition to beef and chicken Brazil currently exports to Macedonia
President Ivanov's checklist during his visit also include inaugurating the Macedonian Embassy in Brazil, the first Macedonian embassy to a Latin American nation. The embassy has been operating since last year.
It is the first official visit by President Ivanov to the Latin American country.