Export quotas for non-State oil refiners may help ease oversupply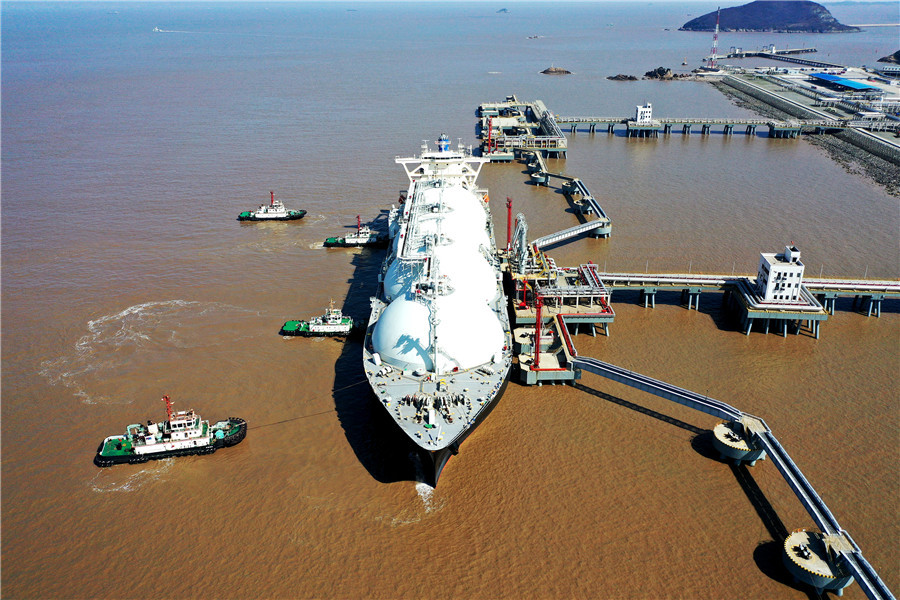 Bullet trains are ready for deliveries at CRRC Sifang Co Ltd in Qingdao, Shandong province, on March 26. (Photo: Xinhua)
Companies again allowed to sell abroad as nation facing excessive production
China's granting export quotas for refined oil products to non-State-owned refineries in the Zhejiang Pilot Free Trade Zone will ease the country's domestic oversupply of petroleum products, while sharpening the competitive edge of local refiners, said insiders.
With a new round of refining capacity expansion, the country is facing excessive oversupply in the sector, and permitting qualified private companies to export oil products will ease the pressure, said Li Li, research director at energy consulting company ICIS China.
Tang Sisi, an analyst with research firm BloombergNEF, also said lifting fuel export restrictions on non-State-owned refiners will help relieve the domestic supply glut as China gradually recovers from the COVID-19 demand shock.
"Independent refiners will be able to maintain a high run rate if they can export surplus products overseas," Tang said.
The current low crude oil price also leads to high operation rates of local refiners and shores up their gross margins, as they will take advantage of the situation and increase their crude purchases to refine more products, she added.
New mega-refineries by Hengli Group and Zhejiang Petrochemical added over 18 million metric tons of refined product capacity last year. The glut will be exacerbated in 2020 with the commissioning of Sinopec's 200,000-barrel-per-day Zhanjiang refinery, she said.
According to a Sinopec Economics & Development Research Institute report in December, China's petroleum product exports are expected to make the country the largest refined oil product exporter this year in the Asia-Pacific region.
One of the reasons for this is the rapid development of electric vehicles, which narrows demand for petroleum products in the country, it said.
China decided on March 31 to grant export quotas for refined oil products to non-State refineries in the Zhejiang pilot FTZ. Following the move, Zhejiang Petroleum & Chemical Co Ltd is believed to be the first private Chinese oil company in four years to get an official nod to export refined petroleum products.
Before that, fuel export quotas were granted to State-backed oil firms, including China National Petroleum Corp, China Petrochemical Corp, China National Offshore Oil Corp, Sinochem Corp and China National Aviation Fuel Corp.
China granted export quotas for refined oil products to non-State-owned refineries in 2016 but canceled the quota due to a less than satisfactory completion rate.
Of the 1.675-million-ton quota granted to 12 private refiners in 2016, less than a million tons were fulfilled, a completion rate of around 60 percent, according to public figures.
Li said it's necessary to have a requirement for market access for better execution.
The State Council also said it would study raising export rebates for very low-sulfur fuel oil (VLSFO) and allow companies to carry out bonded oil blending within the FTZ for the supply of clean marine fuel.
It said it would bring in foreign exchanges, including New York, London, Singapore and Dubai, as strategic investors into the FTZ, but did not give details.
It also encouraged the Zhoushan FTZ to carry out trial business of liquefied natural gas for bunkers.
Liu Manping, an expert at the China Oil and Gas Industry Think Tank Alliance, said the Zhejiang Pilot FTZ is the first of its peers to come up with supportive policies for a specific industry, and the oil and gas industry reforms allowing more companies to export refined oil products will stimulate the vitality of market players and allow them to explore market-oriented reforms in the field of oil distribution.
After three years of development, the Zhejiang Pilot FTZ has attracted more than 6,000 oil and gas companies of various types such as Saudi Aramco, Trafigura Group, Honeywell International Inc and Total SA. Their total trading volume stood at 320 billion yuan ($45.07 billion) in 2019, said the Ministry of Commerce.