Volvo delivers record sales in China thanks to continuous localization efforts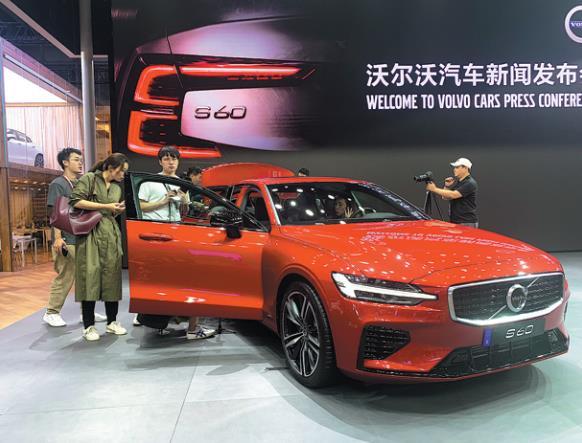 Volvo's new S60 sedan is exhibited at the Guangzhou auto show last year. (Photo: China Daily)
Volvo Cars had a record number of deliveries in China in 2019, mainly thanks to its SUV models, helping the Swedish carmaker tackle the headwinds that have lingered in the world's largest market for almost two years.
The carmaker sold 161,436 vehicles in China last year, up 18.2 percent year-on-year, outperforming the Chinese market where sales fell last year from 2018.
"The result is an all-time record for Volvo Cars in China and the highest sales number it has ever reached in a single market," the carmaker said in a statement.
Its China sales pushed global deliveries to 705,452 vehicles, an increase of 9.8 percent from 2018, according to the carmaker.
Volvo said its SUV models served as a particular highlight as the company gained market share in China, the United States and Europe amid stagnating global car markets.
The XC60 SUV continued to be the best-selling car for the company in China and globally. On the Chinese mainland, its sales totaled 62,594 in 2019, up 28 percent year-on-year.
It was followed by the locally-made S90 sedan, whose sales grew 24 percent from 2018 to 43,130, and the imported XC90 SUV, whose sales went up 21 percent year-on-year to 17,806. As of the end of 2019, Volvo had 261 showrooms in 148 Chinese cities. It said all of them will become globally standardized to offer customers a better experience in 2020.
Volvo said its satisfactory sales performance in the country can be attributed to its continuous localization efforts and customers' recognition of its emphasis on health, environmental protection and safety.
The Swedish brand now has three car plants and one engine factory in China, producing the S90 and S60 sedans as well as the XC60 and XC40 SUVs.
Around 40 percent of those vehicles are exported to as many as 70 countries and regions, which have made Volvo the first premium brand to sell China-made vehicles to Europe and North America, the carmaker said.
Volvo has around 600 suppliers in China, where its procurement accounts for around 30 percent of its global total.
It also has a design center and a research and development facility in the country.
"Volvo has developed from a Swedish brand into a truly global brand, with sound manufacturing and business networks in core regions including Europe, China and the United States," said Yuan Xiaolin, senior vice-president of Volvo Car Group and president and CEO of Volvo Car Asia Pacific.
China's role in Volvo's development is expected to grow further.
In March 2019, the carmaker unveiled its Asia-Pacific region headquarters in Shanghai, which signaled its commitment to the sustainable development of the Asia-Pacific market with China as the center.
In November, it opened a battery lab in Shanghai, which is expected to facilitate the brand's electrification strategy and further enhance its research and development capabilities in the country.
The carmaker said its research and development engineers in China will work closely with those in other countries and play a bigger role in developing vehicles for global markets.