US trade deficit rises to near nine-and-a-half-year high in February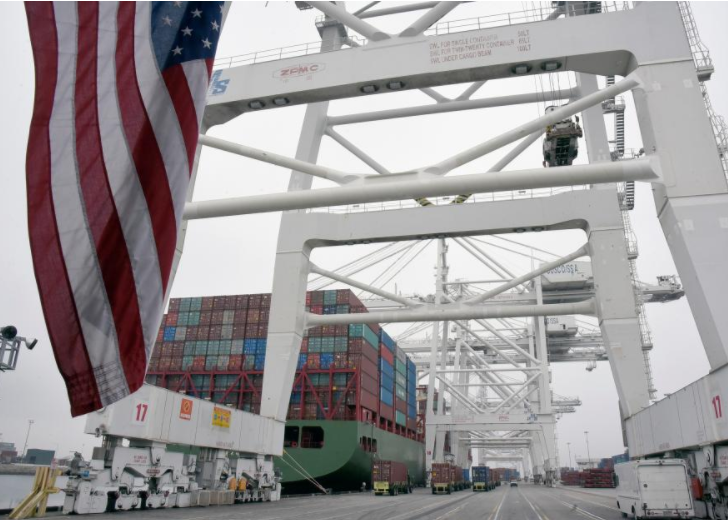 Shipping containers are being loaded onto Xin Da Yang Zhou ship from Shanghai, China at Pier J at the Port of Long Beach in Long Beach, California, US, April 4, 2018. (Photo: Reuters)
The US trade deficit increased to a near 9-1/2-year high in February, with both imports and exports rising to record highs in a sign of strong domestic and global demand.
News on Thursday of the worsening trade deficit came as the United States and China were embroiled in tit-for-tat tariffs which escalated trade war fears and rattled financial markets.
President Donald Trump's administration is pursuing import duties to eradicate the deficit and protect domestic industries from what he says is unfair foreign competition. But economists say the trade penalties will not reverse the deficit.
"The US continues to expand faster than most other industrialized countries, so it should not surprise anyone that the trade deficit is worsening," said Joel Naroff, chief economist at Naroff Economic Advisors in Holland, Pennsylvania."Tariffs may sound like a good way to change the pattern of trade, but they tend to raise prices rather than modify the trade fundamentals."
The Commerce Department said the trade gap increased 1.6 percent to $57.6 billion in February, the highest level since October 2008. The deficit has now increased for six straight months. Most of the rise in the trade deficit in February reflected commodity price increases.
Economists polled by Reuters had forecast the trade gap widening to $56.8 billion in February. The goods trade deficit was the highest since July 2008 and the surplus on services was the lowest since December 2012.
While the politically sensitive goods trade deficit with China fell 18.6 percent to $29.3 billion in February, it has increased 20.2 percent so far this year.
The Trump administration on Tuesday targeted 25 percent tariffs on some 1,300 Chinese industrial technology, transport and medical products, to force changes in Beijing's intellectual property practices. China swiftly retaliated on Wednesday with a list of similar duties on key American imports including soybeans, planes, cars, beef and chemicals
Trump, who claims the United States is being taken advantage of by its trading partners, has already imposed broad tariffs on imported solar panels and large washing machines. He has also slapped 25 percent import duties on steel and 10 percent on aluminum.
While these actions may prove politically popular with Trump's working class political base, especially in states hard-hit by factory closures and import competition, analysts warn they could undercut economic growth and raise prices for both consumers and producers.
The dollar rose to a two-week high against a currency basket amid signs the United States was looking to resolve the trade dispute with China. Stocks on Wall Street were trading higher while prices for US Treasuries fell.
DEFICIT WILL WORSEN
The trade deficit is expected to widen further, thanks to an accommodative fiscal policy stance at a time when the economy is operating very close to full capacity. A $1.5 trillion income tax cut package came into effect in January and government spending will increase this year.
The economy's strong fundamentals were underscored by a report from the Labor Department on Thursday showing the number of Americans on unemployment benefits falling to its lowest level since December 1973 during the week ending March 24.
When adjusted for inflation, the trade deficit slipped to $69.11 billion from $69.96 billion in January. The so-called real trade deficit average for the first two months of 2018 is above the fourth-quarter average of $66.8 billion.
This suggests trade would subtract from first-quarter gross domestic product. Trade sliced 1.16 percentage points from fourth-quarter GDP growth. The economy grew at a 2.9 percent annualized rate during that period. Growth estimates for the first quarter are mostly below a 2 percent rate.
"We suspect widening trade deficits and resulting subtractions from GDP growth will be a persistent feature of GDP this year as domestic demand outpaces the economy's supply potential," said John Ryding, chief economist at RDQ Economics in New York. "Tariffs will do nothing to lessen this trade imbalance, unless there is a retaliatory escalation that leads to an economic downturn."
In February, exports of goods increased 2.3 percent to $137.2 billion, boosted by shipments of crude oil, natural gas, motor vehicles, civilian aircraft, and drilling and oilfield equipment. Exports to China were unchanged in February.
Goods imports jumped 1.6 percent to $214.2 billion in February, lifted by food, civilian aircraft, computers and crude oil. Imports of services rose to a record $47.8 billion from $46.8 billion in January, boosted by royalties and broadcast license fees related to the Winter Olympics.
Imports from China declined 14.7 percent in February.