Senior South Korean fashion designer's case exposes industry secrets
Global Times
1561937965000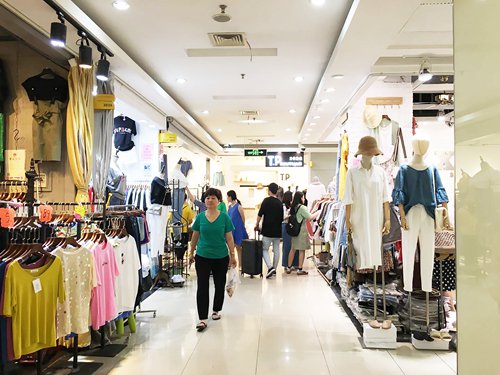 Consumers at the Qipu Road clothing market in Shanghai. (Photo: Global Times)
Several years ago, when China was increasingly feeling the phenomenon of Hallyu (the "Korean Wave"), South Korean TV series as well as fashion gained overwhelming popularity among Chinese audiences and consumers.
Many young Chinese girls imitated the fashion of Jun Ji-hyun, who starred in the popular drama You Who Came From The Stars (2013-14), which boosted the popularity of many South Korean niche brands among Chinese consumers. However, the trend may have been reversed.
Last week, South Korean media exposed a case in which a senior South Korean fashion designer, who hasn't been identified, sold Chinese clothes disguised as Korean products.
Chinese designs and fashions were considered as corny and out of date, but now, it seems they have caught up with their South Korean neighbors.
According to a Yonhap News Agency report, the designer sold 6,946 Chinese pieces of clothing worth about 700 million won ($605,661) in major department stores across South Korea between June 2017 and March 2019 by falsely marking the place of origin of the items as being from South Korea and labeling them as designer clothes.
The fashion designer bought Chinese T-shirts for around 10,000 won from Dongdaemun Market in Seoul and sold them for between 60,000 won and 70,000 won in department stores. He has been fined 44 million won by South Korea's customs agency.
Although the case happened in South Korea and seems to have nothing to do with Chinese consumers, the global distribution of the apparel industry chain makes it impossible for Chinese consumers to remain aloof.
Due to China's relatively cheap labor costs, China has many original equipment manufacturers that produce garments for foreign companies, including both international luxury brands as well as niche designer brands, with "Made in China" labels. However, there are also some small- and medium-sized plants where garments are produced with or without labels.
The manager of a clothes factory located in Shaoxing, East China's Zhejiang Province, surnamed Luo, told the Global Times that her foreign customers would provide "Made in China" labels for their orders of goods. "The garments have to be labeled with the place of origin as China where they are actually produced," Luo said.
But the manager of another clothes plant admitted that some foreign customers do not require the manufacturer to label the garments. "Since we have sold the garments, we don't care how they will label them," said the manager who did not disclose his name.
Selling power
Apart from the fact that the labels can be changed, or a false place of origin can be attached in the production process, it also happens in the sales process.
In a crowded building at the popular Qipu Road clothing market in Shanghai, where garment booths conduct wholesale and retail business, several booth owners or staffers told the Global Times that there are foreign clothing companies that buy clothes at the market.
A booth owner, who was unwilling to disclose his identity, told the Global Times that big foreign clothes companies usually attend large-scale clothing expos and procurement fairs to choose their cooperative Chinese clothes manufacturers, but some small-sized and individual foreign clothes retailers purchase small batches of garments at the Qipu Road market and sell them in foreign countries. They also buy Chinese designed and produced garments as samples for them to copy and produce in their own countries. "As salespeople, we don't care what the foreign customers do with the garments," he said.
At a booth selling designer brand clothing in the market, a Global Times journalist discovered that there is only a size label attached to the clothes. The brand and the place of origin are printed on the hand tag, which is easy to remove.
A sales person surnamed Liu selling South Korean children's garments told the Global Times that some overseas buyers purchase small batches of clothes at his booths and ship them overseas by sea or by air.
Salespersons at a booth told the Global Times that foreign customers usually purchase the garments at the booth in person. If there are enough goods in stock at the booth, they can directly send them overseas by a courier. "And if they attach their own labels, the garments become South Korean products," a saleswoman told the Global Times. "But we have no knowledge about the price difference between 'Made in China' and 'Made in South Korea,' in the South Korean market," she added.
Pricing quality
In the aforementioned case, the garments the designer sold at major department stores were six-fold or seven-fold pricier than what the unidentified fashion designer paid at the Dongdaemun Market. So, the Global Times tried to figure out the price differences of the clothes sold at Dongdaemun and Qipu Road markets.
A consumer surnamed Zhang thinks "you get what you pay for" at the Qipu Road market. "The texture of cheaper clothes is relatively rougher and coarser," Zhang said.
Zhang, who bought clothes at Dongdaemun Market, thinks that compared with the clothing prices there, the prices of the clothes at the Qipu Road market are artificially inflated. "At Dongdaemun market, I know the quality of clothes I can buy with 50 yuan ($7.26), but here, I am not sure if the clothes I buy are worth the prices I pay," said Zhang who added that wholesale prices at Dongdaemun Market are cheaper than those at Qipu Road market, so some booth owners here purchase clothes at Dongdaemun Market and sell them at the Qipu Road market.
A customer surnamed Wei who travels to South Korea once every two years thinks that it is not easy to figure out if the clothes that are labeled as South Korean products are indeed made in South Korea. "I used to check the labels, but now the labels seem to be identical to each other and I cannot figure out if they are authentic or not. But I can figure out that they are not made in South Korea through their quality," Wei said.
A customer surnamed Liu thinks that since many foreign brands have their clothes produced in China, there is not much difference in the quality. "The major difference lies in the brands," Liu said.
As for the price differences of clothes with the same or similar qualities in different countries, Liu thinks that the clothing prices are related to local residents' income.