China showing heavy travel demand for National Day holiday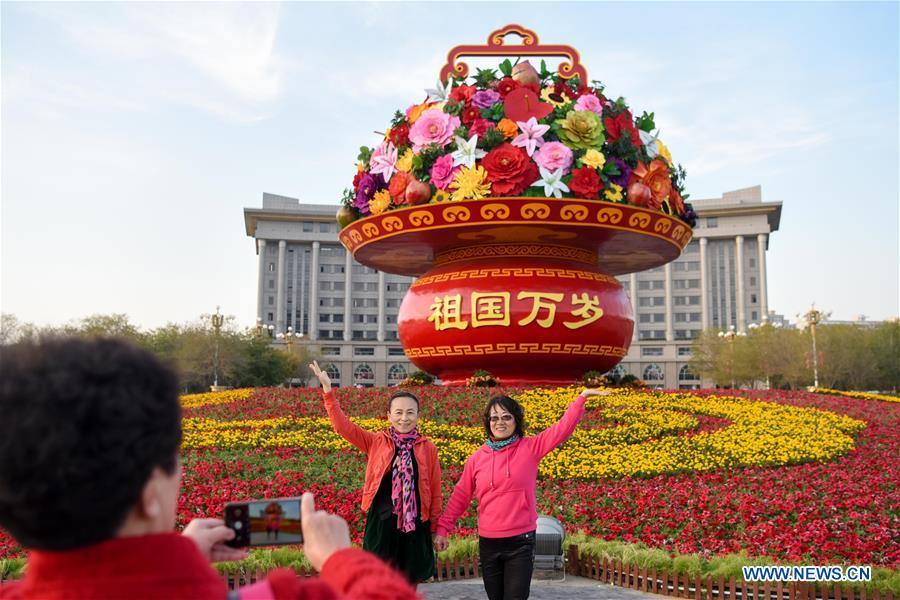 People pose for photos with flowers at a square in Urumqi, capital of Northwest China's Xinjiang Uygur autonomous region, on Oct 4, 2019. (Photo: Xinhua)
The country's short-term vacation rental sector is showing signs of recovery from the novel coronavirus pandemic, as Chinese travelers are booking long-distance trips for the upcoming National Day holiday, which runs from Oct 1 to 8.
Statistics from the China branch of US-based Airbnb showed there is a significant increase in the proportion of long-haul trips booked over 1,600 kilometers from guests' origin, compared to this year's Labor Day holiday.
Residents from Shanghai, Beijing, Guangzhou and Shenzhen are most active in planning for the 8-day holiday, and list Sanya in Hainan province and Dali in Yunnan province as popular destinations during the holiday.
As of Sept 6, Changsha is the most-searched destination by travelers for the National Day holiday, marking is the second year Changsha tops the list. Other top destinations include Shanghai, Chongqing, Chengdu and Qingdao.
Searches for Wanning in Hainan province and Xishuangbanna Dai autonomous prefecture in Yunnan province have surged over 4 times compared with the same period last year.
In addition, people tend to travel with their family members and friends for the celebration of the National Day holiday and Mid-Autumn Festival. The proportion of booked listings that can accommodate 6 or more people increased over 20 percent as of Sept 6, compared to the same period last year.
The top searched listing types include lofts, houses, villas, apartments and townhouses, and space and privacy are now of utmost importance to travelers. Travelers also have an increasing demand for shared accommodations which are pet-friendly and allow people to park their cars free of charge.