Luxury car marque Hongqi sets its sights on green and intelligent future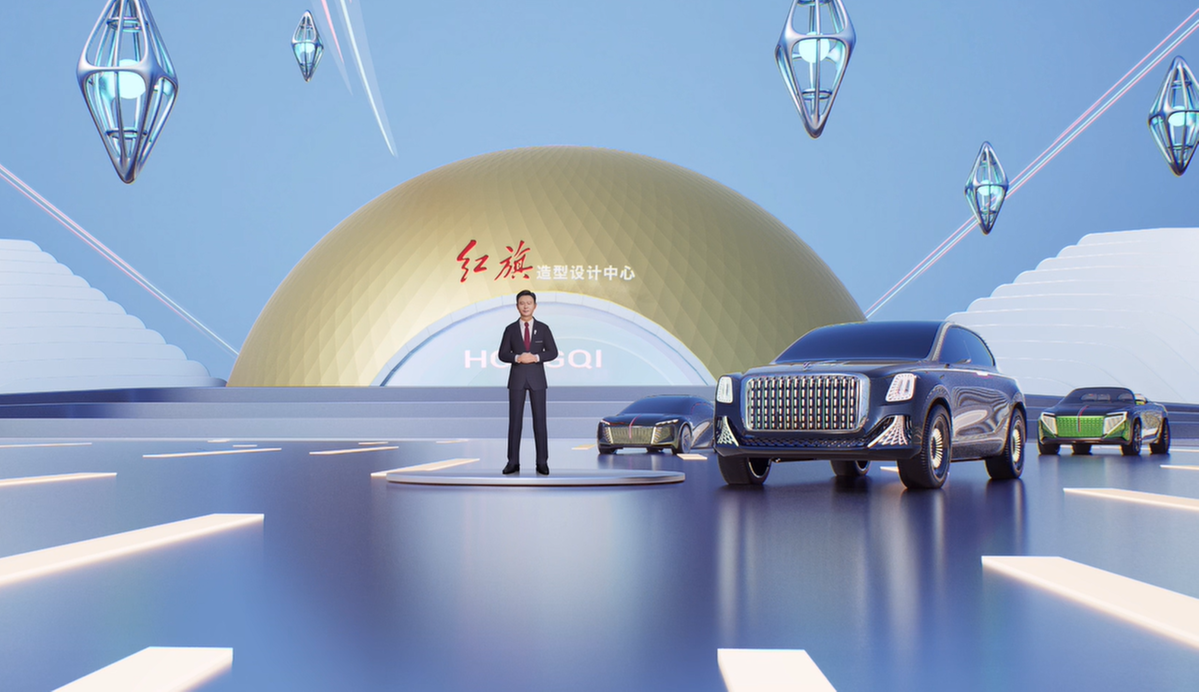 Hongqi shared its new energy vehicle strategy, design aesthetics and newest products and technologies via the metaverse at a recent event held online.
Xu Liuping, president of China FAW Group, appeared and spoke virtually at the event, bringing viewers a special and new kind of experience. The group produces Hongqi vehicles, a premium brand.
Hongqi said it is striving to be an icon in the automobile metaverse and is pursuing excellent design aesthetics of new energy cars.
It introduced three concept cars at the event. The Hongqi Sedan EV, to be launched in 2023, has a range of more than 1,000 kilometers and can realize advanced autonomous driving.
An electric Hongqi SUV is planned to be released in 2024. It will boast an efficient and safe electric drive system and a high-grade intelligent telematics system.
It includes key technologies, such as intelligent four-wheel drive and rear-wheel steering, which promise a special off-road driving experience.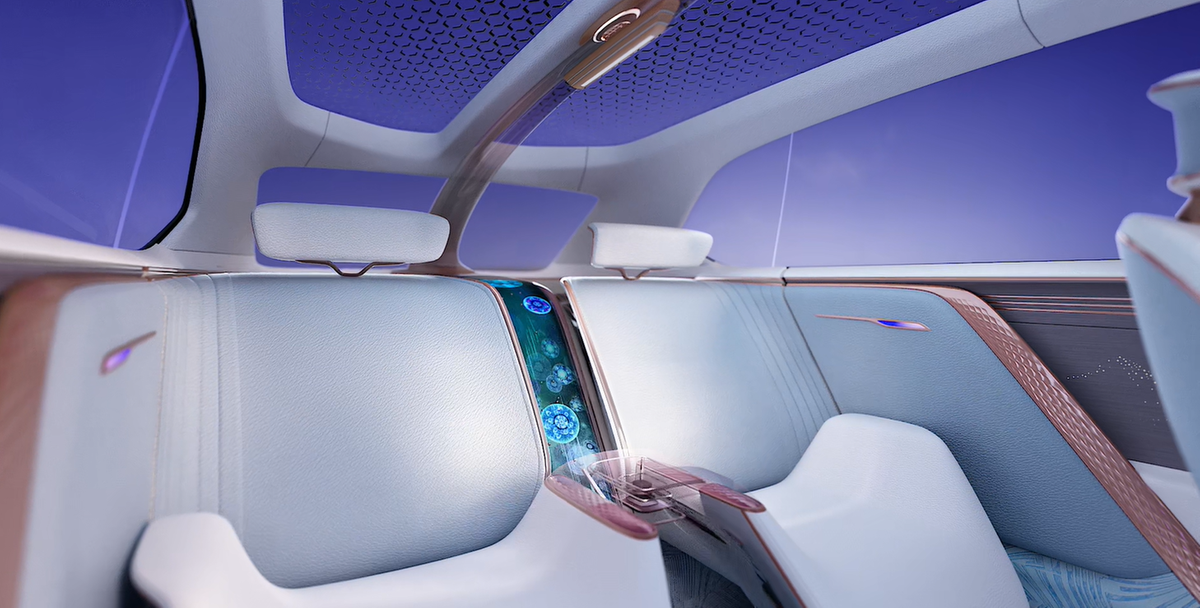 The Hongqi E-LS, to be launched in 2025, is a sport utility vehicle integrating cutting-edge new energy technologies, excellent manufacturing techniques, outstanding new energy design aesthetics and a good driving experience.
Hongqi has always set innovation as an impetus for brand development and it aims to be competitive in the new energy automobile industry. Against the backdrop of NEVs' thriving development, Hongqi is thinking in a forward way, planning new strategies and laying a foundation for its future growth.
The three concept cars will help the Hongqi brand to expand into more market segments.
They will not only enrich Hongqi's new energy products, but manifest the brand's determination to progress in the green and intelligent era.
Hongqi believes customers come first and has set up an online exchange platform in the metaverse to deepen communication between users and the brand.
Hongqi also launched a technological development strategy in May, featuring electrification, intelligent telematics systems, safety and energy conservation.
It then built an electric and AI platform guided by this strategy. The platform meets the development, manufacturing and utilization demands of the majority of Hongqi's vehicle models.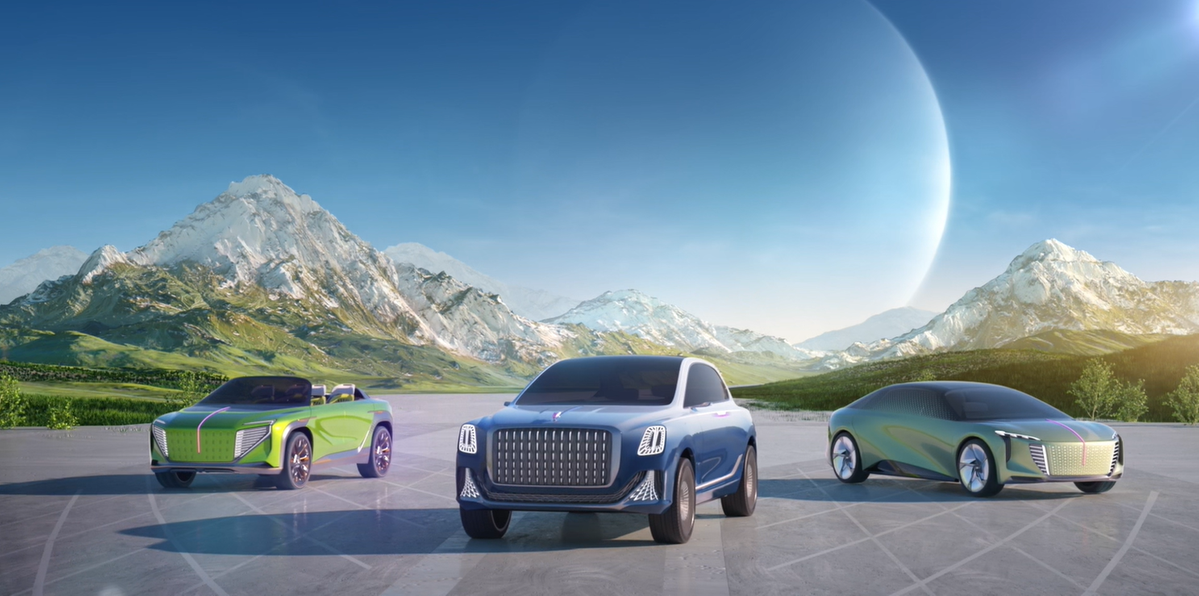 Hongqi's LS7, a large SUV, was released on April 24. It boasts the aesthetics of Hongqi and offers a quiet and cozy space inside.
The H9+ is an upgraded model of H9 with the state-of-the-art design, advanced system and delicate interior.
The Hongqi H9+ sedan was launched online on May 10. It integrates elements of traditional culture and exquisite techniques.
Hongqi's H9 and H7 sedans ranked first and third on the 2021 list of quality medium and large-sized vehicles. The list draws from the big data platform of aqsiqauto.com, which is directed by the Beijing-based China Quality Press.
It considers several dimensions including complaints, reliability, safety and environmental protection. The evaluations cover automobiles that have sold for more than half a year in 2021.
Vehicles that have halted production, imported models and new energy ones are excluded.
In China's 500 Most Valuable Brands 2022, Hongqi reached about 103.61 billion yuan ($14.88 billion). The list was launched at the 19th World Brand Summit held by World Brand Lab in Beijing on July 26.
At the 2022 China Automotive Innovation Conference held in Changchun on July 23, a joint laboratory between China Automotive Technology and Research Center and Hongqi was revealed. The partners will gather resources to aid brand development.
Hongqi also won three prizes at an automobile brand list launched at the conference.
On July 25, a parts and technology exhibition was held in the headquarters of FAW.
It was designed to share new technologies and products in the auto parts sector, inspire scientific and technological vitality and lead related trends.
The five-day activity displayed more than 400 innovative exhibits, involving new energy, intelligent telematics, electrification and artificial intelligence. The past three sessions of the event exhibited 646 technologies, 226 of which have been applied to vehicles such as the Hongqi HS5 and Hongqi H9.
Hongqi brought several models to the 2022 World New Energy Vehicle Congress held in Beijing and online in Hainan province from Aug 26 to 28. Liu Yigong, deputy general manager of FAW, shared the company's and Hongqi's innovative thinking and practices on facing reform and planning a green future.
Hongqi has launched several new energy products, such as E-HS9 SUV and E-QM5 Plus sedan, in recent years. The E-HS9 boasts 353 invention patents and has won domestic and foreign customers' trust and love. Totally, 1,000 E-HS9 units have been delivered to Norway so far this year and the SUV has also entered Middle Eastern markets. As a large automobile brand, Hongqi will continue its innovative and environmentally-friendly development.