Equipment maker DHHI to increase global market share via sustained innovation efforts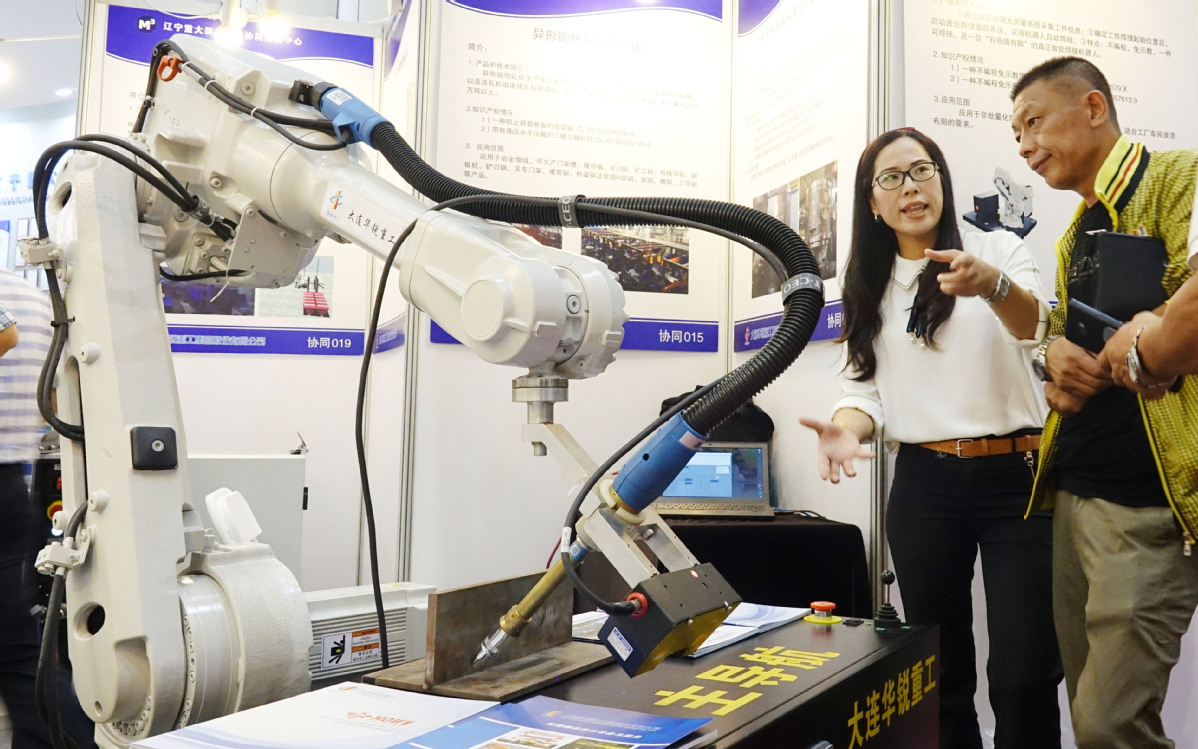 A DHHI employee (left) answers visitor's queries about smart robots during a high-tech exhibition in Dalian, Liaoning province. (Photo: China Daily)
With China on its way to build a group of world-class, benchmark, State-owned enterprises that are leaders in high-quality development, the country's SOEs have been accelerating innovation to further compete with established rivals around the world.
Dalian Huarui Heavy Industry Group Co Ltd (DHHI) recently rolled out the world's first dual-use equipment that can unload cargo from both open-top containers and open wagons.
The dual-use unloader was independently developed by Dalian Huarui, a locally administrated Shenzhen-listed SOE.
Wang Jinfu, deputy chief designer of DHHI, said the company was the first in the world to master such a maneuver.
"It has very broad market prospects as it can achieve a low cost transformation of the traditional convertible wagon market in a short period with good operational efficiency and equipment reliability," Wang said.
During the research and development process, DHHI solved 12 design and technological problems, applied for 14 patents and so far has obtained four authorizations, Wang added.
The feasible technical scheme has been widely recognized by authoritative institutions and important customers such as China Railway Rolling Stock Corp, China International Marine Containers (Group) and CRRC Qingdao Sifang Vehicle Research Institute Co Ltd.
Relying on its patented technological advantages and customer confidence, the company signed the world's first dual-use unloader supply contract for open-top containers and open wagons last year.
Cong Hong, president of DHHI, said the dual-use unloader is gradually becoming a new performance growth point for the company.
"Recently, DHHI successively signed supply contracts for dual-use unloaders with customers from Hebei province and the Xinjiang Uygur autonomous region, and a number of customers have expressed their intention to cooperate in the technical renovation of existing equipment," Cong said.
DHHI will continuously consolidate the advantages of its traditional products and accelerate the R&D of intelligent, environmentally friendly, energy-saving new technologies and products, Cong added.
According to the company's semi-annual financial report released on Aug 28, DHHI's main operating indicators, such as operating revenue, new orders and payment recovery, all increased year-on-year as it closely focused on two main tasks-epidemic prevention and control as well as production and operations in the first half.
The company's first-half operating revenue increased by 32.56 percent year-on-year and total profit was 42.7 million yuan ($6.25 million).
To maintain solid economic fundamentals, the central government has reiterated that policy measures and fiscal funds should be used to ensure the focus remains on the "six priorities" of employment, people's livelihoods, development of market entities, food and energy security, stable operation of industrial and supply chains and the smooth functioning of society to ensure stability in the six areas of employment, finance, foreign trade, foreign investment, domestic investment and market expectations.
China National Nuclear Corp, a centrally administrated SOE, also announced that it started to load fuel last week at China's first nuclear plant with a domestically-developed reactor using Hualong One technology, a self-developed third-generation reactor design, bringing the unit one step closer to operation.
Loading began at the No 5 nuclear power unit in Fuqing, Fujian province, said Beijing-based CNNC.
Hualong One reactors were jointly designed by two nuclear power giants-China General Nuclear Power Group and CNNC-and passed inspections by a national panel in August 2014. The nuclear power unit, which began construction in 2015, is expected to start operations this year.
The No 1 to No 4 nuclear power units of CNNC's Fuqing project entered commercial operations in September 2017, and have generated a total of 130 billion kilowatt-hours of electricity to date. Compared with power generation using fossil fuels, the four nuclear power units have cut carbon dioxide emissions by 105.44 million metric tons, CNNC said.
Eager to boost their earnings, both State-owned enterprises and private companies have significantly deployed capital and manpower into R&D to seize more market share both at home and abroad, said Ning Gaoning, chairman of Sinochem Group Co Ltd, a Beijing-based central SOE.
To better optimize the country's State-owned assets and build world-class SOEs that lead in high-quality development, Ning, who is also chairman of China National Chemical Corp (ChemChina)-another State-owned company-said the merger of Sinochem and ChemChina is in progress, and many internal studies and procedures are being undertaken.
"It is necessary and vital to complete this merger," he said."We will actively promote this matter and continue to focus on developing advanced technologies and service solutions to enhance the country's competitiveness."
Through mergers, acquisitions and restructuring, State-owned capital should gravitate more toward emerging industries and advanced manufacturing, as well as other sectors that have a bearing on people's well-being and national security, Ning said.
In the past, the government paid more attention to the scale of SOE revenues, but in the next stage, more attention will be placed on SOE returns in areas such as net assets, margins, investment into R&D and added value so that SOEs will not only be leaders in terms of revenue scale, but stand out for development quality and efficiency, said Weng Jieming, vice-chairman of the State-owned Assets Supervision and Administration Commission.