Old brands turn on the charm to win new customers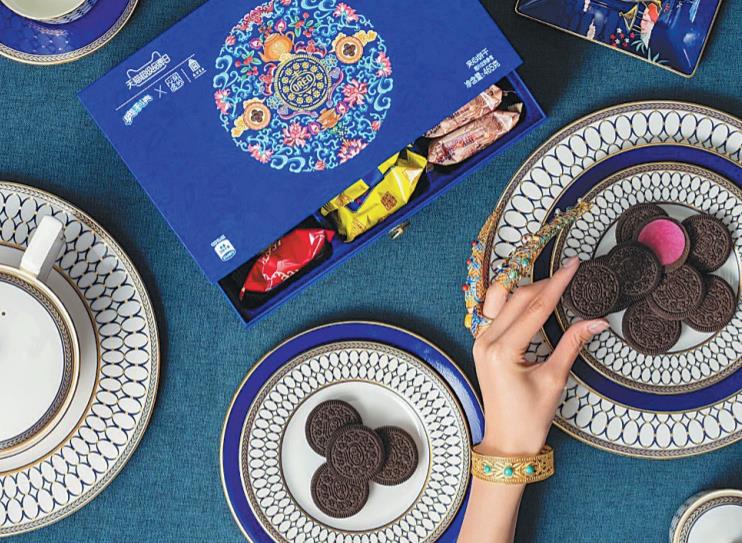 A customer samples Mondelez's China-exclusive cookies, featuring six different flavors of traditional Chinese pastries. (Photo: China Daily)
Move to change attitudes on 'time-honored' products comes amid broader trend toward collaboration happening globally
Chinese tourists across the world are seeking out brands with historical pedigree, from Lancome to Lafayette. But paradoxically at home, they appear reluctant to spend on renowned local brands.
"Good wine needs no bush"-the once-predominant Chinese maxim isn't quite playing out in the modern shopping sphere, where flashy campaigns involving digitalization and gamification are redefining the rules of the retail game.
A joint study from consultancies Bain& Co and Kantar in December pointed to the rising discretion in the choice of brands among China's younger generation. Those aged between 19 to 28, which constitutes the consumption backbone, have openly expressed their preferences for novel experiences over exquisite craftsmanship.
With consumers projecting a clear digital flair, some companies have stepped up efforts to turn things around.
Shanghai-based pen and ink producer Hero, whose history can be traced back to 1931, has recently released an ink-themed cocktail through a tie-up with alcopop beverage brand Rio, a darling of the younger generation.
The pair have worked closely on product design and innovations on scent and flavor, according to Dong Wenbin, general manager of Shanghai Hero Pen Co.
Preorders were available from the middle of May exclusively on Tmall, China's largest online retailer. Some 3,000 sets of drinks were snapped up in one minute.
"The exciting yet vintage design aims to pique the interest of those born in the 1990s and after, which aligns with Hero's desire to appeal to a younger generation of customers who aspire to be trendsetters," said Dong.
Hero's attempts to keep the engine humming come at a time when tablets are fast replacing pen and paper. According to Dong, similar tie-ups such as collaborating with luxury house Cartier are in the pipeline.
But some brands aren't just commercial entities, they are also important vehicles for preserving Chinese culture. Imbued with cultural significance, these brands have histories going back hundreds of years and certain products, passed down through generations, are held in high esteem by Chinese society.
To this end, more than 1,100 Chinese "Time-Honored Brands" have been officially recognized by the Ministry of Commerce. Those making the grade are granted an official seal of approval of their status colloquially known as laozihao. Local governments even have their own parallel certification projects.
Nevertheless some of them are resting on their laurels. According to a report from People's Daily, only 20 to 30 percent of them are in the black.
Yu Mingyang, a professor at Shanghai Jiao Tong University who specializes in the study of brand management, said the history of these brands can both be an asset and a burden.
Having followed the development of dozens of time-honored brands for more than a decade, Yu pointed out that the biggest problem of these brands is that many of them are left with only "a halo, or an empty shell".
"The Chinese word for brand, pinpai, conveys two things-pin meaning product and pai meaning brand," he said. "However, many time-honored brands only have the second part now."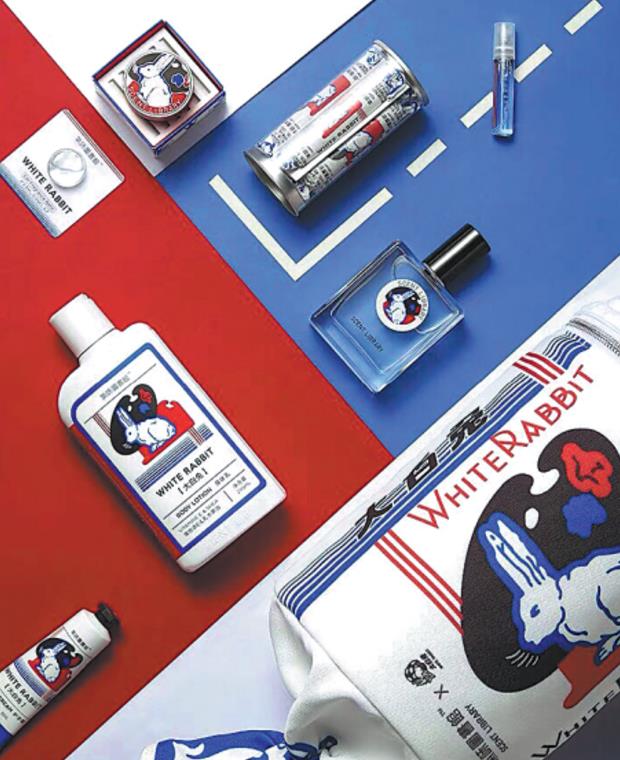 An advertisement featuring White Rabbit's new range of skin care products. (Photo: China Daily)
Managing a vintage business is thus no longer an art but a sort of science. A central plank of this winning strategy lies in the use of data to tailor offerings and enhance product quality.
"An online channel is the best way to keep us abreast of the latest customer trends, identify emerging needs, and acquire new customers," said Tang Huimin, director of digital retail business at Rio.
Hero and Rio were brought together by e-commerce titan Alibaba through a company initiative to rejuvenate time-honored brands. The pair aim to use the internet giant to distill customer insights and launch marketing campaigns based on studies of 654 million active users on its e-commerce sites.
Crossover retail has a proven track record for elevating sales and brand esteem. Last year, 120-year-old cosmetics brand Jahwa partnered with Rio to launch a cocktail featuring the fragrance of its Six God Floral Water, arguably China's most popular mosquito repellent.
According to Tang, Rio saw monthly sales "explode" when the limited-edition drink hit the market in June, with 92 percent of purchases by new customers.
In a similar vein, Shanghai-based White Rabbit milk-flavored candy made headlines recently not because of a new confectionary, but with a range of skin care products infused with the essence of olives and sweet almonds.
By teaming up with domestic fragrance specialist Scent Library, White Rabbit saw more than 14,000 themed items snapped up in the first 10 seconds after the skin care range debuted on Tmall on May 23, according to Alibaba.
Two months after the candy maker launched its online store, crossover collaboration has helped fuel a 15-fold jump in the number of visitors and increase sales revenue 1.6 times.
Behind the success is the joint R&D devotion in determining the fragrance. The pair finally chose an American perfumer who lived in China and tasted the candy during his stay. The final product features a top note of milk-infused candy, middle notes are a mixture of jasmine and Madagascan vanilla, and the base notes are natural fragrances from flowers and plants.
In fact, White Rabbit tested the water a year ago when it joined hands with Shanghai-based cosmetics company Maxam to produce a limited-edition lip balm, which went viral online.
"I feel for Chinese brands that have a lot of history like us, we not only need to stay classic but become viral as well," said Maxam's brand manager Li Chenshen.
The power of crossovers doesn't just appeal to homegrown brands but also to well-established international retailers who want to appeal to a younger, experience-driven audience.
Mondelez International, the US-based maker of Oreo cookies and Cadbury Creme Eggs, sought out e-commerce expertise to create a China-exclusive cookie portfolio featuring six flavors of traditional Chinese pastries, from red beans to roast pork.
With packaging designs featuring the Imperial Palace, some 760,000 limited-edition biscuits in different volumes were sold on the launch day on Tmall.
"Our collaboration shows our determination to talk to local customers using their language. It is essential that we place them at the center of our business decisionmaking," said Joost Vlaanderen, managing director of Mondelez China.
"There is definitely a broader trend toward brand collaboration happening globally and especially in China," said Ben Cavender, principal of the China Market Research Group. "It allows brands to connect with a broader group of consumers and cultivates a feeling of nostalgia."
E-commerce firms can also lend a distribution cachet that a traditional brand would sometimes lack.
"The development of logistics can help time-honored brands achieve coverage in a broader market through e-commerce platforms, and even beyond borders," said Neil Wang, president of consultancy Frost & Sullivan in China.
Alibaba has pledged to help more than 1,000 time-honored brands and well-known local merchants reach global customers through its Tmall and AliExpress marketplaces. Scissor maker Zhang Xiaoquan, which was established in 1628, saw sales on Tmall double to roughly 150,000 yuan ($21,693) in less than a year.
Apart from functioning as a sales channel, e-commerce also has a role to play in driving content marketing and reshaping brand image, something often neglected by traditional brands.
For instance, Wu Fangzhai, which produces zongzi, a traditional dish of stuffed glutinous rice wrapped in bamboo leaves, has sought to overhaul common perceptions of the food as stodgy and bland.
The company has opted for a branding makeover by teaming up with Disney's Marvel series, releasing Captain America-themed zongzi.
Online vendor Pinduoduo identifies the common Achilles' heel of laozihao as a lack of marketing prowess. It promised earlier this year to invest over 10 billion yuan worth of marketing resources and provide 1.5 billion yuan in cash subsidies to boost the influence of 100 Shanghai-based classic brands and expand their market share.
Top of the agenda was the opening of 10 marketing training courses dedicated to personnel responsible for branding at these companies. The platform said it will leverage multiple media channels and its in-house marketing resources to tell the brand story in a more engaging way.
In the first four months of 2019, Shanghai-headquartered laozihao saw orders increase 2.5 times year-on-year, with accumulated orders surpassing 8.7 million, according to Pinduoduo's in-house statistician.
Shampoo maker Bee & Flower saw revenue almost quadruple during the same period and monthly sales have topped 1 million yuan since March.
"Such unprecedented speed is achieved largely due to a raft of marketing campaigns telling the brand story that are sponsored by the platform," said Guo Deying, a company executive overseeing Bee & Flower's production and sales.
Modern branding is making the difference, allowing time-honored brands to stay agile, said Cheng Mingwang, vice-dean of the School of Economics and Management at Tongji University.
He believed that branding should both precede and underlie any marketing effort. Branding is not push, but pull. It is communication of the characteristics, values and attributes that clarify what this particular brand is and is not. "An effective branding schemes says: This is what I am. If you agree, if you like me, you can buy me. But it's not something that classic brands are good at," he said.