Smartphone vendors raise their game in India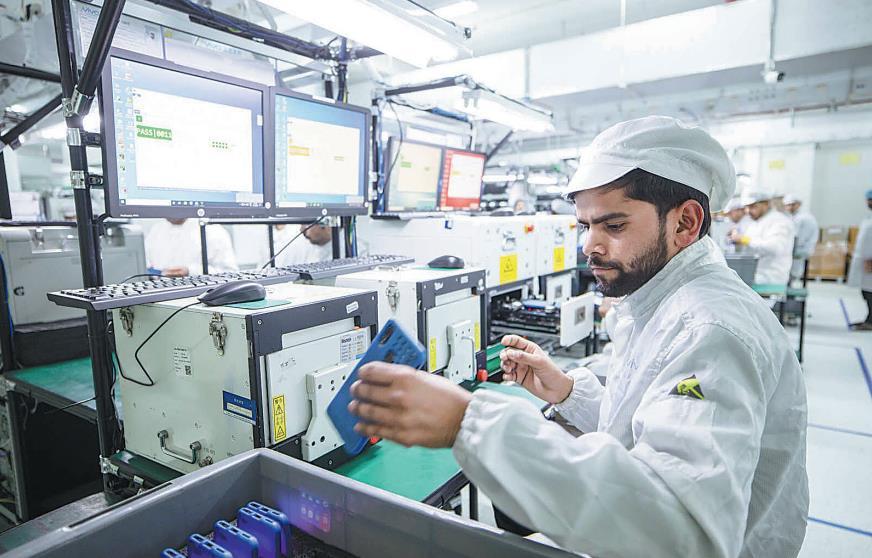 A Vivo employee undertakes production tests on smartphones at the company's assembly line in Greater Noida, India. (Photo: China Daily)
Attracted by the booming demand for upgraded handsets, Chinese companies increase investment, set up more facilities
Chinese smartphone vendors are upping their ante in India as they increase investments to open more factories in the world's second largest smartphone market.
The move comes as India is seeing a record high in smartphone shipments, driven by the desire of consumers to upgrade their handsets.
Chinese smartphone brand Vivo, the No 3 player in India, is investing 4 billion yuan ($571 million) to set up a second manufacturing plant in the country. The move will likely double its local factory employee head count to about 20,000 in the next five years.
Chen Zhiyong, CEO of Vivo India, said the company has acquired land for the new factory adjacent to its existing facility in the Greater Noida area of Uttar Pradesh. Work on the new facility has commenced and will be put into operation phase by phase over the next five years.
"The first phase of the new plant is scheduled to start production in May or June," Chen said.
Vivo started manufacturing handsets in India at the end of 2015. Its existing plant employs more than 9,900 workers and has an annual production capacity of 25 million units.
Earlier last year, Chinese smartphone vendor Oppo also announced that its manufacturing facility, located in Greater Noida, has completed its first phase. The factory currently manufactures about 4 million smartphones every month, or a total of 48 million units a year.
Oppo said it aims to scale up operations at this plant and double the monthly production this year.
The efforts by Chinese smartphone vendors came as Xiaomi Corp, which is the top smartphone vendor in India, already has seven smartphone manufacturing plants in the country. Xiaomi is in partnership with Taiwanese multinational electronics company Foxconn and Singapore-based technological manufacturer Flex Ltd.
"We started manufacturing locally in 2015 with one plant and expanded to two units in 2017 and seven units in 2018. Across these seven plants, we have employed more than 25,000 people," Manu Jain, vice-president of Xiaomi, was quoted in a report by the Indo Asian News Service.
Jain said at this time, about 99 percent of Xiaomi's phones sold in India are made in the country, and the company makes three phones per second locally.
The expanding manufacturing presence of Chinese companies dovetails with their work of the past five years in tapping into the opportunities in India.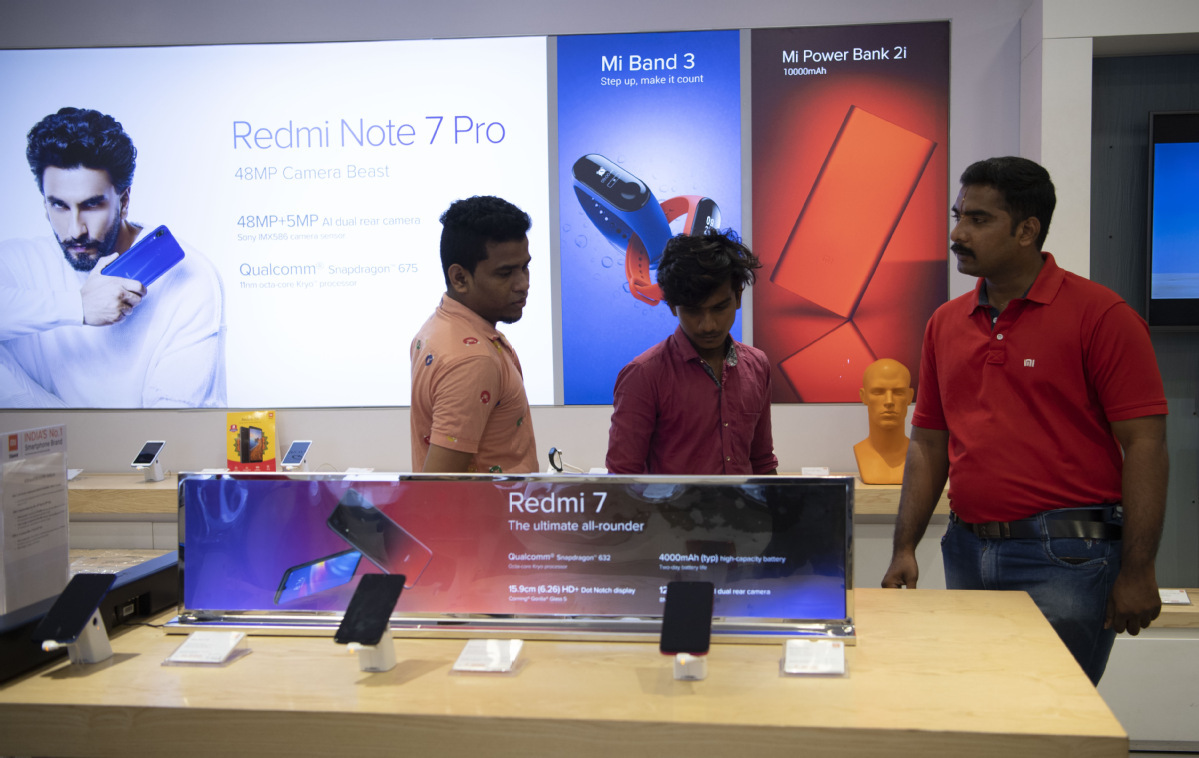 Consumers check out smartphones at a Xiaomi store in Chennai, India. (Photo: Xinhua)
Chinese brands now dominate the local smartphone market in the country. Four of India's top five smartphone vendors are Chinese brands. They are Xiaomi, Vivo, Realme and Oppo.
Their combined market share, in terms of smartphone shipments, exceeded 68 percent in the third quarter of 2019, data from market research company International Data Corp showed.
"Chinese smartphone brands are entering a new stage in India. They no longer just see the country as a market. India has also become an important manufacturing base for them," said Fu Liang, an independent telecom analyst.
The change is partly the combined result of favorable tax policies by the Indian government and the improved efficiency at assembly lines.
A senior executive of a Chinese smartphone maker told China Daily that after several years of training, Indian workers are now almost as efficient as their Chinese counterparts.
The growing enthusiasm of Chinese companies toward the Indian market also came as their home turf, the world's largest smartphone market, has reached a saturation point.
Most Chinese consumers have already bought fancy 4G smartphones and the limited 5G network coverage has yet to trigger a widespread use of 5G smartphones.
In the third quarter of last year, the Chinese smartphone market posted a year-on-year contraction of 3.6 percent, data from IDC showed.
In contrast, India has just started witnessing a new round of burgeoning demand with consumers in third-to-fourth-tier cities ready to upgrade their feature phones into smartphones.
From July to September 2019, over 46.6 million units of smartphones were shipped to India, marking a 26.5 percent quarter-over-quarter and 9.3 percent year-over-year growth, IDC said in a report.
Nipun Marya, brand strategy director of Vivo India, said smartphones only account for about 60 percent of Indian's phone market, with the rest made up of feature phones. This signifies huge potential for future growth.
"Consumers in third-and fourth-tier cities of India are eager to upgrade their phones. That is an opportunity all players want to pounce on," Wang Shuo, head of marketing at Realme India, said.
To meet the demand, Realme is ratcheting up resources to accelerate offline expansion as the company emerged as the fastest-growing smartphone brand in India because of its popularity among online young consumers.
The company expanded its offline sales to 150 Indian cities last year and will soon offer tailor-made smartphones for offline customers.
But offline retailing is a battlefield where Vivo has already established a strong foothold. So far, the company has about 70,000 brick-and-mortar outlets that sell its smartphones. Vivo is also the only smartphone vendor in India that runs all offline after-sales centers, Marya added.
Despite the intensified efforts of Chinese smartphone vendors to attract Indian consumers with diversified products and services, they still face a common challenge-the relatively low average selling price of smartphones in India.
IDC's report showed that affordable smartphones in the range of200 account for 80 percent of the total shipments to India. This means Chinese smartphone makers can not generate very high profits from selling hardware in the country.
To overcome the challenge, Chinese companies are working hard to moving up in the price range with more expensive products. They are also eyeing internet finance services for more profit avenues.
Xiaomi announced its Mi Credit lending service (and Mi Pay) to make its mark in the fintech space a few months ago.
Realme unveiled its new payments platform, Realme PaySa, which is designed to help individual customers and small-or-medium-sized businesses financially. Vivo also announced plans to move in that direction.
Such efforts also show the ambition of Chinese smartphone vendors not to limit themselves as hardware companies. Instead, they want to position themselves as a tech company that offers a wide range of services with the help of smart terminals.
Vivo India's Chen said at this time several Chinese smartphone majors all have good word-of-mouth in the country.
"In the past five years, we have worked together to reshape how Indian consumers perceive Chinese brands and products," Chen said. "But that is just the beginning of internationalization. To become more global, we need to be more local. There is still a long way to go."