Hydropower sector no longer a novice but a global leader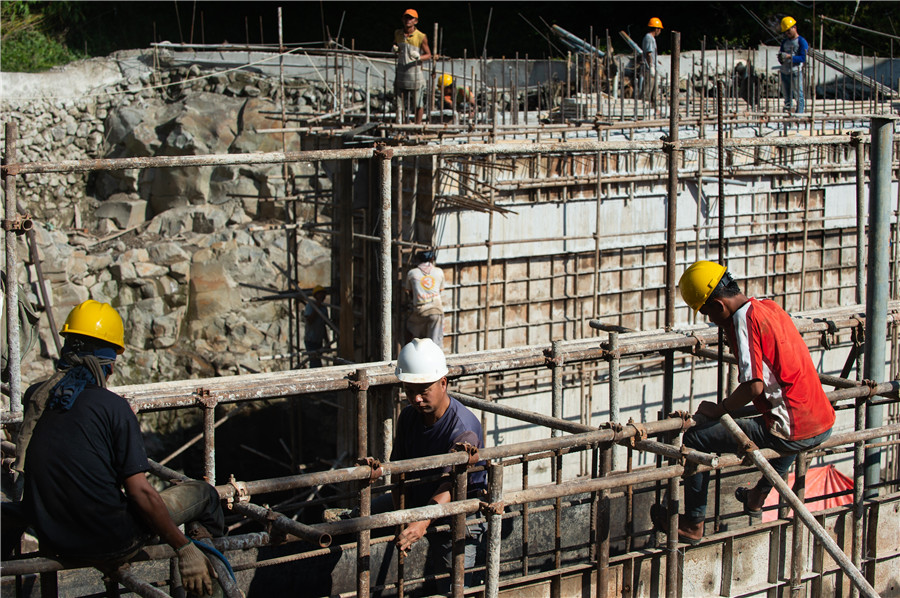 Workers of Jiangxi Water and Hydropower Construction Co Ltd build a hydropower project in Indonesia. (Photo: Xinhua)
China's hydropower industry has transformed from a novice into a leader and industry pioneer.
It has its advanced technology and project quality to thank for, which have helped it to establish businesses in Europe, South America and Southeast Asia in recent years.
It added 8,540 megawatts in capacity last year, the most for any country's hydropower industry. It was followed by Brazil (3,866 MW), Pakistan (2,487 MW) and Turkey (1,085 MW), according to the 2019 Hydropower Status Report released by the International Hydropower Association in May.
It is also the world's largest hydropower producer, with 352.3 gigawatts of installed capacity, it said.
China continued to lead in hydropower generation in 2018, and this trend is expected to continue, the report said.
This comes as no surprise as the Chinese government has been promoting its clean energy for the past few years to optimize its energy mix, industry insiders said.
Consumption of clean energy, including natural gas, hydropower, nuclear and wind power, accounted for 22.1 percent of energy consumption last year, up 1.3 percentage points compared with the same period in 2017, according to the China Electric Power Planning and Engineering Institute.
Hydropower generated 215.9 billion kilowatts of power in the first quarter of this year, up 12 percent year-on-year, against the backdrop of renewable energy sources having generated 388.5 billion kilowatts, up 13 percent year-on-year, according to the National Energy Administration.
The country has also been stepping up efforts in small hydropower development. Some 46,500 small hydropower stations had been built in rural areas by the end of last year, with an annual capacity of more than 230 billion kilowatt-hours and a complete standard system on planning, designing, construction and management, according to the Ministry of Water Resources.
To further encourage the development of the hydropower sector, China's top economic planner unveiled new measures to cut electricity costs for industrial and commercial users on May 16. Effective from July 1, the new measures will see the fees for funding major hydropower projects reduced by 50 percent, which will help lower electricity costs.
Chinese energy companies have been also speeding up efforts to build hydropower stations worldwide in the past few months.
While Sinohydro signed a contract in February to develop the 294-MW Koukoutamba hydro project in northern Guinea, China Gezhouba Group has signed an agreement with Laos' Vase company for Nam Bayu Hydropower Station Project in Vientiane, the country's capital.
The project is expected to dramatically lessen the power shortage, create a vast number of jobs, cultivate a batch of technicians with rich experience, and drive the development of the upstream and downstream industrial chains in Laos.
"China's involvement with hydropower projects overseas has been developing rapidly in recent years in both scale and amount," said Wei Hanyang, a power market analyst with Bloomberg New Energy Finance.
"The hydropower sector of the country is among the first batch that explored the international market, from the Shweli River Hydropower Station in Myanmar built by China Huaneng Group in 2006 to the Karot hydropower project in Pakistan by China Three Gorges Corp."
The Karot hydropower project is China's first overseas hydropower program to use its own technology and standards, and is expected to finish in two years and start power generation by April 2021, according to China Three Gorges Corp, which is also the builder and operator of the world's biggest hydroelectric power project, the Three Gorges Dam.
Construction of the 720-MW, $1.74 billion Karot hydropower project commenced in April 2015. When complete, the project is expected to solve the power supply bottleneck in the country and provide sustainable and stable energy support.
When completed, it will produce some 3.2 billion kWh of clean power every year, equivalent to 10 percent of the country's total energy output from hydropower stations in 2017.
"While the domestic hydropower market has been saturated as major waterways are close to full development, considering the resources restriction and environmental protection, many of the hydropower companies are exploring the market overseas," said Wei.
"China's hydropower technology, after years of development, is of top quality, and very competitive, on the global stage, in terms of cost, construction, management and control experiences for mega-sized projects.
"However, Chinese companies should also attach more importance to the protection of local environment and assessment of social impacts."