Patient-centric approach essential to the treatment of brain diseases
People's Daily app
1562658825000
"Brain diseases are particularly special and complex, as a result, the failure rate of drug development in this area has been very high. Even so, Lundbeck is continuously committed to the research and development of innovative drugs as well as further increasing the awareness of the diagnosis and treatment of neurological and psychiatric disorders in China," said Lorena Di Carlo, president and general manager of Lundbeck China.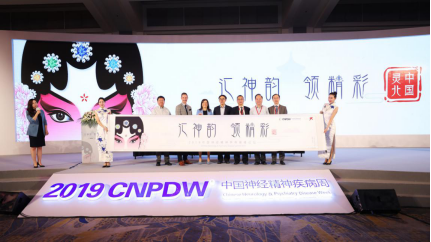 She made the remarks at the 2019 Chinese Neurology and Psychiatry Disease Summit held Saturday in Beijing with more than 300 neurological and psychiatric experts from China and abroad attending.
Today, neuropsychiatric diseases have become a major public health problem affecting people's health. Featuring a high prevalence and recurrence rate and a low diagnosis and treatment rate, neuropsychiatric disorders can seriously affect the work, study, and living conditions of patients. The complexity of the central nervous system has made drug development in this field a challenging task.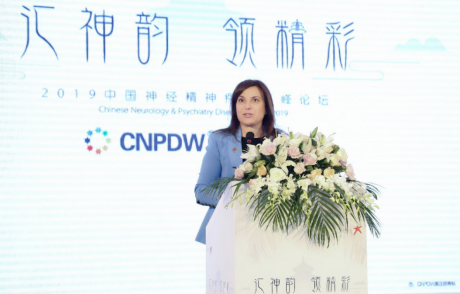 Lorena Di Carlo gave a keynote speech at the 2019 Chinese Neurology and Psychiatry Disease Summit.
Being a global pharmaceutical company with more than 100 years of history and specializing in discovering and developing innovative treatments for brain diseases, Lundbeck in China offers a wide range of products for depression, Alzheimer's disease, and Parkinson's disease and dedicates itself to innovation to tackle the most challenging aspects of brain diseases.
Facing the complexity of brain diseases, Lundbeck focuses on R&D for therapies in the area. "We are very open to partnerships,for example with universities or other organizations, in order to accelerate the research and development of new treatments for brain diseases," said Di Carlo in an interview with the People's Daily. "There's indeed more work to be done in terms of diagnosis and raising awareness of brain diseases, particularly in lower-tier cities, to attach greater importance to the mental health of people," she added.
Among the various brain diseases, depression is a complex, multi-dimensional, and heterogeneous mental disorder. According to the WHO report, more than 54 million people in China suffer from MDD (Major Depressive Disorder), accounting for 4.2 percent of China's total population. MDD patients not only develop emotional symptoms, but also physical and cognitive symptoms, such as a lack of attention, poor executive function, memory loss and low reaction speed.
With a patient-centric approach, the company has been making its best efforts to gain patient insights and actively promote disease awareness. Lundbeck has taken various steps to gather public attention on brain diseases, especially the treatment of brain diseases. "One of the campaigns we've partnered with experts, media and government during World Mental Health Day is to go to campuses to educate more young people about the disease because depression is so common and it can be alleviated," Di Carlo noted.
During the summit, Di Carlo said that early this year Lundbeck has introduced the new global strategy defined as "Expand and Invest to Grow." In the future, Lundbeck will continue to strengthen its product pipeline to provide a variety of new and transformative therapies to patients with brain diseases.
Today, the Chinese market has become the second-largest market globally for Lundbeck. China's needs have been taken into consideration even at the very early stage of the company's R&D decision-making.
"The Chinese government is promoting hierarchical medical system, so that patients can go to a community clinic closer to their home for management of choric disease. This is especially important for brain diseases which need long-term care and thus easy access to care is essential," Di Carlo said.
She thinks another good example in China today is faster access to new medicines both in terms of how they are approved as well as subsidized. "In the future with dynamic review, the patients's journey in China will continue to improve with easier access to drugs and therapies," Di Carlo added.
In order to enhance the accessibility and affordability of innovative drugs for patients, Lundbeck China is also striving to include its products into NDRL, to enable more Chinese patients to get better treatment for brain diseases.