Audi granted license for self-driving road test in East China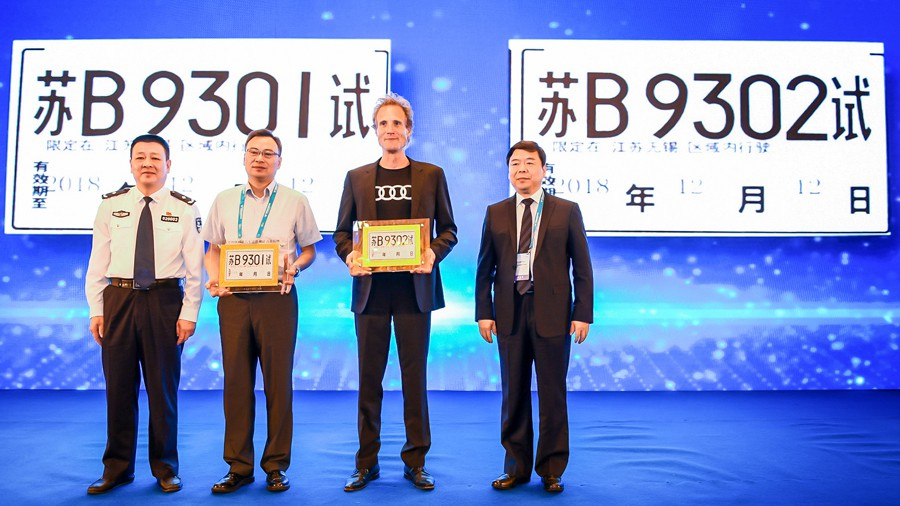 (Photo: CGTN)
Audi China was granted licenses for self-driving (level 4) road test in the city of Wuxi, East China's Jiangsu Province at a forum for intelligent transportation and the Internet of Vehicles (IoV) industry on Friday.
The company will set up a center in the city for research and development as well as test in the first quarter of 2019. About 150 employees are expected to work there for the autonomous driving and Internet of Vehicles technologies.
It is just the beginning for Audi to get the first batch of licenses for self-driving road tests in Wuxi and the city provides the best test conditions for the company, said Alexander Pesch, director of automatic driving and chassis R&D at Audi China. He also added that Audi will collaborate with China's high-tech partners for the future of autonomous driving. It will also adjust its autonomous driving technology according to local policies, and maintain the advantage of its research and development experience over the past 20 years.
Partnered with Chinese tech giant Huawei, Audi China also showed its latest IoV technology, which helps optimize the security and comfort of driving and relieve traffic pressure via communication among vehicles, infrastructure and passengers.
China's Shanghai Automotive Industry Corporation (SAIC) also got the testing license for its autonomous cars the same day at the forum.
This is the third international automaker that has obtained the testing license for autonomous cars in China, trailing Mercedes-Benz and BMW. Mercedes-Benz's parent company Daimler AG was given the green light in Beijing in July, and BMW in Shanghai in May.