China's farm imports from US dive from Jan to May
Global Times
1561390048000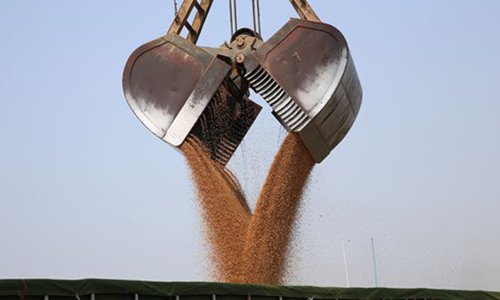 Soybeans imported from Ukraine are loaded at a port in Nantong, East China's Jiangsu Province on May 10. (File photo: IC)
China's imports of major agricultural products from the US have slumped, and buyers are shifting to other countries because of the tariffs war between China and the US, according to statistics released by the Ministry of Agriculture and Rural Affairs on Monday.
In the first five months of 2019, imports of agricultural products from the US dived 55.3 percent year-on-year to 32.73 billion yuan ($4.76 billion). Specifically, imports of American soybeans decreased 70.6 percent in the first four months, reaching only 4.31 million tons, said the ministry.
In contrast, imports of agricultural products from other markets such as Brazil, the ASEAN countries, the EU, Australia and Canada jumped significantly. Exports of cotton from the US to China only reached around 60 percent of expectations because of the US-China trade war, and cotton prices also fell, according to the Cotton Council International, a report by yicai.com said on Thursday.
China is the US' second-largest cotton export market, accounting for more than 17 percent of its total exports, the report said.
However, China has increasingly diversified its import sources to ensure domestic supply, said experts.
"Overall, China mostly relies on domestic cotton for its textile industry," Ma Wenfeng, an agriculture analyst told the Global Times on Monday, adding that China has undertaken reform to reduce its dependence on imported cotton.
According to a report by ncpqh.com, in 2017, total imports of American cotton stood at 505,400 tons, accounting for 4.1 percent of the total cotton supply in China.
"In comparison, imports of cotton from other countries, including Brazil and India, have been steadily on the rise," Ma observed.
US industry representatives and farmers have called several times for a halt to the trade war between the world's two largest economies.
"We cannot withstand another year in which our most important foreign market continues to slip away and soybean prices are 20 to 25 percent, or even more, below pre-tariff levels," said John Heisdorffer, chairman of the American Soybean Association, in a statement published on May 13.
Experts said that if the trade war continues to escalate, it's possible that the US agriculture sector will lose more share, which might be difficult to regain.
For instance, "the biggest sources of soybeans are mainly in South America, such as Brazil. Imports from the US make up only one-third of total imports," Jiao Shanwei, editor-in-chief of cngrain.com, a website specializing in grain news, told the Global Times on Monday.
"In the long run, the trade war is hurting and reshaping trade on both sides, and hopefully progress will be made in the upcoming meeting of the G20 leaders," Ma said.