Wind firms surge on aggressive proposal
Shenzhen Daily
1602719462000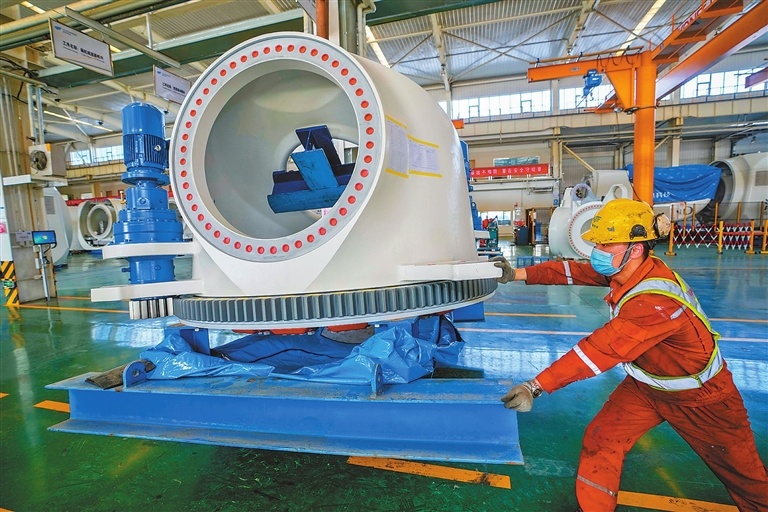 (Photo: agencies)
Domestic wind power equipment makers advanced yesterday as the industry proposed an aggressive installation plan that would boost capacity 14-fold through 2060 to help the country reach its goal of being carbon-neutral by then.
Xinjiang Goldwind Science & Technology Co., China's biggest wind turbine maker, jumped its 10 percent maximum daily limit in Shenzhen trading. Shandong Shuangyi Technology Co. rallied 20 percent to a record high in Shenzhen and Titan Wind Energy Suzhou Co. surged 10 percent.
More than 400 wind firms signed a declaration at a conference in Beijing, asking the government to add more than 50 gigawatts of annual wind capacity during the five years through 2025, industry publication bjx.com reported.
That would rise to at least 60 gigawatts a year beyond 2025, with total installations reaching at least 800 gigawatts by 2030 and 3,000 by 2060.
China installed 26 gigawatts in 2019, giving it a total of 210 by the end of that year, the most in the world, according to data from National Energy Administration. The 2060 target would be nearly triple the size of China's coal fleet in 2019, at 1,059 gigawatts.
The proposal calls for higher installations than most analysts expect. Solar power is expected to make up the majority of 100 gigawatts of annual additions through 2025, Nelson Lee, a Hong Kong-based analyst from ICBC International Research Ltd., said in a note.