Oil producers agree on extension of cut in output
Many of the world's major oil producers have agreed to extend the record oil production cuts that had helped bolster oil prices since their collapse in April at the height of the coronavirus pandemic.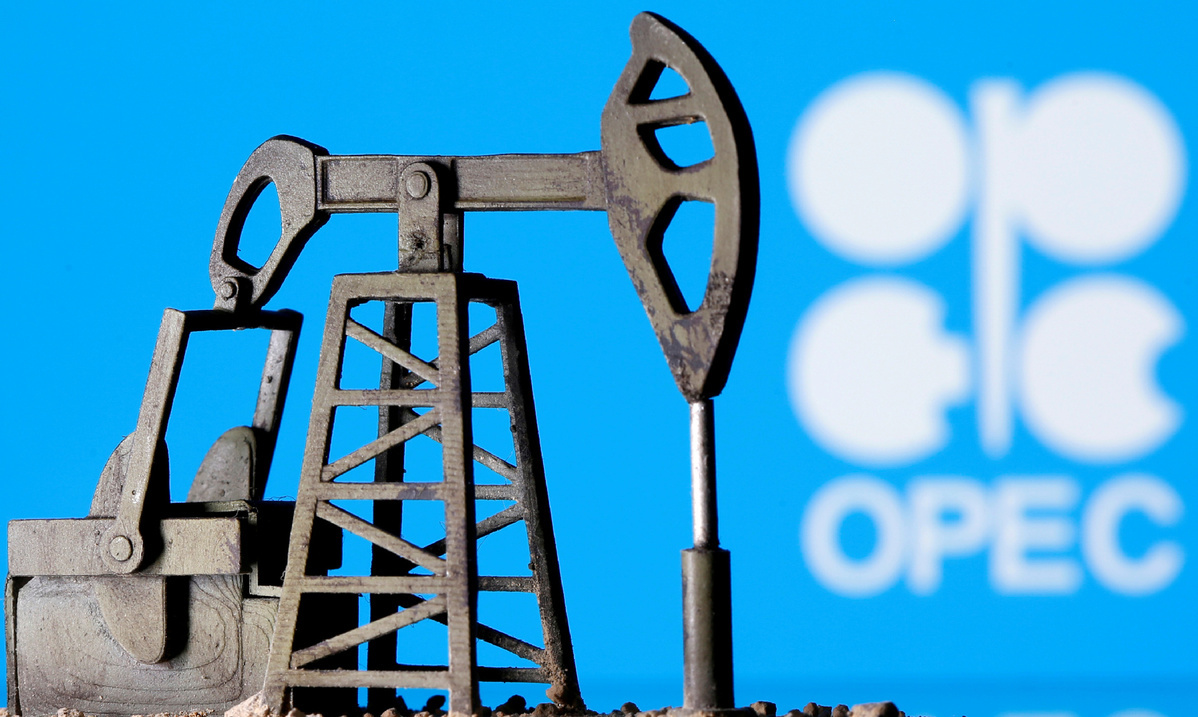 A 3D printed oil pump jack is seen in front of displayed Opec logo in this illustration picture, April 14, 2020. [Photo/Agencies]
Oil ministers from the Organization of Petroleum Exporting Countries, as well as other producers led by Russia, met by video conference on Saturday and reached an agreement to continue cutting 9.7 million barrels a day-or about 10 percent of global output in normal times-until next month, OPEC said in a news release.
The producers known as OPEC+ previously agreed to cut supply over May-June to prop up prices that collapsed due to the outbreak. Cuts have been due to taper to 7.7 million barrels a day from July to December.
OPEC+ sources have said Saudi Arabia and Russia had agreed to extend record cuts until next month although Riyadh would prefer to see the cut extended until August.
With traders anticipating a new deal, both Brent and West Texas Intermediate crude soared by nearly 6 percent on Friday, to $42.30 a barrel for Brent and $39.55 a barrel for the WTI. The markets were closed on Saturday.
Russian Energy Minister Alexander Novak confirmed the deal with OPEC and others, saying Russia will fully comply with the deal this month, and will cut its crude oil production to 510-520 million tons this year from around 561 million tons in 2019.
However, Prince Abdulaziz bin Salman, Saudi oil minister, said in a speech to the OPEC+ meeting which he headed, that concerns remained.
"Demand is returning as big oil-consuming economies emerge from pandemic lockdown," he said. "But we are not out of the woods yet."
According to Reuters, Saturday's video conferences started with talks between members of OPEC, followed by a gathering of the OPEC+ group.
OPEC sources said that an extension of cuts was contingent on compliance as countries that produced above their quota in May and June must compensate by cutting more in future months.
The New York Times said the shocking price falls in recent months coupled with pressure from US President Donald Trump, who was worried about job losses in the oil industry in the United States, led Riyadh and Moscow to abruptly change their approach and resume cooperation.
Kremlin spokesman Dmitry Peskov said the OPEC+ agreements will have a positive impact on future stabilization of the global energy markets.
The two oil giants worked together to orchestrate the extension agreed on Saturday, and they also pressured Iraq, the second largest producer in OPEC, to state publicly that it would comply with its commitment to cut production by about 1 million barrels a day.
Iraq, according to a Reuters survey, agreed to additional cuts, OPEC sources said.
It was unclear how exactly Iraq would cut output and agree with oil companies working in the country to curtail production. Nigeria said it would also aim to reach full compliance.
However, Mexico will not extend into July oil output cuts, said the country's Energy Minister Rocio Nahle on Saturday.