China-made Persian carpets to restore glory in modern era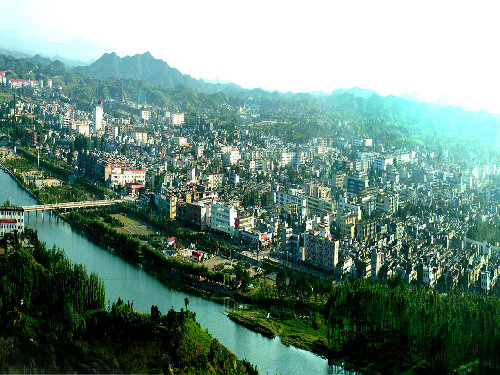 A view of Nanzhao county, Nanyang, Henan province. (Photo: nanzhao.gov.cn)
ZHENGZHOU, July 25 (Xinhua) -- While hand-stitched Iranian rugs are known globally for their exquisite craftsmanship, a little-known fact is that about 5,000 kilometers away, a city in central China once produced about 80 per cent of all hand-made silk carpets sold globally.
Twenty nine intricately woven, hand-stitched Persian-style carpets are currently being rolled and packed at a warehouse in Nanzhao county in the city of Nanyang, central China's Henan province. They will soon embark on a voyage and appear in stores in the United States in a month's time.
"Buyers are regular customers and usually place seven to eight orders a year," said Sun Junke, chairman of Yuxiang Carpet in Nanyang.
The 29 silk carpets were sold at $105,000 and the price may increase dozens of times from the time of departure until their final destination on the other side of the ocean.
Persian carpets have long enjoyed high popularity in Western countries and carpets made of silk are especially precious; not just for the more expensive material but also for the extra lustrous patterns that change hue in different lighting.
The county of Nanzhao has a long tradition of breeding tussah silk worms and weaving rugs with tussah silk. Knitting Persian-style carpets began in the area in the 1980s and soon became globally recognized for its aesthetic value, intricate patterns and durability.
Sun Junke is one of the earliest carpet business people in Nanzhao. After graduating from middle school 20 years ago, Sun came to Beijing to sell rugs. "I waited at the gate of the embassies and sold my carpets to anyone who came out. I couldn't speak their language, so I just explained with my hands and used a calculator to show the price."
Now Sun's company is a leading carpet producer locally and makes more than 1,200 types of hand-made silk carpets. Their products are sold to countries such as Dubai, Russia and the United States, with annual sales revenues of 100 million Yuan ($14.5 million).
Though many of the carpets are now machine-made, weavers are still irreplaceable in making the best-quality rugs.
Zhang Ping began learning how to weave rugs at the age of 15. The 41-year-old is now the owner of a grocery store but she has never stopped weaving.
"I now spend about five hours a day on carpets," said Zhang, who can make around 1,000 Yuan a month as a weaver. The carpet she is currently working on is five feet long and three feet wide with a density of 210 per foot, which means she has to arrange 210 parallel silk threads in the length of one foot. This type of density is considered technically simple but still takes Zhang several months to finish.
The most intricate carpet can reach a density of 1,200 threads per foot, which means a total of 1.44 million knots must be tied within one square foot. However, these kinds of carpets are rarely produced due to their high price and long manufacturing process.
The gloomy global market and rise in labor costs have hindered the progress of the carpet-making industry in Nanzhao in recent years. "The wholesalers squeeze down the price due to the bad global economic situation and our margin has dropped a lot. Therefore we cannot increase the salary of weavers, which again impedes the development of the carpet industry," said Wei Jia'an, a carpet trader with more 30 years' experience.
The young generation, however, is more optimistic. "Hand-stitched silk carpets have very high profits but most have gone to overseas traders since we have failed to establish a good brand here in Nanzhao," said Sun Jianhui, who is believed will be the next chairman of Yuxiang Carpet. "I believe setting up our own brand and exploring the emerging domestic market will be our way out."
Carpets featuring the ancient Silk Road and Riverside Scene at Qingming Festival, a masterpiece by Zhang Zeduan from the Song Dynasty (960-1279), have gained attention recently in Nanzhao.
"We have been spending more on innovation in the patterns and technology and put more energy into online promotion. Now about 40 percent of our carpets are sold in the domestic market," said Sun Jianhui. "We hope to change Nanzhao's role as a simple carpet maker and strive for more profits in design and manufacturing as well as sales of the carpets."