Offshore work meeting new, vibrant orders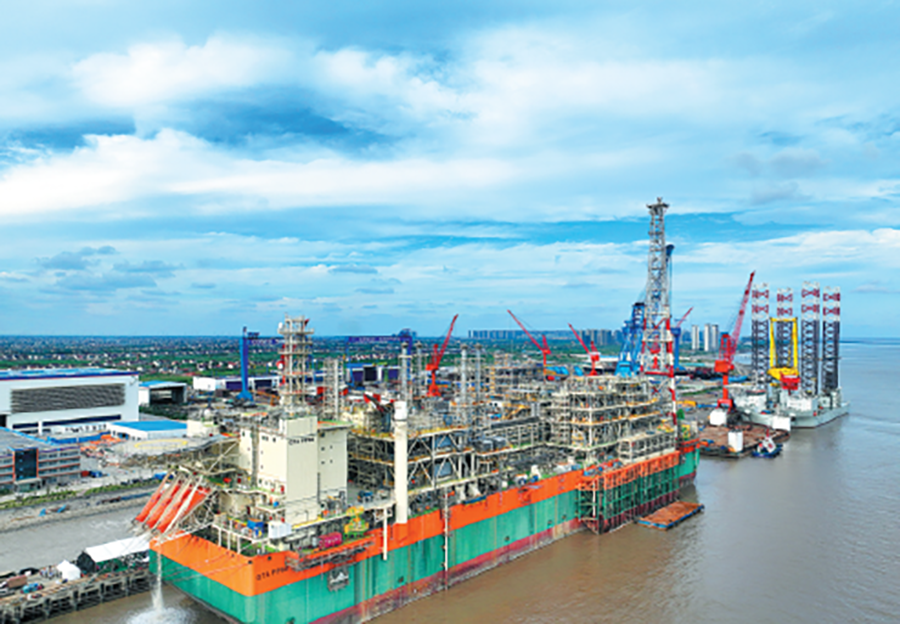 Drilling platforms, FPSO ships, marine vessels see continuous sales growth
Prompted by shining performances in both stock and energy markets since last year, oil and gas companies have placed more orders in China to build offshore engineering products from floating production storage and offloading (FPSO) ships to ocean engineering vessels to sustain their growth.
As the energy sector has benefited from surging commodity prices pushed by factors including the Russia-Ukraine conflict, inflation and climate change, China's offshore engineering equipment sector saw growing orders in the first half — its manufacturers delivered one jack-up drilling rig, one semi-submersible drilling platform and six marine engineering auxiliary ships to foreign and domestic clients in the first half, data from Shanghai Shipping Exchange showed.
"It was like riding a rollercoaster," said Dong Liwan, a professor of shipbuilding at Shanghai Maritime University. "The period before 2014 was a peak season for the industry. The falling global oil prices forced many shipyards and heavy industry companies to lose orders and face overcapacity issues."
Driven by a growing supply surplus, the collapse in oil prices occurred between mid-2014 and early 2016, causing the longest-lasting decline in prices since the supply-driven collapse of 1986, according to a report by the World Bank Group.
The downturn not only tested the resilience of oil exporters, but greatly cut the unit utilization rates and rental price levels of offshore engineering products — such as drilling platforms, offshore pipe-laying vessels, maritime crane ships and dredgers across the world — forcing China and other global suppliers in the sector to enter a prolonged sluggish market cycle.
"Even though offshore engineering vessels are more expensive and complex to build, the burgeoning global demand for energy resources is expected to keep orders flowing in the coming years," he said.
Offshore engineering products are essentially functional vessels and oil drilling platforms that can float in deep water. Offshore gas and oil companies use these vessels to process natural gas and crude pumped from the ocean floor. They can also be used in the extraction process.
CHI (Qidong) Offshore Co Ltd, a Qidong, Jiangsu province-based manufacturer of marine products and a subsidiary of State-owned COSCO Shipping Heavy Industry Co Ltd, announced that it had completed the construction of an FPSO vessel in mid-September.
The ship, jointly designed by France's Technip Energies NV, is expected to sail from China to the site of Senegal's Greater Tortue Ahmeyim gas project, which is developed by British energy group BP Plc.
This is one of the marine engineering equipment projects with the most complex process and the longest construction time ever undertaken by a Chinese company, said Qiu Ming, vice-president of CHI (Qidong) Offshore Co Ltd.
As a large natural gas processing platform built in China, the ship's natural gas processing capacity will reach 14.2 million cubic meters per day. Its daily output can be consumed by residents in Shanghai for two to three days. Its maximum displacement weight is about 320,000 metric tons, and its oil storage is around 1.44 million barrels. If such an oil and gas processing plant were built on land, it would require at least 800,000 square meters of space.
The FPSO will continue to operate at sea for 25 years without returning to the dockyard, and the subsequent capacity expansion has been taken into account, which requires extremely high engineering quality and safety standards, he said.
Due to complex construction processes, the high degree of integration and engineering precision requirements, only a few countries are capable of building FPSO ships, said Bao Zhangjing, vice-president of the China Institute of Marine Technology and Economy, a research institute affiliated with Beijing-based China State Shipbuilding Corp.
At present, the world's FPSO market is dominated by China, the Republic of Korea, Singapore and Brazil. The price range for such a high-end ship is between $1 billion and $2.9 billion, he said, adding many global orders have shifted to China after the country delivered the first domestically built FPSO vessel to its British client in 2017.
In the FPSO industry alone, China to date has surpassed the ROK and Singapore in terms of the unit numbers for construction, taking the lead in the global market, said Yu Jian, vice-president of CHI (Qidong) Offshore Co Ltd.
Despite some FPSO orders having been placed by shipyards in the ROK or Singapore, the actual construction work is likely to take place in China, which has distinct advantages in terms of cost control and project execution, he added.
CIMC Raffles Offshore Ltd, a subsidiary of Shenzhen, Guangdong province-based China International Marine Containers (Group) Ltd, started to build a wind turbine installation vessel commissioned by Van Oord, a Rotterdam, Netherlands-based offshore engineering service company in Yantai, Shandong province, in late July.
With a maximum operational water depth of 80 meters, it can accommodate 135 people on board with a top net lifting capacity of 20,000 tons and a deck area of over 7,000 square meters.
The lifting capacity of the main crane is more than 3,000 tons, and the height of the four triangular truss legs is 127.4 meters. In order to meet the green and environmental discharge requirements, the ship is equipped with a storage tank that holds a capacity of about 3,000 cubic meters and five methanol dual-fuel engines, said Li Minggao, vice-president of CIMC Raffles Offshore Ltd.
Driven by a fast-growing offshore wind power sector and energy consumption transformation in many parts of the world, demand for new drilling rigs has declined and offshore production platforms and other auxiliary vessels have become popular choices in the industry, said Lin Boqiang, head of the China Institute for Studies in Energy Policy at Xiamen University in Fujian province.
"The offshore engineering equipment market has stepped out from the sluggish market conditions in the past few years," he said, attributing the upswing to current oil price levels being significantly higher than the breakeven cost of a number of deep-water projects operated in Brazil and Guyana, and adding that floating production platforms will continue to play a vital role in the market.
Liu Xinyan, deputy director-general of the equipment industry department at the Ministry of Industry and Information Technology, said that after conducting structural adjustments and industrial upgrading, Chinese companies have established a complete industrial system integrating innovation, design, construction, and support and service businesses. China has become a major force in building ships and offshore engineering equipment around the world, he said.
Chinese products, including polar icebreakers, deep-water semi-submersible drilling rigs and liquefied natural gas (LNG) carriers, have strongly supported the growth of international trade, shipping activities and the marine economy, said Liu.
In addition to building eight mega LNG tanks for ROK client Samsung Heavy Industries Co Ltd and delivering seven gantry cranes to Indonesian customers in August, Jiangsu Watts Energy & Engineering Co Ltd, a Qidong-based oil and gas storage and transportation equipment manufacturer, started to build 12 mega LNG tanks for Japan's Mitsubishi Heavy Industries Ltd in October.
"While the pressure of insufficient global shipping capacity for oil and LNG tankers is unlikely to ease soon, demand for offshore engineering vessels and auxiliary products will continue to soar globally this year," said Zhang Hongbiao, vice-president of Jiangsu Watts Energy &Engineering Co Ltd.
Other products, such as offshore wind power-related equipment, will also grow rapidly under the favorable conditions of the global energy consumption transformation, and become a bright spot in the construction market, said Sun Fuquan, vice-president of the Chinese Academy of Science and Technology for Development in Beijing.
China's marine economy recovered steadily in the first half, as the country has been striving to respond to the COVID-19 pandemic and pursue economic and social development in a well-coordinated manner, according to the Ministry of Natural Resources.
For the traditional marine industry, the output of offshore crude oil and natural gas increased by 7.4 percent and 12.4 percent, respectively, from a year ago during the six-month period, ministry data showed.