China's economy robust on track with 6.6 pct growth in 2018: ADB
The Asian Development Bank (ADB) on Wednesday kept its gross domestic product (GDP) growth forecast for China this year unchanged at 6.6 percent thanks to robust domestic consumption and the solid expansion of services in China.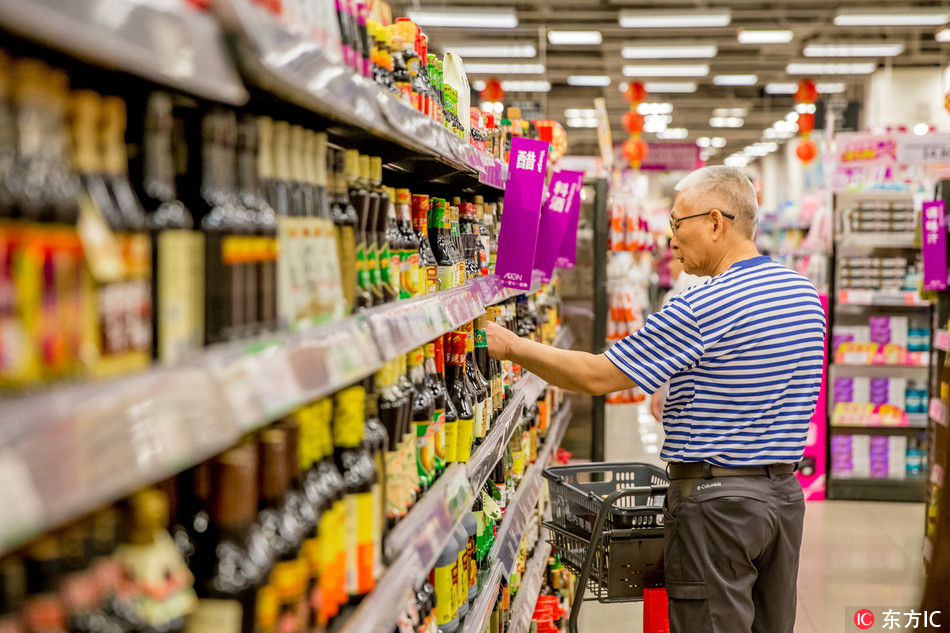 A customer shops for condiments at a supermarket in Guangzhou city, south China's Guangdong province, 25 August 2018. (Photo: IC)
"Growth is bolstered by strong economic performance in the first half of the year" the ADB said in its updated Asian Development Outlook (ADO) 2018, the bank's annual economic publication.
However, the ADO revised down its forecast for 2019 from 6.4 percent to 6.3 percent "in light of slower demand growth and the implementation of U.S. tariffs and China's countermeasures."
"Supply-side reform amid monetary and fiscal support will nevertheless ensure that growth remains on track," the report said.
The report also said that further trade dispute between the United States and China would spread through cross-border production networks, cautioning that any further escalation, such as 25 percent tariffs on all bilateral trade between the United States and China, would have greater consequences.
The report further said that other economies in Asia would initially feel the pinch as production slowed across global value chains.
The ADO warned that prolonged trade dispute can damage confidence and deter investment in the region.
"This indirect fallout will be large for many economies in the region and globally, especially if automobiles and other parts become embroiled in the trade conflict," the ADO said.
The report said estimates of the impacts do not fully capture possible disruption to production units as overseas business networks are severed and investment plans are cancelled amid a reallocation of global production, nor do they gauge the negative impact of heightened economic uncertainty in general terms.
"Such disruptions could be substantial as the conflict drags on, escalates, or spills over into financial markets," the report said.
"Ongoing efforts by Asian countries to forge trade agreements within the region and beyond provide an important counterpoint to rising protectionism," the ADO said.
ADO, originally published in April and updated in September, is ADB's flagship annual economic publication. The publication provides a comprehensive analysis of macroeconomic issues in developing Asia, including growth projections for major economies.