China's excavator sales maintain double-digit growth in June
Sales by China's major excavator producers continued to post double-digit growth in June, though the pace was slower than the previous month, industry data showed.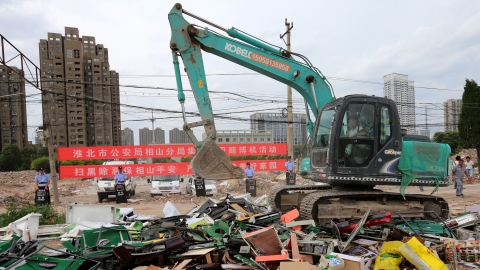 Photo: Shine.cn
The country's 25 leading excavator makers sold 14,188 digging machines in June, up 58.8 percent year on year, compared with a 71.3-percent increase in May, according to the China Construction Machinery Association.
More than 12,400 machines were sold in the Chinese mainland market, up 51.4 percent year on year. Overseas sales surged 143.7 percent to over 1,700 machines.
Combined sales in the January-June period remained robust, rising 60 percent year-on-year to reach 120,123 excavators, almost level with the 60.2-percent growth for the January-May period.
Sales of digging machines are an indicator economic strength as demand is usually backed by growth in mining and infrastructure.
The country's manufacturing purchasing managers' index came in at 51.5 in June, above the boom-bust line of 50, data from the National Bureau of Statistics showed.
While the reading was lower than the 51.9 in May, it surpassed an average of 51.3 for the first half of this year, indicating upward momentum in factory activity.