2020 SCO Expo to be held in E China's Qingdao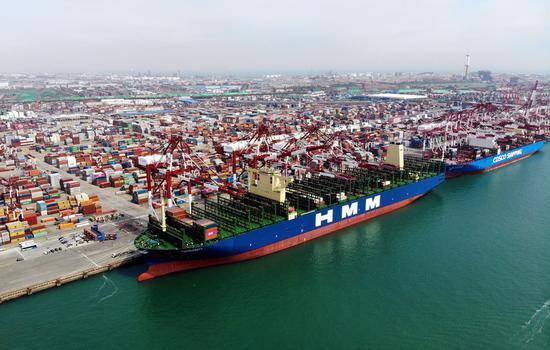 Aerial photo taken on April 26, 2020 shows HMM Algeciras docking at Qingdao Port in Qingdao, east China's Shandong Province. (Photo: Xinhua/Li Ziheng)
The 2020 Shanghai Cooperation Organization (SCO) International Investment and Trade Expo will be held from Oct. 16 to 18 in Qingdao, east China's Shandong Province, local authorities said Friday.
The expo this year is expected to see the participation of envoys from 28 countries, including 18 SCO nations. Products and services from over 600 enterprises, including 350 exhibiting online, are expected for the exhibition, according to the administration of China-SCO local economic cooperation demonstration zone.
The event will focus on products and services in finance, agriculture, culture and tourism, and light industry.
The expo will also see the inauguration of Qingdao China-SCO Countries Cooperation Hub, which will serve as a platform for showcasing products, negotiations for trade and investment, and road show promotion.
The SCO was established in 2001 by China, Kazakhstan, Kyrgyzstan, Russia, Tajikistan, and Uzbekistan. India and Pakistan joined as full members in 2017.