S. African companies to showcase products at 2nd CIIE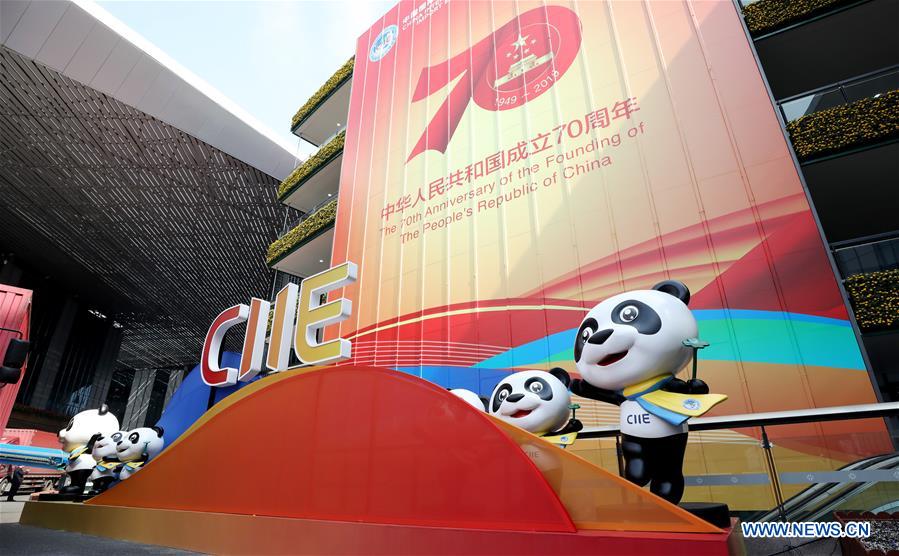 Photo shows the logo and mascot Jinbao of China International Import Expo (CIIE) at the National Exhibition and Convention Center in Shanghai, east China, Oct. 25, 2019. (Photo: Xinhua)
South African companies will showcase their products in the second China International Import Expo (CIIE) next week where they hope to penetrate the Chinese market, said a South African government official on Tuesday.
South Africa's Deputy Minister of the Department of Trade Industry and Economic Development Nomalungelo Gina said the event will give the companies an opportunity to increase their footprint in China.
"Our continuous participation in the CIIE will contribute significantly in helping us to increase the export of value-added products to China. There are concerted measures underway to promote value-added goods and services by broadening the export base and increasing South Africa's market share in China," said Gina.
She stated that the country's participation will contribute in strengthening both political and economic bilateral relations between South Africa and China.
"As a fellow member of the BRICS (Brazil, Russia, India, China and South Africa), participating in exhibitions like these will boost intra-BRICS trade and investment," said Gina.
She noted that China wants to import products and services valued at more than 10 trillion U.S. dollars and this present an opportunity to enter the huge Chinese market.
Gina said the annual CIIE is an international public platform provided by the Chinese government for all the countries in the world to discuss major issues of foreign trade, world economy and global economic governance.
China will host the second CIIE in Shanghai on Nov. 5-10.