Ted Baker forms JV with Chinese fashion group
chinadaily.com.cn
1574162105000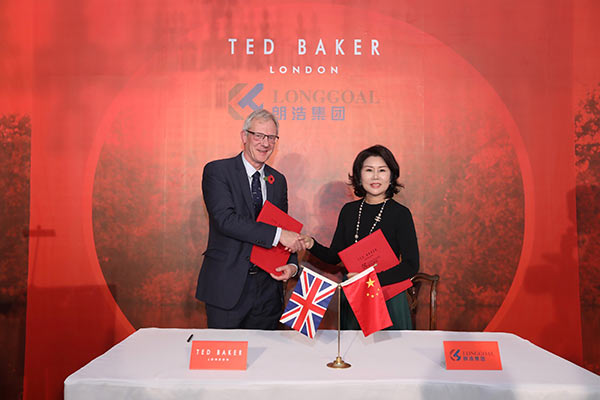 Chen Xiaoling (right), president of LongGoal Group, poses with Lindsay Page, global CEO of Ted Baker. (Photo provided to China Daily)
On Nov 8, British lifestyle brand Ted Baker and LongGoal Group, a family business established in 1996, announced the establishment of a joint venture company in Greater China.
The company will focus on exploring the markets of Greater China, Hong Kong and Macao, covering retail, wholesale and e-commerce platforms.
Attending the ceremony were Chen Xiaoling, president of LongGoal Group; Lindsay Page, Ted Baker's global CEO; and Yin Jing, the managing director of the new company.
As early as April this year, Ted Baker and LongGoal Group had reached an intention agreement on cooperation.
The firm is a fashion group, experienced in introducing retail brands to the Chinese market. In 2004, it became the exclusive agent of the American lifestyle brand Gant in China. And in 2015, it established partnerships with British shirt brand Thomas Pink and Bebe, a fashion brand from the United States.
Ted Baker is a lifestyle brand covering areas including clothing, fragrances, watches and luggage. It has been focusing on the developing markets of Europe and North America, and China is the next target.
To form a new joint venture company, each of the two sides invested 50 million yuan ($7.13 million), and they both hold a 50 percent stake in the company.
"In the past few decades, China's fashion market has been developing rapidly, and international brands are gradually making their entrance. The industrial competition is fierce, and local consumers are becoming more and more mature and rational," says Chen. "Therefore, the biggest challenge for Ted Baker, a brand from overseas, is to fully understand the change and trends in the consumer market, optimize the brand according to what the market needs, and win consumers' hearts."
"In addition, a comprehensive omnichannel strategy is also very important to promote the brand's cross-platform awareness, and provide good customer service both online and offline," she adds.
Page claims that China is a great growth opportunity and Ted has been exploring ways to understand how the brand can grow over the long term in China. He believes that working in cooperation with LongGoal will enable great local knowledge and experience to further that development and enhance our understanding of the Chinese market.