Zhengzhou flood brings business to a halt
Global Times
1626927996000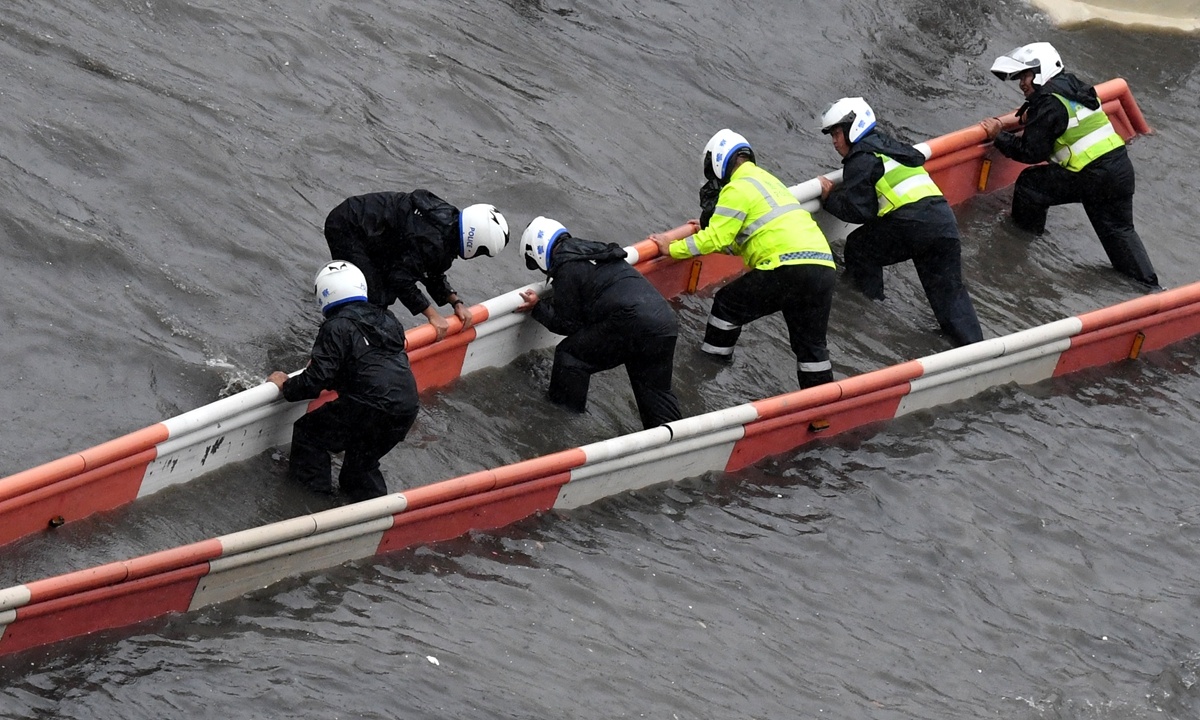 Record rainfall and severe floods in Zhengzhou in Central China's Henan Province have caused disruptions to the operations of many major multinational corporations including Foxconn, Nissan, IKEA and FedEx.

That has sparked concerns over potential impact on global supply chains that are closed ties to the major manufacturing and global business hub - home to the biggest Apple iPhone assembly plant. Though some disruptions will be felt by firms, impact on global supply chains will be limited, analysts noted.
The biggest rainfall on record and subsequent flooding, which have left at least 25 dead as of Wednesday afternoon, disrupted certain operations of major iPhone supplier Foxconn's plants, as staff couldn't get to work, several employees told the Global Times on Wednesday.
"A plant near the Zhengzhou airport is still in normal operation; however, some other plants that were hit hard by the rain suspended work today. It is expected that they will resume operating on Thursday," an employee who identified himself as a worker at Foxconn's Zhengzhou factory told the Global Times.
However, asked about the potential impact the rainfall may have on its production, Foxconn said that "there has been no direct impact on our facility in that location to date, and we are closely monitoring the situation and will provide any updates as appropriate."
"We have been watching the weather situation in Zhengzhou closely and, in close cooperation with local authorities, we have activated an emergency response plan for flood control measures in that location," the company said in a statement sent to the Global Times on Wednesday.
Other multinational enterprises have also suspended production in the city.
Swedish furniture and home goods retailer IKEA told the Global Times on Wednesday that its store in Zhengzhou was closed at the moment, but it provides parking services for clients stranded at the store for free.
US delivery services giant FedEX also told the Global Times on Wednesday that the severe weather conditions were also affecting its local operations in Zhengzhou.
Dongfeng Nissan, a joint venture between Dongfeng Motor Group and Nissan Motors, said that some manufacturing equipment at its Zhengzhou plant were damaged and further damage assessment was underway. The company would seek to resume production as soon as possible under the condition of ensuring personnel safety, according to media reports.
Henan is not only a major manufacturing hub but also the key home in central China for many global businesses. In 2020, the province attracted a total foreign investment of $20.06 billion and many foreign corporations opened their regional headquarters in the capital of Zhengzhou.
Experts said that the torrential rain and subsequent flooding could have a short-term impact on the international supply chains that are tied to the city, but the impact will likely be limited.
Mei Xinyu, a research fellow at the Chinese Academy of International Trade and Economic Cooperation of China's Ministry of Commerce, predicted that the impact on the manufacturing industry may last until Sunday - but it will be far less than the impact of the pandemic, which forced some companies to halt production for months.
"Some of the major manufacturing enterprises are in new industrial parks outside the urban areas, with high-standard infrastructure. It is expected that the rain will soon drain off," Mei told the Global Times on Wednesday.
For example, Foxconn said that the rain didn't have a "direct impact" on its facility, which reportedly makes half of the iPhones worldwide.
"It may have to halt production for a couple days, but the work can quickly be made up. It is unlikely that the rain will affect or delay the launch of the new iPhone," Xiang Ligang, director general of the Beijing-based Information Consumption Alliance, told the Global Times on Wednesday.
Cao Heping, a professor of economics at Peking University in Beijing, told the Global Times on Wednesday that the impact on the international supply chain will also be limited, given the province's increasing capability in dealing with flooding since the 1980s.
Given the seriousness of the floods, China's central government, various provinces as well as the society are rushing to support Henan in the fight against the natural disaster.
China's Ministry of Finance announced on Wednesday plans to advance the appropriation of 60 million yuan ($9.27 million) from a central disaster response fund to Henan to support the province's rescue and relief work. China has also allocated 40 million yuan to support Henan's post-flood restoration.
Around 10 leading technology companies in China have extended a helping hand during the emergency, drawing much attention from across the country, with total donations reaching 940 million yuan as of Wednesday.
"The government and all parts of society will work together to help restore operations, using all efforts," Xiang said.
Once the natural disaster is brought under control, Cao said that the province's massive and reliable railway network, including operation of China-Europe Express trains starting from and passing through Zhengzhou, will also return to steady operation.
In the first half of 2021, a cumulative 751 China-Europe Express trains started from Zhengzhou, an increase of 71 percent year-on-year.