Better global ties planned for software industry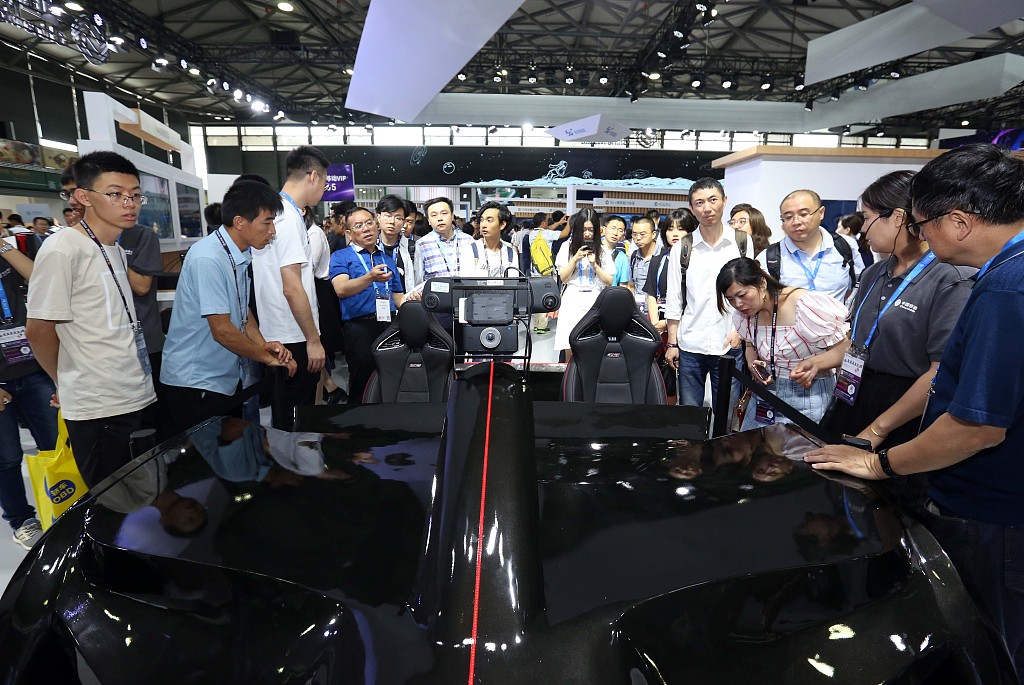 Visitors gather around a 5G remote-controlled test car at Mobile World Congress (MWC) in Shanghai, China June 27, 2019. (Photo: VCG)
China will increase international cooperation in the software industry, no matter how the global situation develops, the nation's top regulator of the industry said on Sunday.
Xie Shaofeng, head of the informatization and software services division at the Ministry of Industry and Information Technology, said foreign software enterprises have seen rapid development in China as local companies adopt their cloud services and software to accelerate digitalization.
In 2018, foreign software companies recorded combined revenue of around $194.6 billion in China, according to estimates by the China Industrial Control Systems Cyber Emergency Response Team, a research institute affiliated to the ministry.
"Regardless of how the international situation changes, China's software industry will become more open to the global community," Xie said at a news conference in Beijing. "We welcome foreign enterprises to tap into China's growth opportunities, as software technologies are entering a new era."
Xie said industrial and manufacturing companies worldwide are attaching greater importance to building up their technological presence in software. German electronic engineering giant Siemens is now the second-largest software company in Europe, and the US new-energy vehicle maker Tesla has more than 400 million lines of computer code for its Model S electric car.
At such a critical juncture, it is increasingly important to further cross-border exchanges and communication, Xie said, explaining that favorable policies China has rolled out, such as tax cuts, also apply to foreign-funded software and semiconductor companies that comply with the nation's laws and regulations.
"China has also been an active participant and contributor to the global open-source software community," Xie said, adding that two of the five biggest contributors to the three most-applied open-source cloud projects are Chinese companies.
Chen Zuoning, vice-president of the Chinese Academy of Engineering, said the commercialization of 5G will reshape how software is applied to different industries, with cloud computing expected to play a bigger role in boosting efficiency in corporate governance and factory production. International cooperation is needed to better adapt to such a trend.
Bill McDermott, CEO of German software and cloud giant SAP, called the Chinese market "the jewel in the crown" for the company in an earlier interview and said the company is doubling down on its presence here.
"I will not be surprised if China becomes our largest market by 2025, with local companies scrambling to upgrade their corporate management methods and factories with digital technologies," McDermott said.
The technology giant delivered its best results in the country in 2018 and promised in January to pour more resources into expanding its presence in the market for small and medium-sized enterprises and building up the local talent and infrastructure in China.