China Focus: Auto expo shows fierce competition in Chinese market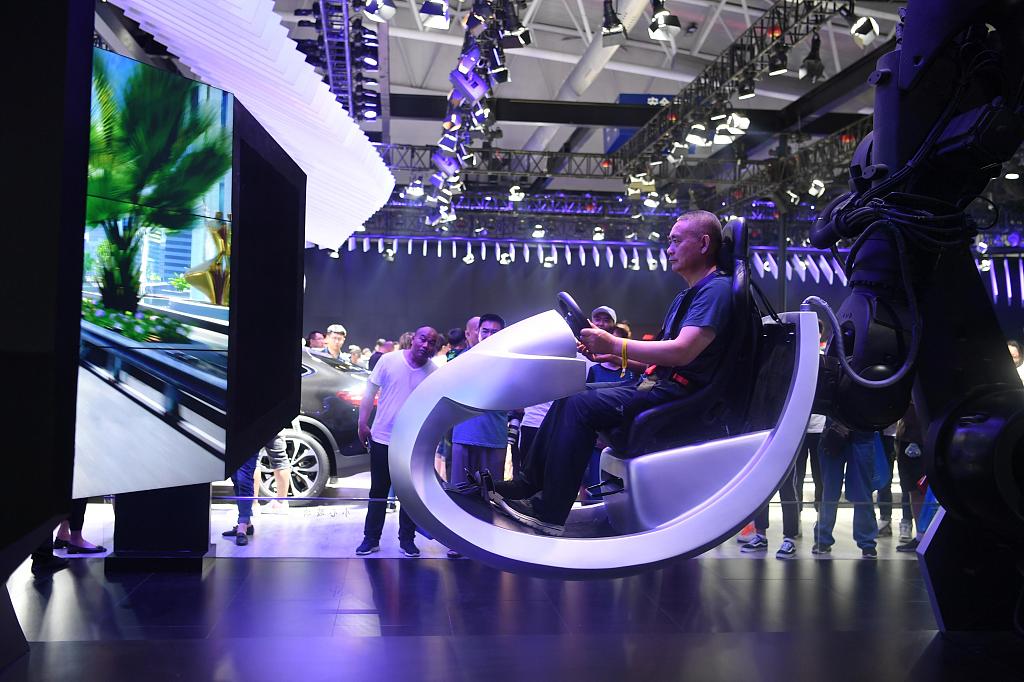 (Photo: VCG)
CHANGCHUN, July 22 (Xinhua) -- Automobile makers were locked in fierce competition at the 16th China (Changchun) International Auto Expo amid growing downward pressure in the industry.
Many offered price cuts to lure pickier Chinese consumers and emphasized their new energy vehicles (NEVs), a niche market whose sales have remained robust despite the struggles of traditional fossil fuel-driven vehicles.
The Changchun Expo, from July 12 to July 21, was an important event for automakers to attract Chinese customers. This year, over 1,300 cars from domestic and foreign brands were exhibited in an area of around 200,000 square meters.
An Liguo, a sales manager from Changan Automobile, a major domestic brand, said that many consumers in China hunt for bargains and value both product quality and cost as there are many brands to choose from.
Some sales managers also said that although consumers are picky, price discounts are still a very important factor in affecting the decisions of Chinese consumers.
"All automakers, no matter world-class brands or domestic brands, have to consider their pricing strategies more seriously today to avoid being put at a disadvantage. At the same time, quality and service are also absolutely necessary," said Xue Ruixiang, a sales manager with Changan Automobile.
At the expo, local auto brands and joint-venture brands such as FAW, Volkswagen and BMW all offered big discounts to consumers. Even luxury brands such as Lexus and Audi have marked down their prices and have offered big gift bags.
Statistics from the China Association of Automobile Manufacturers (CAAM) showed that China's car sales remained sluggish in the first half of this year after a weak performance in 2018, registering a 12.4 percent drop year on year, with the H1 sales year-on-year drop narrowed compared with the first five months.
Apart from competitive price cuts, the NEV market is another battleground. To meet the rising demand for NEVs, special booths were set up at the expo where visitors can view the latest technologies, new materials and innovative designs in NEVs.
CAAM indicates that from January to June, NEV sales remained robust. NEV sales surged 80 percent in June compared with the same period last year, while H1 sales rose 49.6 percent year on year.
"We strive to remain the first choice for Chinese car buyers and generate further momentum through our fresh NEV wave in the second half of this year, with a total of 14 NEV models in 2019," said Stephan Wollenstein, CEO of Volkswagen Group China.
In addition to increasing production in China, new car models are being designed and tested for Chinese consumers. According to the joint venture FAW-Volkswagen, its new SUV model Jetta VS5, designed to further meet the demands of young Chinese car buyers, has rolled off the production line.
China's consumption upgrade has created a new growth point for global auto companies, and luxury car sales remain at a high level compared with low- and medium-end models.
In the first six months, Porsche achieved growth of 28 percent in China while Audi delivered 312,500 cars to Chinese customers with an increase of 1.9 percent, setting a new record.
Xu Yanhua, deputy secretary of CAAM, said that the government's move to build a green economy is a long-term strategy, and China's growing consumption has been witnessed by many companies, so manufacturers should follow this trend and make more suitable products for the Chinese market.