G20 seeks unity on free trade
Global Times
1521582943000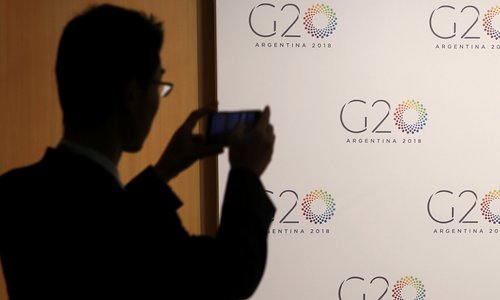 A man takes pictures of a board with the G20 Meeting of Finance Ministers logo in Buenos Aires, Argentina on Monday (Photo: Global Times)
G20 financial leaders are trying to form a united front against protectionism by adopting an endorsement for free trade at a meeting in Argentina, amid rising trade tensions stirred by recent moves from the US.
Trade took center stage at the meeting of G20 finance ministers and central bank governors in Buenos Aires, following the US decision to slap tariffs on steel and aluminum imports and reports on Tuesday that it is planning further trade measures against China.
However, while anti-protectionism sentiment at the meeting is an encouraging sign of global desire to stand against the anti-free trade position of US President Donald Trump, the chances of the G20 establishing a unified position on trade is slim, Chinese experts said on Tuesday.
At the meeting, G20 financial chiefs voiced support for free trade and warned that protectionist moves could lead to a global trade war and drag down global economic growth.
"The first risk is the risk of inward-looking policies and protectionism," Pierre Moscovici, European Commissioner for Economic and Financial Affairs, said at a press briefing after the G20 meeting on Monday, Reuters reported on Tuesday.
"I am seriously concerned that the foundation of our prosperity - free trade - is being put at risk," German Finance Minister Olaf Scholz told German newspaper Bild.
"Protectionism is not the answer to the difficulties of our time. The situation is serious."
Chinese and German officials are coordinating efforts to defend global free trade via the G20 platform, according to media reports.
The G20 financial chiefs are pushing to adopt language that stresses the importance of free trade in a financial communiqué at the meeting.
US pushes back
But these efforts faced an obstacle after US Treasury Secretary Steve Mnuchin said that the US would not sacrifice its national interests for the sake of the global free trade system, according to Reuters.
The final communiqué needs to be approved by each member of the G20, and with opposition from the US, it was unclear if such free trade language could be adopted in the document, which was scheduled to be released early on Wednesday morning, Beijing time.
Jiang Yong, a research fellow at the China Institutes of Contemporary International Relations in Beijing, said it could be very difficult to form a united stance against the US.
"Like it or not, the US holds a lot of leverage over almost all the countries at the table," Jiang told the Global Times on Tuesday.
"Even if they adopt such language, it doesn't mean anything. It certainly won't change Trump's mind."
After announcing a 25 percent tariff on steel imports and a 10 percent tariff on aluminum, Trump is reportedly set to announce trade measures against $60 billion worth of Chinese technology and consumer goods annually as soon as this week.
Such moves have fueled concerns about a potential trade war that would seriously damage the global economy.
But there are encouraging signs, as countries have shown more willingness to work together to stand up to protectionist moves from the US, experts said.
"Everyone is very unhappy with the US right now, including its allies, and everyone wants to counter the US moves," Wang Jun, deputy director of the Department of Information at the China Center for International Economic Exchanges in Beijing, told the Global Times on Tuesday.
Wang noted that, while it is unlikely that the G20 countries will take concerted action against the US, there are signs that countries could work together and coordinate their efforts in fighting protectionism.
In a phone call on Saturday, Chinese President Xi Jinping and German Chancellor Angela Merkel agreed to strengthen cooperation at the G20 platform to jointly preserve the multilateral order, the Xinhua News Agency reported.
During the call, Xi told Merkel that China and Germany should be the driving forces of a new type of international relations and should work to preserve economic globalization and multilateralism, support free trade and oppose protectionism, according to the Xinhua report.