China-US chip divergence intensifies as shortages devastate many industries
Global Times
1623253439000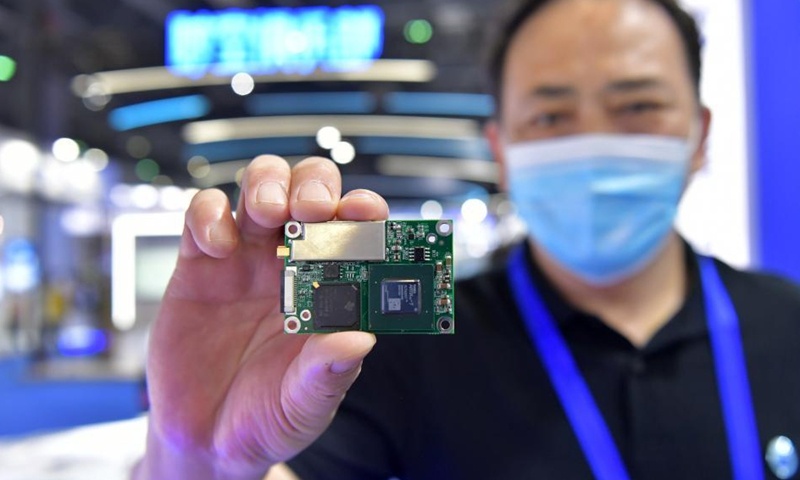 China's semiconductor industry on Wednesday called for global cooperation to address a severe worldwide chip shortage that has hit hundreds of industries. The call, made at an industry expo, was in stark contrast to the US' latest efforts to seek an exclusive approach with a competition act that targets China.
The vastly different approaches and rising rivalry between the two economic powers was on vivid display at the World Semiconductor Conference & Nanjing International Semiconductor Expo, where industry players warned that any unilateral action will fail to address the shortage, and global cooperation is urgently needed.
Global chip demand has increased eightfold every year for the past decade, and total annual global demand now exceeds $500 billion, Christopher Millward, head of the US Information Technology Office, said in a video recorded for Wednesday's forum.
The semiconductor industry chain needs cooperation, because it would be too expensive for each country to have completely domestic industry and value chains that run from design to materials and tools, and from manufacturing to testing, packaging and assembly. The main objective of today's and future discussions should be to work together and explore ways to remove barriers, cross borders, and achieve innovative means to promote free and fair trade, Millward said.
The comment came after the Biden administration's statement on Tuesday, saying that the US will target China with a new "strike force" to combat unfair trade practices, as it rolled out the findings of a review of access to critical products, from semiconductors to electric-vehicle batteries, Reuters reported.
In stark contrast with the US' unilateral posturing, Qiao Yueshan, an official from the Ministry of Industry and Information Technology, said at the forum that China actively integrates global resources and aims to deepen international cooperation on multiple levels.
He said the scale of China's integrated circuit industry was about 884.8 billion yuan ($138 billion) in 2020, with an average annual growth rate of nearly 20 percent during the 13th Five-Year Plan period (2016-20), four times the global growth rate in the same period.
The chip shortage is sweeping the world. A report by Goldman Sachs showed that as many as 169 industries are affected to some extent, ranging from vehicles, steel and concrete to air conditioner manufacturing -- and even soap production.
Several chip producers at the ongoing event said that supplies are still tight, and they can't tell downstream clients what actual delivery times will be.
Chip packaging went smoothly until the virus hit. The shift to working from home greatly boosted demand for electronic products, especially home appliances, causing a broad shortage of chips, York Lin, a senior sales director with the Siliconware Technology (Suzhou), a chip packaging company, told the Global Times at the forum on Wednesday.
The cost of some core components for chip-making like panels has risen four to five times -- and prices are still increasing, a manager surnamed Cao at the China Electronics Technology Group Corp, a state-owned company involved in chip innovation and production, told the Global Times on Wednesday.
Deliveries have been affected, with no fixed time for certain products, said the manager. The company has expanded its production capacity by five times the level of 2019, but it still can't cope with the market demand.
Meanwhile, booming industries involving mobile phones, electric vehicles and the Internet of Things that require a lot of chips have also pushed up demand, the global vice president of Semiconductor Equipment and Materials International Ju Long said at the forum.
TSMC told the Global Times on Wednesday that the fab in Nanjing is progressing well, and they already completed the first phase of 20,000-wafers capacity installation. Depend on the customers' demand, TSMC said they have a plan to expand the capacity.
TSMC announced a plan to expand its semiconductor plant in Nanjing, East China's Jiangsu Province in May.