Low steelmaker emissions key to development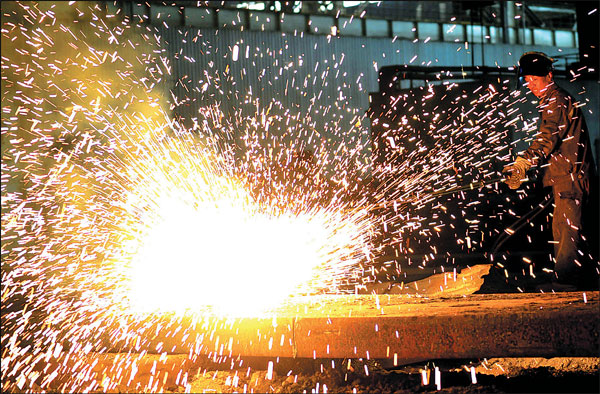 A worker oversees production at a plant of HBIS Group Hansteel Co in Handan in North China's Hebei province. (Photo: Xinhua)
Production curbs should take account of factory's cleanliness, official proposes
Adapting to ultra-low emissions in the steel industry is important for the Chinese economy's high-quality development, and the authorities should give more incentives to steelmakers with high-level environmental protection records while strictly containing unclean capacity, a top China Iron and Steel Association official said on Saturday.
"Overcapacity is a concern to us, but we care more about whether clean capacity is enough (for environmental protection)," CISA Executive Vice-Chairman He Wenbo said at a forum on Saturday in Beijing on the low-carbon emissions prospects of the Chinese steel industry.
Promoting ultra-low carbon emissions is necessary to ensure green development in the steel sector, and production restrictions in key areas, including the Beijing-Tianjin-Hebei region, are a last resort, without alternatives. However, production restrictions should vary among steel companies, which have different environmental protection records. Those with advanced capacity and innovative technologies should be protected and supported, he said.
To meet steel demand and protect the environment, it is proper that steel producers with ultra-low carbon emissions make more use of their capacity, while unclean capacity is curbed, he said.
"To realize ultra-low carbon emissions, some steel companies spend up to 270 yuan ($40) per ton in operational costs," he said.
"The incentive mechanism must take account of the high environmental protection costs of companies with advanced and clean capacity."
In the first five months of 2019, He said at the forum, crude steel output increased by 37.44 million tons, or 10.2 percent year-on-year, and 98 percent of the incremental output was domestically used.
However, members of the CISA, which are mostly mid-sized to large steel enterprises, and which account for 80 percent of the national output, registered a year-on-year output growth of only 6.2 percent in the first five months, while the crude production from non-members rose 23 percent.
More than half of the increased output in the first five months this year was from non-CISA members, whose clean capacity cannot be guaranteed, he emphasized.
Liu Bingjiang, head of the Ministry of Ecology and Environment's air quality management department, said at the same forum that it is unfair for companies with high operational costs on environmental protection to compete under the same market conditions against those investing little into environmental protection.
The authorities will bring in industrial associations to tighten emissions assessment on steel producers when granting exemptions from production restrictions, he said.
Those with poor environmental protection records or that scheme to cheat the assessment will be severely punished, he said.
Currently, China enforces steel production restrictions in key areas on days forecast to have heavy air pollution, and producers with ultra-low carbon emissions are allowed to have lower or no production cuts.
More than 60 steel producers in key areas, with a total crude steel capacity of 260 million tons, have upgraded to meet ultra-low carbon emission standards, according to Liu.
China expects 60 percent (340 million tons) of existing crude steel capacity in key areas to be made with ultra-low carbon emissions by 2020, according to a ministry guideline released this year.
Li Xinchuang, president of the China Metallurgical Industry Planning and Research Institute, said that to achieve low-carbon emissions involves upgrades in the whole process of steel production, and more attention should be paid to procedures such as raw materials transportation and storage, which often generate emissions that are difficult to contain.