China-EU trade deal still on track
People's Daily
1591320688000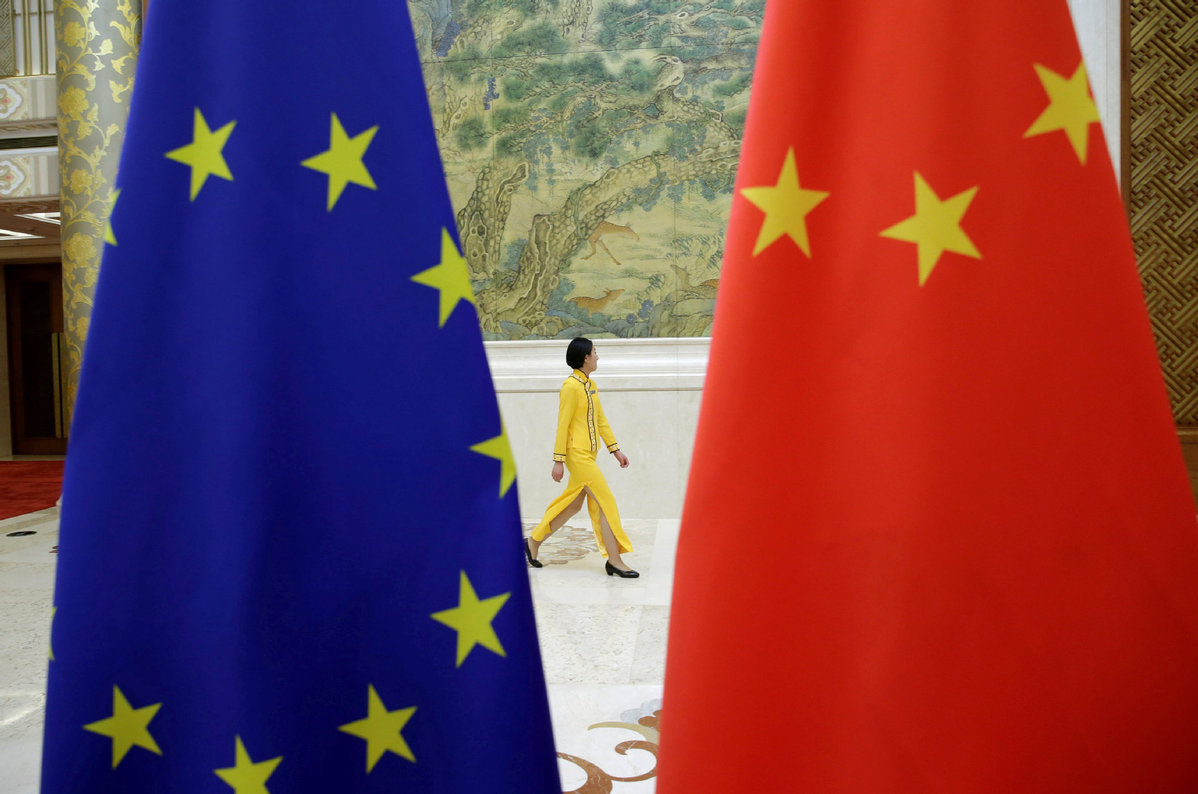 An attendant walks past EU and China flags ahead of the EU-China High-level Economic Dialogue at Diaoyutai State Guesthouse in Beijing, on June 25, 2018. (Photo: Agencies)
China and the European Union have not changed their goal of concluding talks regarding the EU-China Comprehensive Agreement on Investment in 2020, set after the 21st China-EU leaders' meeting in Brussels last year, the Ministry of Commerce said on Thursday.
Gao Feng, the ministry's spokesman, said China and the EU hope this agreement will benefit companies and investors from both sides at an early date, especially in the context of the impact of the COVID-19 epidemic on the global economy.
An early deal is conducive to deepening China-EU economic and trade cooperation and facilitating global economic recovery, Gao said at a regular news conference.
He said negotiating teams from both sides have overcome the difficulties caused by the epidemic and actively promoted negotiations in recent months. They held three rounds of talks with fruitful results between March and May. The two sides have agreed on the negotiation arrangements for the next few months.
The spokesman said the government is closely monitoring global market trends as many uncertainties remain. China's foreign trade development is resilient, has enough room for long-term development and the ministry is confident of stabilizing foreign trade.
Affected by the COVID-19 outbreak, China's foreign trade volume fell to 9.07 trillion yuan ($1.27 trillion) in the first four months of this year, declining 4.9 percent year-on-year. However, the country's imports and exports recovered in April, according to the General Administration of Customs.
Gao reiterated that China has always opposed politicizing economic and trade issues. Because the epidemic has had a comprehensive impact on global manufacturing activities and market demand, countries should strengthen cooperation and take concrete actions to help the recovery of the global economy as soon as possible, he added.
China will continue to unswervingly expand reform and opening-up, relax market access, actively raise imports, strengthen international cooperation and contribute to the stable growth of the world economy and trade, said Gao.
China has rolled out a wide range of policies and measures to help exporters resume production since the epidemic broke out. The government introduced incentives to give firms financial support, help employees return to the workplace and reduce operational costs.
Because production and service sector operations have restarted in many countries, exports of China's non anti-epidemic materials will gradually recover in the second half of this year, said Zhang Yongjun, a researcher at the China Center for International Economic Exchanges in Beijing.
To avoid risks, he urged China's export-oriented companies to monitor demand in the international market and adjust their product structure in a timely way to adapt to the new situation.