'More flexible, powerful' monetary policy needed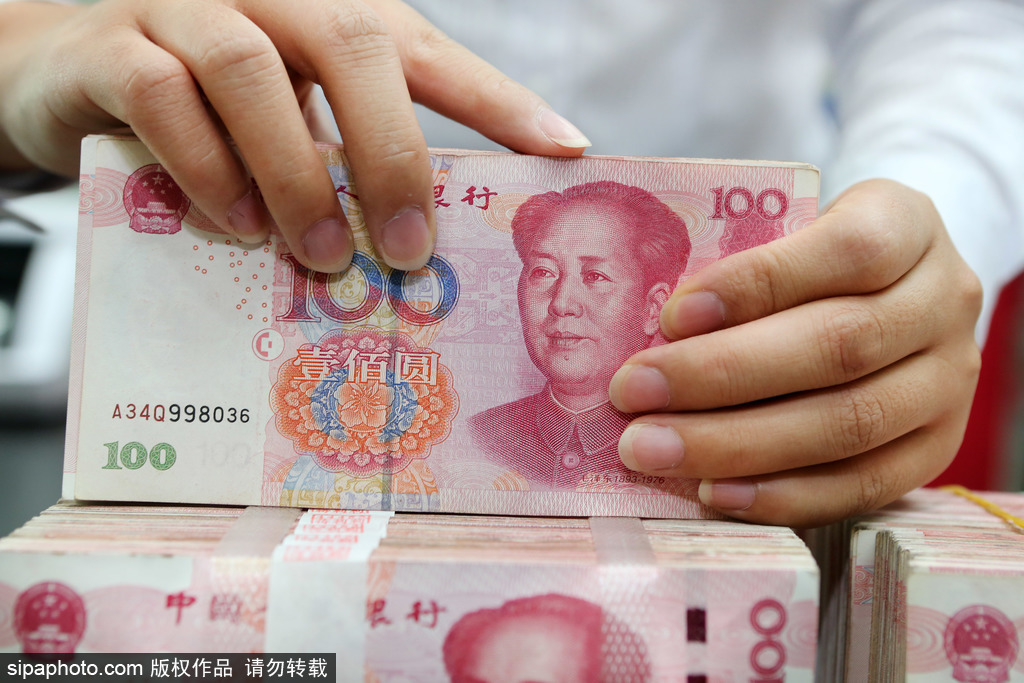 A clerk counts cash at a bank in Natong, South China's Jiangsu province. (Photo: Sipa)
Nation has favorable conditions to maintain economic, financial stability
Editor's note: As this year's sessions of the National People's Congress and the National Committee of the Chinese People's Political Consultative Conference prepare to open this week, China Daily will publish a series of stories focusing on the achievements that have been made and major issues expected to be discussed at the two sessions.
Policymakers are hinting at taking additional monetary action, coordinated with fiscal measures, to support China's resuming economic activity as the novel coronavirus outbreak is basically controlled domestically, and they expect the recovery will rely largely on domestic demand.
The monetary response should focus on maintaining lower interest rates and ensuring sufficient liquidity to help achieve debt sustainability, and fiscal authorities need to enlarge public spending and cut taxes with an extended deficit, said policy advisers.
Yi Gang, governor of the People's Bank of China, the central bank, pledged over the weekend it would implement "a more flexible and powerful" monetary policy to counter economic downturn pressure and mitigate the impact of the COVID-19 shocks, while maintaining financial stability.
Speaking before the opening of the third plenary session of the 13th National People's Congress, the country's top legislature, Yi signaled policymakers may take further monetary actions to ensure employment and support the real economy.
Monetary policy tools include re-lending and re-discounting facilities, through which the central bank can provide funds to commercial banks.
Yi also stressed extending the repayment periods of loans and improving the efficiency of the monetary policy transmission procedures, according to an article on the PBOC website on Saturday.
The government will raise the fiscal deficit ratio, issue special treasury bonds to counter the COVID-19 pandemic's impact, increase local government special bonds and continually implement tax and fee cuts, Finance Minister Liu Kun said on Thursday.
The number of new infections in China has stabilized at very low levels, and China's economy continued to recover in April after sharply contracting in the first quarter. Industrial output has risen year-on-year and investment has strongly improved. But consumption momentum has remained weak.
The spread of COVID-19 overseas has disrupted the global economy and financial market, bringing new challenges to China's economy, Yi said. "China has favorable conditions to maintain economic and financial stability, and we still have sufficient policy space to support growth."
"The PBOC has signaled further easing is in the cards and has de-emphasized the need to contain macro leverage at a time when policy support is much needed," said Tommy Wu, lead economist at Oxford Economics, a British think tank.
Draft report discussed
A meeting on Friday of the Political Bureau of the Communist Party of China Central Committee discussed the Government Work Report draft that will be submitted for deliberation and approval during the upcoming NPC meeting. Xi Jinping, general secretary of the CPC Central Committee, presided over the meeting, Xinhua News Agency reported.
Top-level policymakers highlighted rolling out stronger macro policies to stabilize enterprises' development and ensure employment, and reforms should be relied on to stimulate market entities' vitality and foster new growth, it said.
"The proactive fiscal policy should be more positive, the prudent monetary policy should be more flexible and appropriate, and the employment priority policy should be further strengthened," according to the meeting's statement.
Globally, the COVID-19 crisis is still spreading, and the economic outlook is turning worse than the already pessimistic projections and will weigh on China's recovery, as the key trading partners fall into a deep recession, economists said.
"We will get better visibility on policy specifics from the forthcoming annual session of the National People's Congress, and China's stimulus is expected to remain relatively modest compared with 2008-09 and recent packages in other major economies," Wu said.
Successive measures
The central bank and the fiscal authorities have already delivered in quick succession a series of measures to shore up financial markets and the economy, including measured forbearance to provide financial relief to affected households, corporations and regions facing repayment difficulties.
To help finance more infrastructure spending, the government recently announced an additional issuance of 1 trillion yuan ($140.8 billion) of local government special bonds on top of the 1.29 trillion yuan for earlier delivery.
Since the outbreak, the PBOC has injected 3.33 trillion yuan into the banking system via open market operations, including reverse repos and medium-term lending facilities. It also expanded the re-lending and re-discounting facilities by 1.8 trillion yuan to support manufacturers of medical supplies and daily necessities of micro, small and medium-sized companies, according to the International Monetary Fund's policy tracker.
Under the monetary easing, the one-year loan prime rate, the benchmarked lending rate, dropped by 0.3 percentage point, and the one-year treasury yield declined to a record low of 1.1 percent by late April.
Monetary authorities need to "save ammunition", preventing excessive-liquidity side effects in the future, Zhou Xiaochuan, former central bank governor, said at a forum organized by Tsinghua University's PBC School of Finance on Saturday.
"Policymakers should aim to target support for the hardest-hit households and firms. These policies need to protect people, jobs, and industries directly, not just through financial institutions," IMF Deputy Managing Director Zhang Tao said at a Boao Forum for Asia online conference last week.