China seeks strengthening manufacturing design abilities
China on Tuesday released a four-year action plan on strengthening its manufacturing design capabilities amid a shift from the "Made in China" model to "Created in China."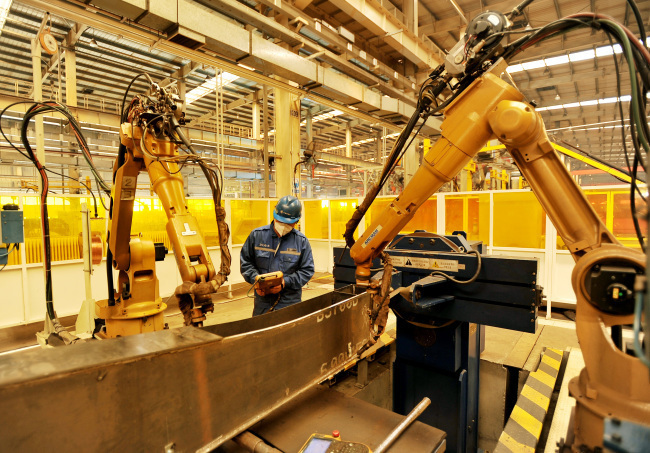 A worker operates a robotic arm to make a pumper at a pumper manufacturer in Hebei Province, on December 24, 2018. (File Photo: IC)
Key targets for the 2019-2022 period include developing an open design platform for equipment manufacturing, and enhancing the design of special-purpose or special-environment equipment as well as key parts of high-end equipment, according to the plan unveiled by the Ministry of Industry and Information Technology and 12 other departments.
China aims to achieve breakthroughs in original design in fields including high-grade numerical control machine tools, industrial robots and artificial intelligence within the period.
The country also aims to improve the design capabilities of industries with competitive advantages including textiles, automobiles and heavy machinery to facilitate industrial upgrading.
It will form industries and national standards of system design, artificial intelligence design and ecology design. It will also develop a number of productive and professional design tools.
Around 10 demonstration cities will be named to serve as examples of manufacturing design services, while over 200 state-level industrial design centers and about 100 manufacturing design training bases will be established or further developed, according to the plan.
A national research institute of industrial design will also be built to enhance basic research in the sector.
The plan outlines supportive policies to boost manufacturing design. In terms of funding, the country will encourage private capital-based design industry funds to be established, qualified design enterprises to go public for financing, and banks and other financial institutions to provide tailored services to design firms.