Providing value to consumers across the world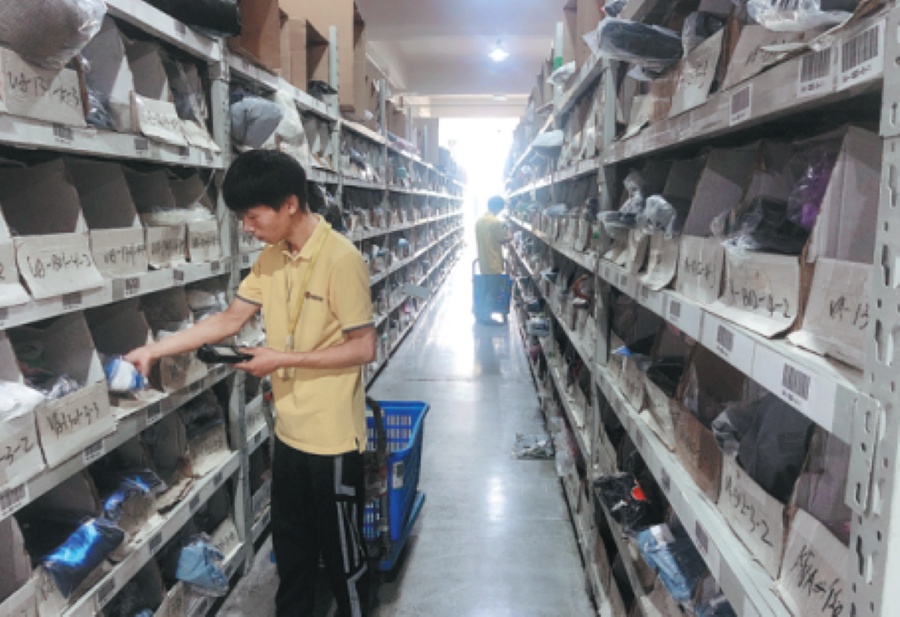 E-commerce platform LightInTheBox rides out COVID pandemic woes, shines abroad
Shanghai-based, New York-listed cross-border e-commerce platform LightInTheBox is now considered a shining example of companies that not only managed to ride out the economic effects of the COVID-19 pandemic but also posted unexpectedly good financial results.
The company, whose name is abbreviated as LITB, released its April-June quarterly results in late August. Its sales revenue rose 96 percent year-on-year to $113.9 million and generated a profit of $8.5 million, the highest quarterly gain since it went public in 2013. It was the fourth consecutive quarter that LITB reported positive financial results.
LITB took off in 2007 as a business-to-consumer cross-border e-commerce platform. It offers made-in-China products to consumers in many countries across the world.
In 2013, it became the first Chinese cross-border e-commerce platform to be listed on the New York Stock Exchange. It boasts a global user base of about 10 million in more than 200 countries and regions.
But its NYSE listing did not turn out to be a breakthrough for the company's financial performance. LITB's share price remained between $1 and $3 for years.
In late October 2018, it received a delisting warning from the NYSE after reporting losses for five consecutive years since the IPO. Its stock price plunged below $1 for 30 trading days.
Against all COVID-19 odds, LITB survived the first quarter of this year and then turned the corner with impressive second-quarter results.
He Jian, LITB's chief executive officer, persuaded himself to discern potential opportunities in the crisis brought about by the pandemic.
He knew the European consumers, especially the elderly group, are quite difficult to win over. For, before the epidemic, they hardly shopped online. But, due to lockdowns and social distancing measures that lasted for about three months, online retail became their only option to buy daily necessities and for other kinds of shopping, as brick-and-mortar stores stayed shuttered.
"The online shopping experience turned out to be quite pleasant for them as we offered more products at lower prices. Therefore, our next step in Europe will be to increase the rate of click-throughs to win more consumers," said He.
But the breakthrough in Europe was still more due to circumstance than deliberate strategy. The progress LITB has made over the past quarters, He said, is organic and sustainable.
It can be largely attributed to LITB's resolve, since He took office as CEO in 2018, to continue investing in technology, maintain stricter selection of products, restructure management and absorb staff members of Ezbuy, the Singaporean e-commerce platform that the company bought out in late 2018.
Ever since 2018, the company has doubled its investment in research and development, increasing its technical staff strength to 300.
"Most of our engineers are based in Shanghai. You can imagine the cost. But only by investing in talent can we become more digitalized, better match clients' demand and increase efficiency," He said.
Products that e-retail on LITB are chosen strategically. Electronic products that sell better on Amazon are not a priority. Instead, LITB features products that showcase China's manufacturing capability.
For example, lifestyle and home decor products have pride of place on LITB as they offer a competitive edge, and can be shipped directly to overseas markets without incurring high after-sales expenditure, said He.
Forays into new markets outside of China have played a key role in LITB's growth. Ever since the merger with Ezbuy in 2018, Southeast Asia has become a new growth driver for LITB.
In less than two years, the region now weighs as much as the United States, Europe and the Middle East in terms of contribution to LITB's turnover.
He explained that while the penetration rate of e-commerce was only about 2 percent in Southeast Asia three years ago, the figure has since more than doubled.
The higher birthrate in the region will be translated into a larger group of younger consumers. Therefore, it is quite likely that the e-commerce penetration rate in Southeast Asia will be on a par with that of China's in about five years, He said.
He further observed China is internationally competitive now in terms of cross-border e-commerce. While cheaper mass-market products defined China's manufacturing prowess 20 years ago, the scene is very different now. Flexible manufacturing, which is required by e-commerce platforms, has emerged as the key strength of China's supply chain.
"We have witnessed China leapfrogging, in terms of its capacity to make consumer goods as well as the high efficiency reached by the entire ecosystem," he said.
That was possible because of the supportive policies of the Chinese government. The State Council announced on April 7 that 46 more cross-border e-commerce comprehensive pilot zones will be set up across the country. When they materialize, their total number will surpass 150 in 30 provinces, municipalities and autonomous regions of China.
Data from the China E-commerce Research Center showed that the total trading volume of China's cross-border e-commerce industry exceeded 10 trillion yuan ($1.5 trillion) last year.
The compound annual growth rate of the industry topped 20 percent between 2014 and 2019, significantly overtaking the 3.61 percent annual growth rate of China's foreign trade during the same period.