Running through the sneaker hype business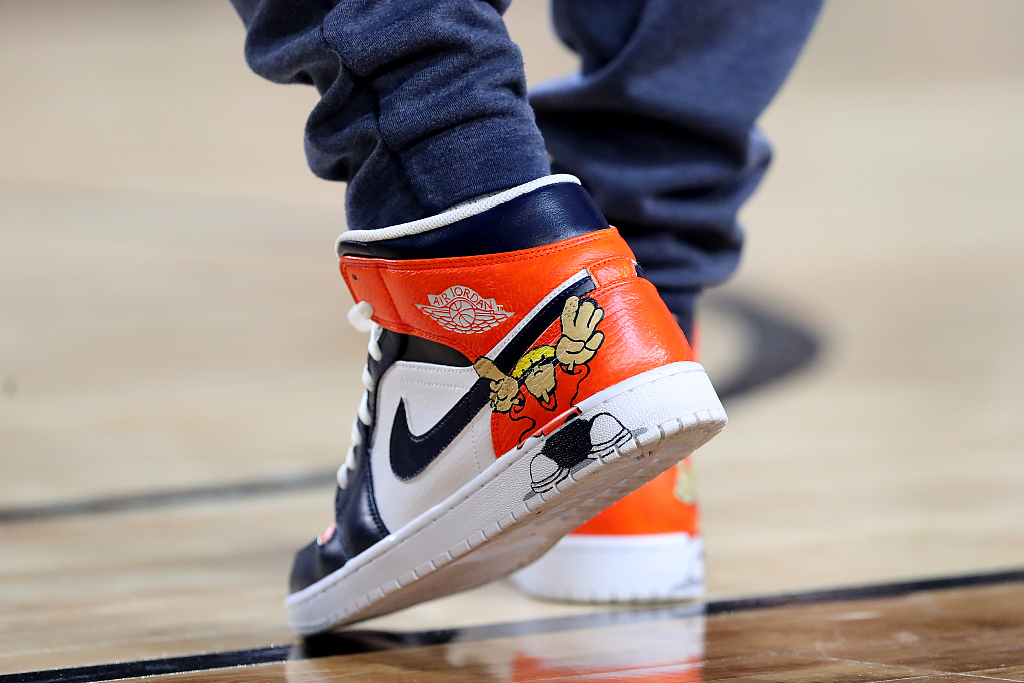 A detailed view of the Nike Air Jordan 1 sneakers. (Photo: VCG)
Shoes like Air Jordan or Yeezy are not only popular for enthusiasts or sneakerheads, but have become a business for hype.
For a pair of limited-edition Air Jordan 1 shoes, the selling price could wind up at about 30,000 yuan ($4,300) - and that's just a glimpse of the passionate shoppers, according to a Tuesday report by the Beijing News.
Being a collector is not easy. Sneaker lovers usually have two or three, even dozens of apps on their mobile phones to buy, while speculators have both an online and offline presence.
Manual input is too slow for online purchases, so bots are used to get rare shoes, though even the bots can fail.
In-store sales are not much better. Dealers in the secondary market often hire people to wait in line to buy shoes, which they call "human wave tactics". Those with good connections just turn to store managers or retail workers taking the goods.
"The sneaker industry has a primary market and a secondary market as well," Xiao Jun, a player in the world of sneaker hype, said in the report. "Sneaker chasers have a strong demand for buying, selling and collecting shoes, so the secondary market for reselling has emerged. At the same time, sneakers gradually appreciate in investment value and have joined the ranks of financial investments like stock markets."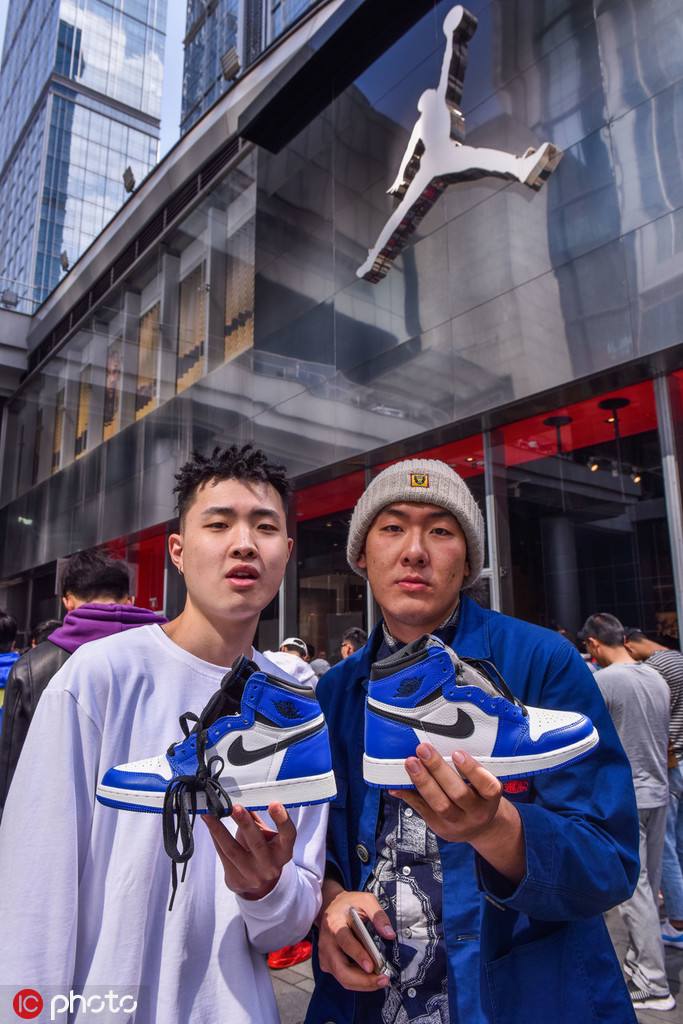 Sneaker fans display the new releases they purchased in front of a Jordan sneakers store in Chengdu, Southwest China's Sichuan province, on March 25, 2018. (Photo: IC)
Investment always involves risk, of course. In general, sneaker investors choose those worn by celebrities, jointly designed versions, or just based on the appearance and whether they easily match clothes, said another industry player Liu Shanshan. "You will lose money if your judgment is wrong. After all, there is no clear standard for the markups."
What's behind the whopping price is brand owners, the report said. Over the years, sneaker brands like Nike, Adidas and others have fueled the prosperity of the market while giving rise to avid collectors by releasing limited editions, making sneakers available only in designated regions, and a raffle method for buying.
Yeezys, for instance, a brand from the hip-hop artist Kanye West that's made by Adidas, is best known for its expensive, limited-edition sneakers.
"The real reason for the zealotry is the scarcity that the sneaker brands create," an insider said in the report. "For exorbitant sneaker prices, the driving effect from celebrity is the key point, while supply and demand or hunger marketing is the fundamental reason."