Luckin Coffee gives wings to tea business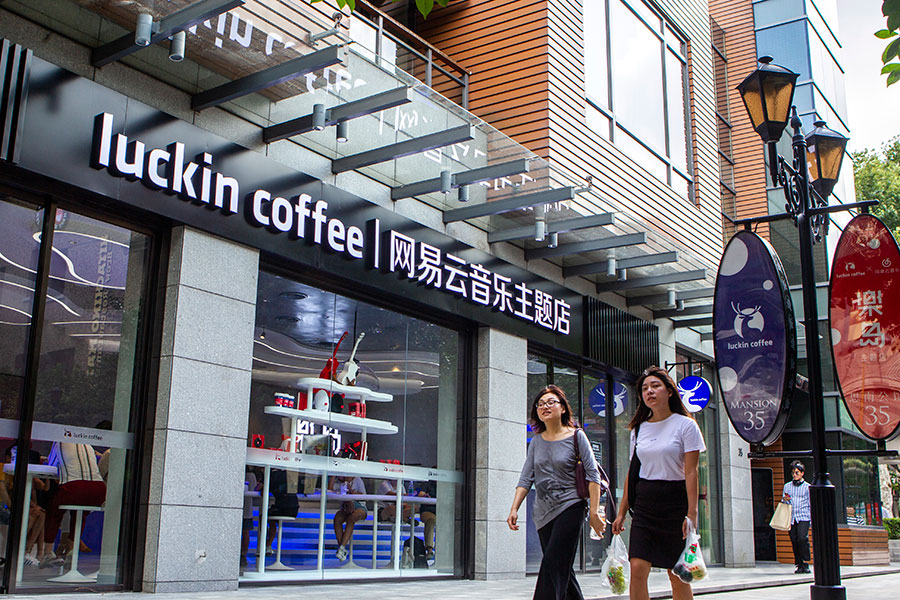 A Luckin Coffee store in Shanghai. (Photo by Lyu Liang / for China Daily)
China's delivery-based chain Luckin Coffee on Tuesday said it has turned Luckin Tea into an independent brand that runs its own operations and planned to use franchising to fuel its expansion.
The coffee chain operator launched its tea product Xiaolu Tea in April and is expected to open more stores to grab market share in the hand-brewing tea segment in the country.
Liu Jian, chief operating officer of Luckin Coffee, said the company's tea products have been well received since its launch and they invite "partners", which are different from traditional franchising and licensing, to expand their chains with zero franchising fees and digital operations to control service and product quality so it can reduce investment risks.
The "partners" are responsible for locations, decorations, making products and delivery while Luckin will take care of branding, digital operation system development, production monitoring and supply chain management, he said.
Liu said Luckin would not charge any fees until the "partners" recorded profits.
The new Luckin Tea stores, which will have their own logo, store layout and applications, will be operating more in third, fourth and fifth-tier cities in China to generate more leisure consumption. Their offerings include about 30 kinds of tea-based beverages, along with coffee and snacks.
This is designed to differ from Luckin Coffee stores, which tend to cover office buildings in first and second-tier cities.
Zhu Danpeng, an independent food and beverage analyst, said the objective of making Luckin Tea an independent brand with its own operations is the hope that it can get listed at a stock exchange in the future and compete with major hand-brew tea brand Coco Tea in lower-tier markets.
"There could be more profits in lower-tier cities given the low rents and labor costs compared with first-tier cities," said Zhu.
Wang Zhendong, a coffee industry analyst in Shanghai, said the franchising model is expected to help Luckin raise financing in the short term. But the analyst said how to manage franchisees who pay more attention to revenue and higher profits will have an impact on Luckin's system in the future.
Founded in 2017 and headquartered in Xiamen, Luckin Coffee operates over 3,000 stores across 40 cities in China. The company plans to open more than 4,500 stores by the end of 2019.