Energy prices bump key US inflation index up in November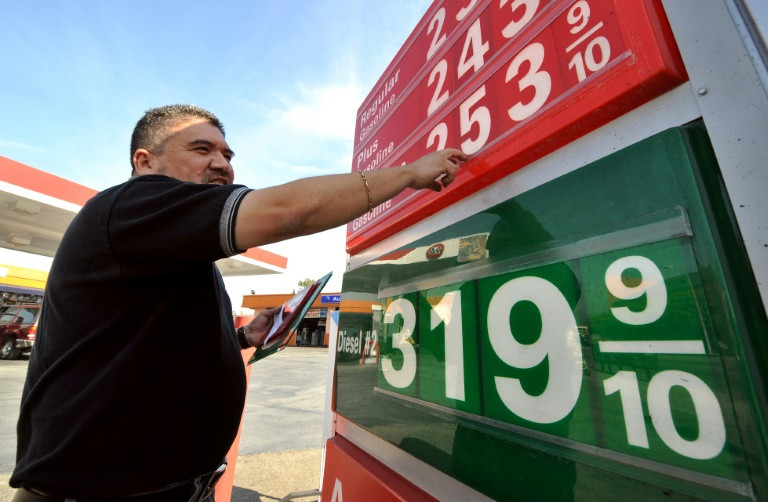 US energy prices surged in November, pushing a key inflation measure higher compared to the prior month, but other prices remain sluggish Photo: AFP
Rising prices for energy and other goods nudged a closely watched measure of US inflation a little higher in November, according to new data published Thursday.
The modest uptick could offer comfort to Federal Reserve policymakers who this month raised the benchmark interest rate for the third time in 2017 despite a long streak of weak readings on inflation.
But elsewhere in the Commerce Department numbers there were signs inflation pressures remained tame.
The Personal Consumption Expenditures price index, the Fed's preferred inflation statistic, gained 0.2 percent over October, undershooting analyst expectations for a 0.3 percent gain.
The important 12-month measure for the index, showed prices were 1.8 higher than November of last year -- just shy of the Fed's two percent target but no higher than in March.
Energy prices jumped 4.3 percent last month, more than offsetting the 1.1 percent dip in October, but food and durable goods prices fell 0.1 percent and 0.2 percent, respectively.
Excluding the volatile food and fuel categories, however, November price gains slowed to 0.1 percent, matching analyst expectations and down from October's 0.2 percent increase.
Year-on-year, the "core" measure rose a tenth of a point to 1.5 percent, the same as in June.
The annual core measure has been below the Fed's two percent target for nearly six years.
US central bankers have written off weak inflation this year as a product of a series of one-off idiosyncratic features -- such as sudden dips in prices for mobile phone plans and medications -- but cracks have appeared in the confidence in this explanation.
- Brisk spending, higher GDP? -
Outgoing Fed Chair Janet Yellen has acknowledged the central bank's understanding of the forces driving inflation is imperfect and structural factors could be behind the tepid price pressures.
A minority of members on the Fed's rate-setting committee have argued for forbearance in raising rates, and two voted against raising rates this month.
Nevertheless, Fed officials signaled they expect to raise the key lending rate three times in 2018, expecting that a continuing recovery and tightening labor markets will at last produce clear signs the economy is running hot.
Also in the November report, the Commerce Department reported that the pace of consumer spending was double that of gains in income, with incomes rising 0.3 percent, or $54 billion, but expenditures increasing 0.6 percent, or $87.1 billion.
The personal savings level of $426.2 billion was the smallest since August 2008.
Analysts said the strong consumer outlays last month pointed to stronger GDP growth in the fourth quarter. Barclays Research upgraded their GDP estimate a tenth of a point to 2.6 percent, while the New York Federal Reserve Banks' Nowcasting Report projecting 3.9 percent.
Mickey Levy of Berenberg Capital Markets said ordinarily consumers spending more than they earn would be cause for concern.
"Yet, with a very low unemployment rate, robust job gains and the individual income tax cuts in 2018, households should be able to sustain and even improve their rate of spending," he said in a research note.