Retailing industry continues to boom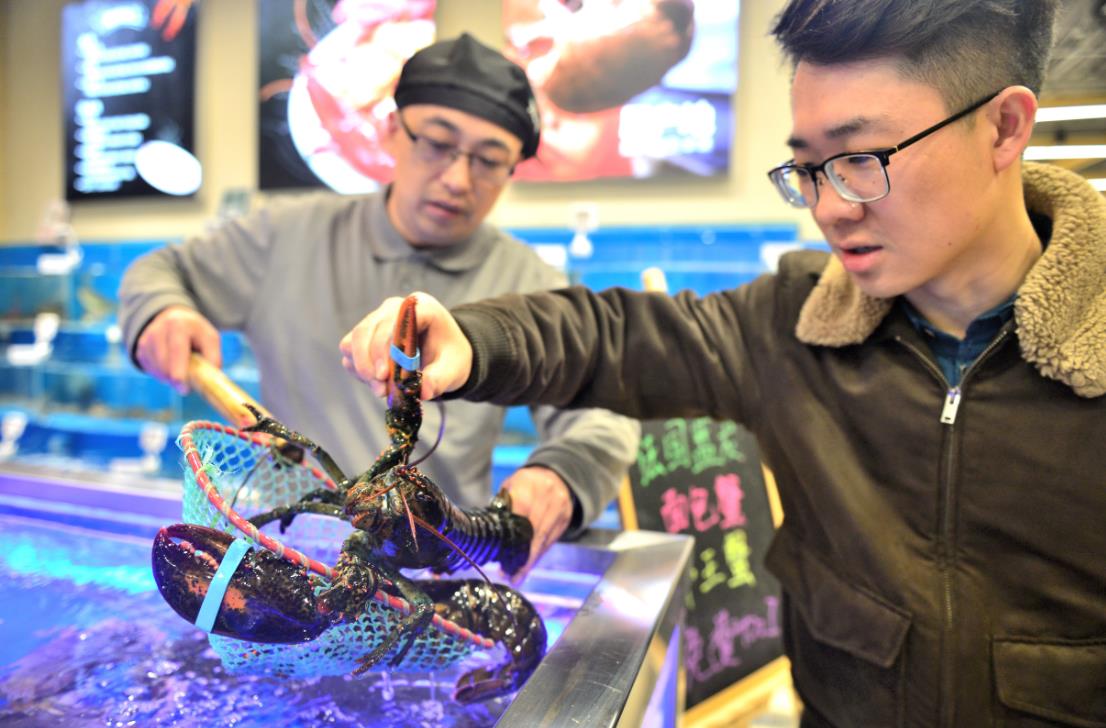 A consumer picks lobsters imported from Boston at 7Fresh, a fresh-food supermarket in Tianjin. (Photo: China Daily)
Small is still the charm in the retailing industry. Convenience stores continue to grow ahead of general retail formats, which boosted their momentum in terms of revenue and the number of brick-and-mortar stores last year, according to industry insights.
The number of convenience outlets climbed 18 percent, adding 11,944 new stores last year, according to the China Urban Convenience Store Index, released by the China Chain Store and Franchise Association on May 14.
New convenience stores take up 62 percent of the total number of stores in China.
Franchises are the major means of expansion for convenience stores. About two-thirds of fresh stores are added through franchise. The report shows that the return on investment takes about 23.3 months on average.
The first and second-tier cities have seen saturation of convenience stores while there is still plenty of potential for second and third-tier cities.
Taiyuan, Shanxi province, Changsha, Hunan province, Xiamen, Fujian province, Chengdu, Sichuan province and Dongguan, Guangdong province saw the greatest increase in the number of convenience stores among Chinese cities. Numbers of convenience stores in Xi'an, Shaanxi province and Chongqing grew at 30 percent and 15.4 percent respectively.
"There is big potential for more regional players to deepen their market penetration," said Peipei Liang, secretary general of the China Chain Store& Franchise Association.
He added that the acceleration of the number of smaller stores is the key driver for the growth of brick-and-mortar stores in the retail industry nationwide.
According to the Association, the top 100 chain stores have recorded sales of 240 billion yuan ($34.9 billion), up 7.7 percent.
The survey is based on 138,000 retail stores, 16 percent higher than the previous year.
Meanwhile, traditional hypermarket operators such as Suning and Yonghui have turned to smaller-scale and community stores for a new growth point, he added.
For example, Suning Xiaodian, a community retail format, opened 4,485 new stores last year while seven out of 10 new stores opened by Yonghui last year were smaller stores.
Excluding convenience stores, the average growth rate for the top 100 retailers in China is on a par with that of 2017, at 9.1 percent.
About 18 retailers including Suning, Yonghui, Watsons and Hema Fresh have seen double digit growth in terms of revenue and number of stores.
The increase in growth of the top 100 retailers benefited from online-and-offline expansion, said the report.
In 2018, online revenue of the top 100 retailers grew 55.5 percent. Traditional supermarkets, such as CSF Market and Lotus of the CP Group, achieved triple digit growth in this sector.
Meanwhile, enhanced management and improved operational efficiency have contributed to the rise in revenue, said the report.
In 2018, the surveyed retailers saw gross profits on average rise from 17.9 percent to 18.3 percent.
The report has found that international retail brands have made great efforts in improving their online-and-offline integrations. In 2018, the online sales of the top 100 foreign-invested retailers increased 61.4 percent, 5.9 percentage points more than the average.
For example, Walmart integrated JD Daojia into its more than 250 stores, greatly driving up its online sales. Carrefour has developed pop-up stores with WeChat and its online business now covers 149 cities.